2021 was a year of exploration as companies tried to deal with the ongoing COVID crisis. This year there are three mega-trends to watch – inflation, digital optimization, and sustainability. Our CEOs Andreas von der Gathen and Mark Billige approached three of our top experts to find out how businesses can navigate these trends in 2022. 
Last year, when discussing trends in 2021, we focused on commercial agility and the resilience businesses can harness to adapt to drastically new conditions. Indeed 2021 was a year of exploration, with both businesses and consumers openly seeking new ideas and practices.
The consequent failures and successes have confirmed the competitive edge commercial agility provides and how fundamental it is in the post-COVID age. Yet, it is impossible to fully utilize agility without an idea of the trends and challenges that are to come. So, we approached experts within our business to give an overview of the three mega-trends that every business will have to manage in 2022, regardless of their sector or region.
Our Head of Logistics and Business Services, Philipp Biermann, enlightens us about the rising threat that inflation poses in 2022. Conrad Heider, Head of our Digital Practice, touches upon how and why businesses should optimize their digital capabilities this year. Lastly, we speak to our resident sustainability expert, Nicolai Broby Eckert, on the important role sustainability will play and why businesses need to act now.
In the second half of 2021, consumers spent the money they had saved staying at home on all sorts of products that were finally made available to them. The sudden rise in spending and demand led to a spike in prices. A few months down the line, and consumer price indexes, as well as logistics, building and raw material costs are sky high.
In addition, the current labor shortage will persist, putting pressure on salaries and, consequently, costs, which all points to ongoing inflation. These factors – logistics, raw materials, and labor shortages – are ones that affect every region in the world. So, while we may see different levels and types of inflation, no region is immune.
Inflation is not a new phenomenon, but many businesses still make the error of managing it through blanket cost increases to all customers. At Simon-Kucher we have developed a nine step program which has helped businesses through inflation for the last eight years. Starting at step one and making your way down the process will enable you to continue reaching your business goals even in periods of inflation.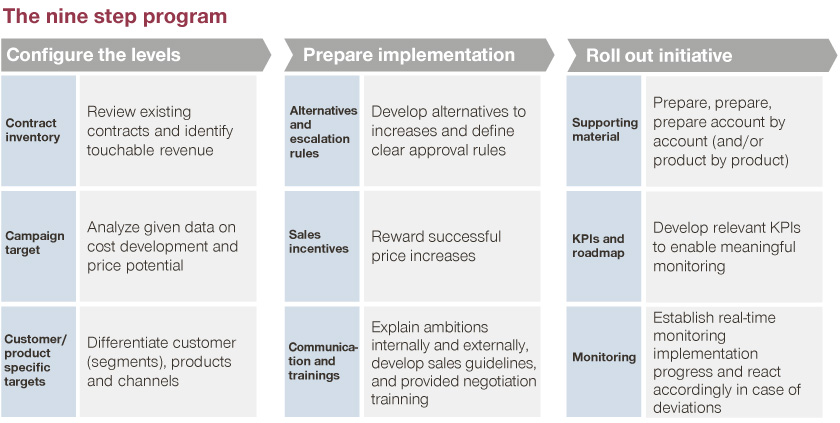 COVID forced companies to transform their digital capabilities, with the majority putting necessary infrastructure in place – e.g. eCommerce. The real herculean task for businesses in the coming months, and even years, will be to understand how to utilize these newly won digital capabilities properly so as to edge out the competition. Understanding every part of the customer journey, whether physical or online, will be crucial here. Seeking support from big data and AI will also be key.
Saying that, digital sales and marketing is continuously changing. The division of physical and online in future sales models will depend heavily on a number of factors – such as customer segments, degree of digitization in a given market, and a company's growth goals.  For example, a hybrid combination of physical and online sales will be the new normal in B2B industries, while in B2C the omnichannel setup is already being optimized. To remain agile, stay ahead of the curve, and come out on top, businesses will need to invest in hiring and upskilling their workforce, keeping both technological and creative skills in mind.
Last year we launched Elevate, our digital consulting business, combining technology, data, and creativity with commercial consulting expertise to maximize growth. This year we look forward to helping even more clients reach their full digital potential. Stay tuned for more updates on Simon-Kucher Elevate including new success stories, insights, and more. Join our mailing list to get the latest updates. 
Having built momentum in 2021, the sustainability movement is reaching critical mass, affecting companies across all industries in one way or another. 2022 will see even more sustainable companies, products, and solutions hit the market, proving that this topic has become an attractive market in many sectors.
Neglecting or failing to adopt sustainable solutions and offers now will have terrible implications for companies in the coming years, especially as younger generations' purchasing power increases. Our 2021 Global Sustainability Study revealed that 33 percent of millennials already exclusively buy sustainable products and services, if available. Companies, therefore, must invest, innovate, and transform their business models and offerings now to protect their long term profitability and viability.
Sustainability is undoubtedly crucial to future growth and margin increase, so early adopters will find it a fruitful investment. In our aim to help our clients reach their growth potential, this year we are launching a Sustainability Live series, detailing everything businesses need to know about the topic in a given sector. We hope to see you there!
Commercial agility should be applied to inflation, digital optimization, and sustainability
As you can see, while economies are back in action these three mega-trends could have serious consequences for businesses that fail to manage them properly. At Simon-Kucher we are excited to continue devoting our resources to guide our clients to better growth. 
We will, therefore, be dedicating 2022 to delivering you the latest inflation, digital optimization, and sustainability news. In the coming weeks we will be releasing content regarding inflation, revealing its effects in more detail. Throughout the year we will also be publishing digital news and trends, while our Sustainability 'LinkedIn Live' series will launch in spring.  
Join our mailing list today and be the first to receive the results of our inflation study, be in the know on all things digital, and to register for our Sustainability 'LinkedIn Live' series.