Black Friday, Cyber Monday, or Winter Sales – big promotional days have historically played a significant role in shaping consumer purchasing behavior. But do promotions still deliver the expected rewards for retailers and manufacturers that seek to boost their sales? Experts Martin Crépy and Dr. Tobias Maria Günter outline the results of our 2022 Big Promo Days Study and explain how to guarantee promotional excellence.
When it comes to promotions and promotional events, we have observed various trends in recent years:
An increase in promotion intensity and frequency during COVID years
Drastic reductions in number of promotions due to stock shortages and costs increases
A proliferation of offers outside typical promotional events in order to sell off stocks in a disruptive environment across production chains
Increasingly more personalized offer in response to new regulatory constraints
Our 2022 Big Promo Days Study has deciphered these trends by listening to consumers on promotional campaigns. So, (how) do sales promotions influence consumer purchasing behavior today? And what can retailers and manufacturers draw from these insights in terms of financial efficiency?
Global promo study: Historical big promotion days are still important but perceptions are changing 
This summer, we surveyed more than 20,000 people across 23 countries worldwide on purchasing behavior during key promotional periods. One of our key findings was that while big promotional days remain major drivers in steering sales, enthusiasm is decreasing about Cyber Monday, Valentine's Day and the like. The reason, it seems, is the persisting crisis as inflation has now been on the mind of consumers for several months. This circumstance leads to the conclusion that economic uncertainty and rising cost of living are playing an important factor in consumer purchasing decisions.
In fact, our survey found that historical big promotion days – such as Winter and Summer Sales, as well as Black Friday – remain key purchasing events for consumers worldwide.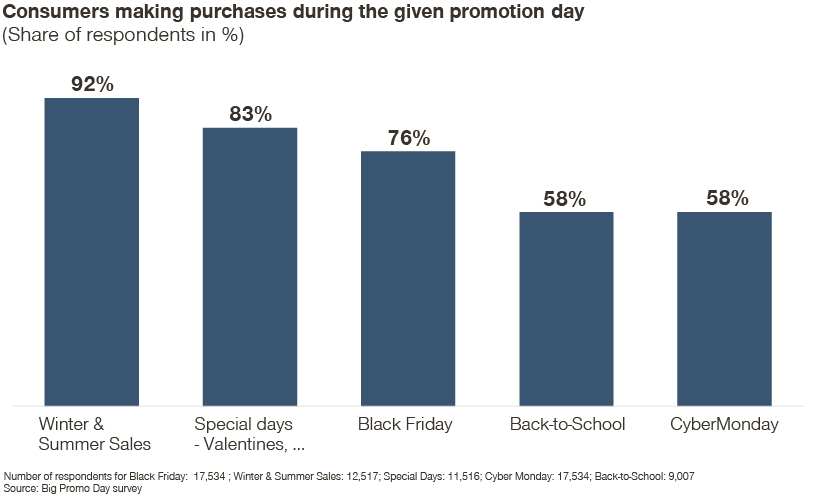 However, big promo events are clearly losing ground, especially in Europe and in the US, with 41 percent of consumers having reduced their spendings. On the other hand, Back-to-School and a selection of local events are gaining momentum, showing a global need for renewal and surprise.
Higher expectations, growing skepticism
According to the study, consumer discount expectations don't match reality. All surveyed consumers, regardless of their country and the discount levels currently practiced in their markets, would like to benefit from discounts that are 11 percent higher on average than the actual deals available to them.
In addition, clear expectations come into play in terms of reassurance in promotion benefits. Despite the large investment brands and retailers have carried out, a third of customers are suspicious of loyalty programs. They don't believe that these programs will grant them access to higher discounts.
European consumers are especially skeptical about loyalty programs, whereas Asian consumers are the most confident about receiving access to higher promotional discounts. This indicates a global need for brands to rethink the way loyal customers are recognized and rewarded.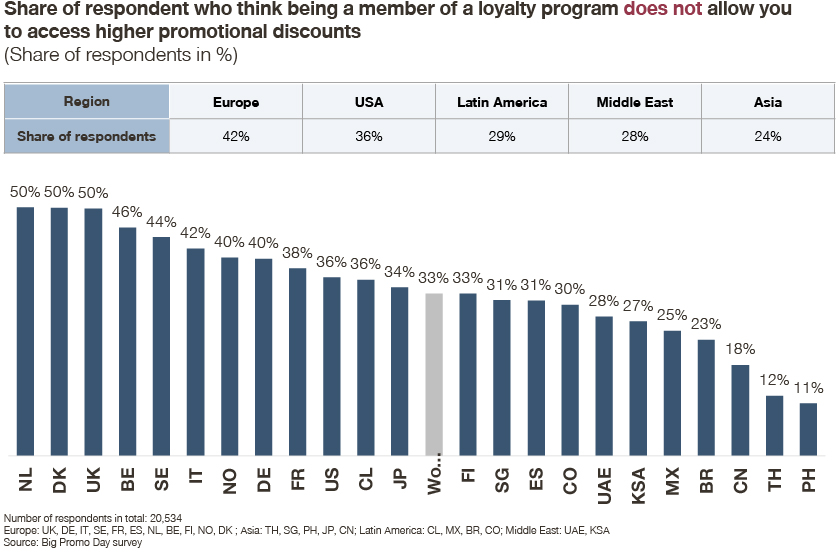 The growing skepticism is also present among consumers when it comes to brands' promotional communications. More than a quarter of consumers report not trusting communicated original shelf prices. This growing skepticism legitimizes new laws such as Omnibus, setting out a clear framework on the way brands communicate on strike prices.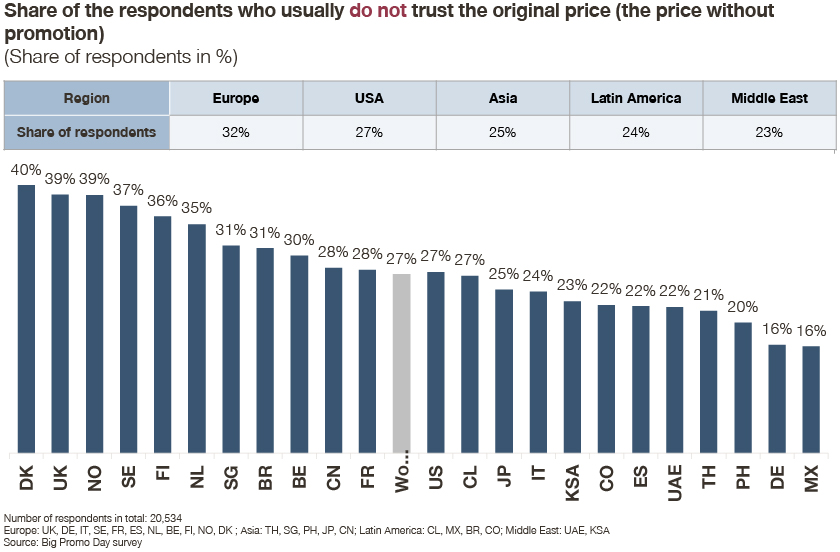 Different regions, different product categories – different promotional attractiveness 
What all countries have in common: Online is now the preferred purchase channel. Asian countries (58 percent), particularly China (77 percent), appear as those who most favor the online channel when buying during big promo events.   
The attractiveness of promotional mechanics, however, is highly dependent on regions and product categories. In fact, immediate discounts expressed as a percentage of the shelf price are preferred for clothing and shoes, accessories, beauty products, toys, large domestic appliances, home accessories, sport and leisure equipment, and leisure tickets. On the other hand, consumers are more driven by immediate cash discount when buying technology, small domestic appliances, or holidays bookings.
All in all, however, promotions remain a strong traffic driver and have more influence on consumer choices than brands.
How to drive promotional excellence
Our study reveals that promotions remain a strong driver to steer volumes and attract consumers. However, the tools of tomorrow are reassurance, surprise, and differentiation. By utilizing these, brands, retailers, and manufacturers can guarantee financial efficiency.
In order to ensure promotional excellence, retailers and manufacturers need to be strategic in how they offer discounts. Top priorities to boosting sales in the long run include:
Defining a promotion strategy plus measurable KPIs
Choosing the right format and products
Monitoring promotion efficiency
Analyzing and updating processes
Eliminating "bad" promotions with negative ROI
Interested in learning more? Contact our experts and tackle your promotional effectiveness.