China commercial health insurance (CHI) features vibrant growth on one hand, and complexities and variances on the other. A strategic approach is key for major pharma and medtech pharmaceutical firms to prioritize CHI opportunities, and to take part in the ongoing optimizations and innovations.  
Distinct CHI archetypes 
China CHI has seen strong growth over recent years, with vibrant development of different schemes ranging from premium insurances targeting the high-net-worth segment, to the more mainstream ones like Million-RMB CHI, which appeals to the middle-age and middle-income population. Disease-care insurances also offer comprehensive coverage mainly to those with certain preconditions like oncology and chronic disease patients.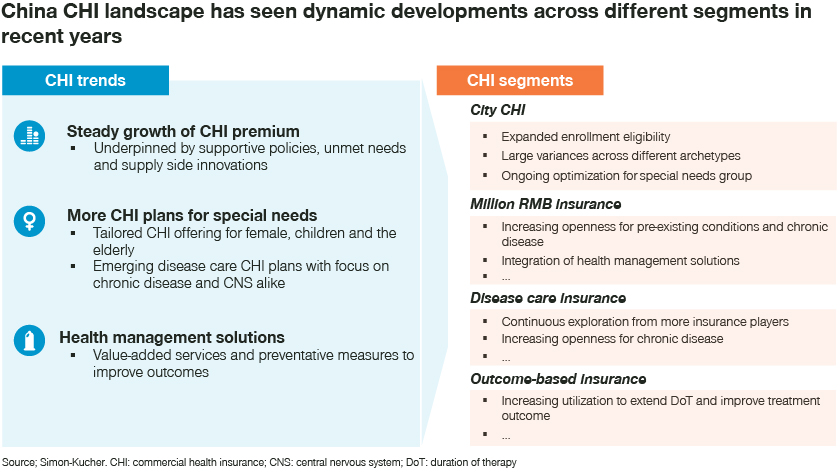 City CHIs in particular have been the fastest-growing CHIs, now covering an around 170 million population in 300 cities across China. At the same time, there are large variances across different city CHI schemes in terms of formulary focus, coverage breadth and depth, as well as actual payout ratios, with distinct archetypes emerging.   
Bold CHIs feature a broad formulary and generous coverages. Hangzhou West Lake CHI, for example, expanded its specialty drug formulary to 45 innovative drugs in 2023, to include more rare disease and chronic disease drugs, while offering low deductibles, large payouts, and high reimbursement caps 

Broad CHIs like Beijing CHI feature formularies that include over 100 specialty drugs. The coverage ratio tends to be lower than with the Bold CHIs, but still appeals to the broader population 

Deep CHIs feature meaningful coverage with clear focus areas. Nantong, for example, features a formulary focusing on 15 oncology drugs, which represent the most salient unmet needs locally   
Some City CHIs have been more prudent, striking the balance between near-term traction and long-term sustainability. Now with years of experience under their belts, many are better positioned to upgrade to better coverage and penetration, as well as more value-added services and new models.   
Ongoing evolution 
Many CHIs are striving to differentiate and upgrade their offerings with different thrusts.  
Some CHIs are incorporating value-added services in product design, including drug delivery, Green Channel (an accelerated pathway for medical services), and referrals for diagnosis and treatment. Beijing CHI, for example, offers 25 types of home care services ranging from home injections and wound care etc. Many of these services are well received by subscribers  

Some chronic disease management programs are starting to focus on patient education, ongoing monitoring and interventions, as well as regular follow-ups. A program for Parkinson's disease provides coverage for treatment, as well as disease management services for patients to receive consultations in quarterly follow-ups through online consultations, providing preoperative evaluations and customized medication management 

Health management services could be key to improving CHI stickiness and renewal rates, as well as long-term economics. Ping An Insurance, for example, has introduced health credits to incentivize healthy lifestyles. After joining its HelloRun Club, users can upload daily exercise and health-related data and receive up to 30% discount for enrolling in a health insurance plan. In this way, it effectively encourages a more active lifestyle. The health data collected also helps improve its product design and risk management   
Opportunities to innovate   
Going forward, CHIs are likely to play an increasingly important role in China healthcare, underpinned by several macro drivers. The ever-growing unmet needs for better care and coverage will continue to be the ultimate pull, and in general government policies have been supportive and encouraging. In addition, ongoing CHI optimizations and innovations from the insurance industry and key stakeholders like third-party administrators will help shape future growth and evolution of China CHI.  
Given the dynamic development and high complexity of the China CHI space, pharma and medtech companies would benefit from a strategic approach with 3Ps:  
Prioritizing high-impact CHI opportunities, and capturing the ones with the best fit to their respective products and portfolios 
Positioning early for ongoing changes and future developments of CHIs  
Partnering with key stakeholders like insurance providers, third-party administrators, and local governments to spearhead innovations in CHI design and rollout, towards addressing unmet needs, creating long-term value, and win-wins for all in the game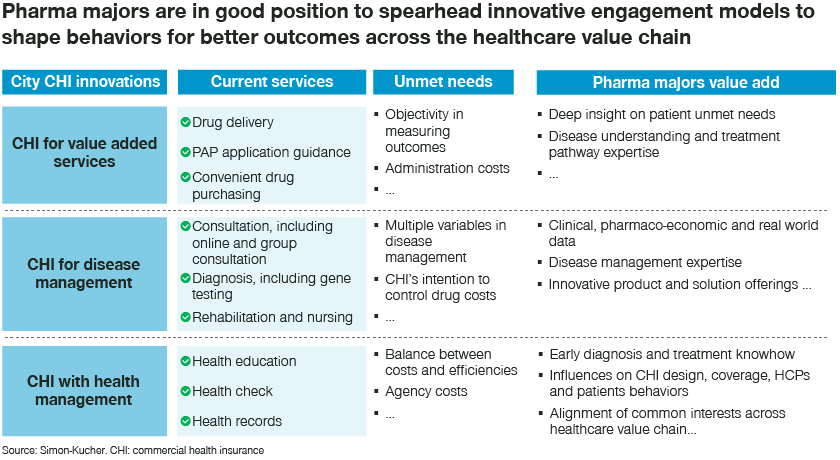 Interested in more insights? Reach out to the authors Selene Peng, Hanwen Cao, and Bruce Liu!