The policy and market of medical devices are evolving rapidly in China. To tackle the upcoming challenges and achieve sustainable business excellence in the country, medtech companies will have to build up integrated market access capabilities. Experts Bruce Liu and Kathy Xu explain how.
Since the National Healthcare Security Administration (NHSA) established the first reimbursement policy for medical consumables in June 2020, we have witnessed drastic changes within the medtech market. As such, we advise medtech manufacturers to adopt more detailed and intricate pricing and market access (P&MA) strategies according to the lifecycle of medical devices.
Manufacturers should develop different sets of P&MA capabilities in different stages, including product early access, out-of-pocket (OOP) / alternative financing, basic medical insurance (BMI) coverage, and volume-based procurement (VoBP).
As seen in the latest development of China's national policies, Unified Device Identification (UDI) has become increasingly crucial to market access for the medical device industry. In the meantime, we have observed that real world evidence (RWE) continues to gain more popularity in early access, while the Health Technology Assessment (HTA) is becoming increasingly critical in reimbursement decisions.
For every stage along the process, early and active engagement with both internal and external stakeholders is required for successful product lifecycle management.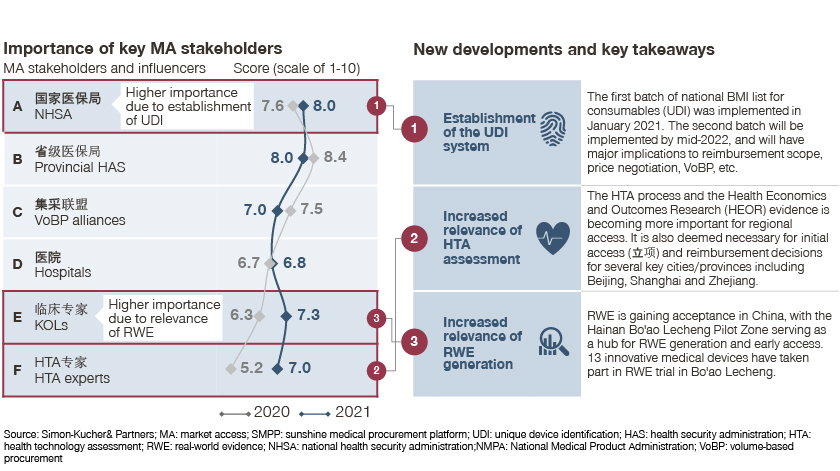 Early access for accelerated regulatory approval
Early access is the first and foremost step in the product lifecyle. It calls for the market access function to have more foresight in the preparation stage to enable a faster approval for launch.
At the same time, a shared goal for cross-functional teams is essential to lay a solid foundation for further success in later stages.  In the past several years, National Medical Products Administration (NMPA) approval can be accelerated by engaging with local governments who support the early use of innovative medtech products that are currently available in overseas markets but have not yet been approved in China.
Leading practices in Hainan's Boao Lecheng International Medical Pilot Zone (The Pilot Zone) or in the Greater Bay Area are good examples of accelerated approval. 13 medical devices were involved in a clinical RWE pilot in Hainan, two of which (XEN glaucoma treatment system and Catalys precision laser system) successfully obtained NMPA approval.
How to ensure approval
To ensure faster approval realized by introducing your product into these areas, market access departments, with the support of other functions such as medical and marketing, should take the following steps:
Proactively connect with regulatory officials from the Center for Drug Evaluation, as well as NMPA stakeholders at an early stage and map out access pathways like city commercial health insurance (CHI) and clinical lab cooperation projects
Engage national and provincial key opinion leaders (KOLs) across functions to ensure clinical adoption and endorsement all around the country
Explore listings in local city CHIs to increase patient affordability in the Pilot Zone or in the Greater Bay Area for your medtech product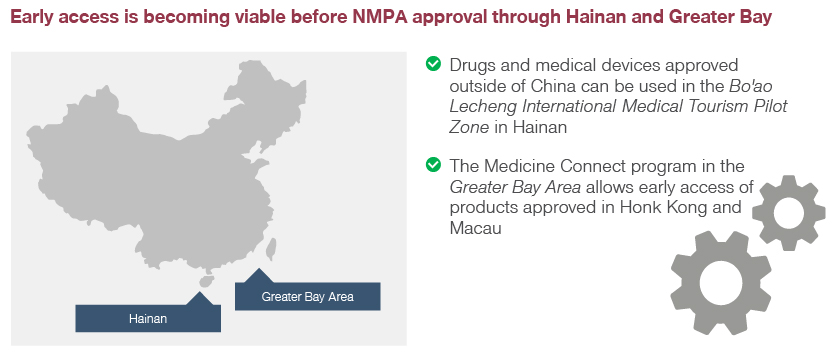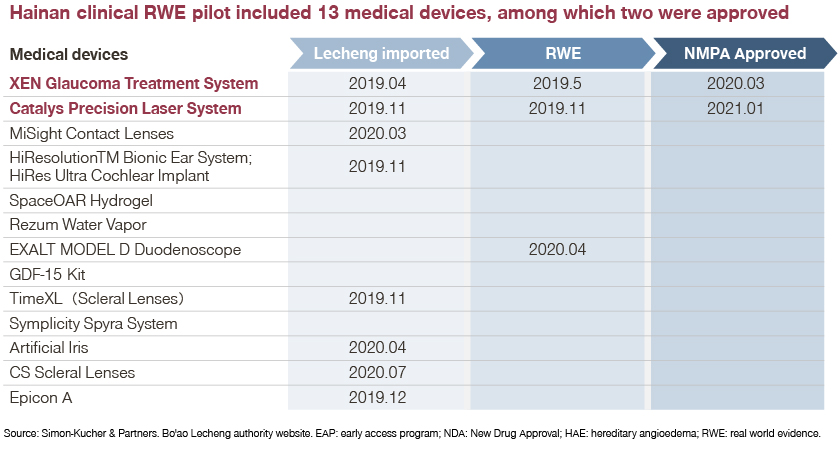 How to bridge the affordability gap
Before listing in reimbursement on the local level, the two main goals for manufacturers after the product is launched in the Chinese market include accelerating market access and bridging the affordability gap.
Accelerate market access through efficient provincial tendering and hospital listing
At this stage, market access activities focus more on connecting with local governments and KOLs. This is to ensure faster tendering and hospital listings to reach as broad a market as possible for quick uptake prior to reimbursement.
The key purpose is two-fold. On the one hand, to reach as many healthcare practitioners as they can so that clinical recognition will support reimbursement. And on the other, to accumulate real world evidence to prepare for better reimbursement price premiums over traditional medtech competitors – who typically have a stronger clinical performance as part of their critical value package.
Innovative payment models to bridge the affordability gap
In addition to accelerating market access, innovative payment models and alternative financing like city CHI are used to bridge the affordability gap prior to BMI application.
For cancer treatments, we've observed phenomenal success stories of medtech products in China. For example, the drug Optune from Zailab used to treat glioblastoma with a portable device has successfully been included in over 30 city CHI formulary lists, thanks to market access teams.
Why is basic medical insurance coverage important?
During the reimbursement application stage, manufacturers should aim to enter the provincial BMI medical device catalogue. This requires them to establish service items and complete a price code and a reimbursement application. These also happen to be the three key steps to accelerating reimbursement inclusion.
A cross-functional team composed of market access, sales, marketing, local distributors, and compliance is necessary to secure a successful BMI application. The market access department plays a leading role during this stage, while internal stakeholders feature different roles across three key stages of a BMI application. 
It's especially important for medtech companies to clarify internal stakeholders' roles and responsibilities to better improve access and affordability. Internal stakeholders including market access, medical, and commercial departments work together to reach successful reimbursement.
Service item application: Market access, marketing, and medical departments manage government stakeholders and facilitate application queries. Clinical experts are addressed by the latter two for clinical recognition of the innovative medtech product.

Market access needs to get increasingly involved in processes early. Often as early as the item is established with local government stakeholders or with payer advising KOLs to facilitate successful set-up of a new service item.
Price code application: Market access and marketing departments must gradually establish collaboration between external stakeholders from local hospitals and regional government for dossier preparation.

Market access teams are usually responsible for managing expectations from the local healthcare security administration (HSA) or think tanks for a local HSA. This is because they'll be able to influence price and reimbursement decisions based on clinical value and budget impact with rising power in local reimbursement decisions.

Meanwhile, medical departments are generally more focused on tracking clinical adoption from high-tier hospitals in the region.
Reimbursement application: Market access teams should constantly engage with government stakeholders to ensure successful reimbursement.

Meanwhile, marketing/commercial teams should engage with hospital KOLs to develop and accumulate sufficient HTA evidence for negotiation. This is especially required in areas where the HTA is necessary in dossier submission which currently includes Shanghai, Beijing, Guangdong, Jiangsu, and Zhejiang.

A rising number of regions are expected to follow this wide application of the HTA as key criteria in reimbursement for high value medtech products in the immediate future.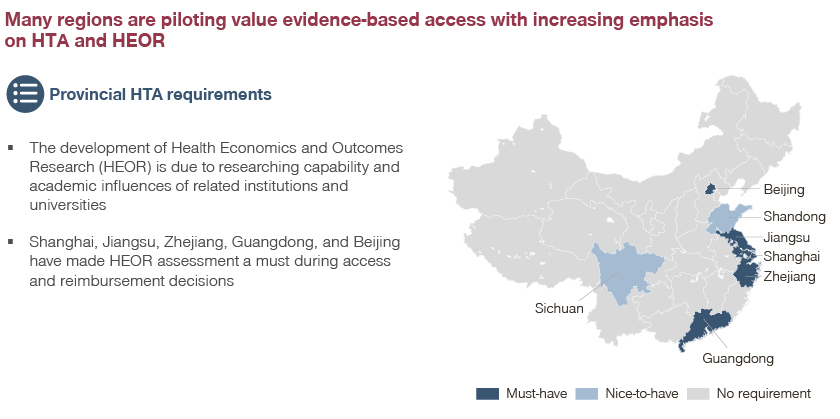 Conclusions and Outlook
Medical device policies have evolved with tremendous progress over the last few years. By the end of 2021, the NHSA successfully introduced its first national Medical Device Standards Catalogue. The second feature will be an updated catalogue to further promote the development of the medical device industry. It was published on June 1, 2022.
Medtech industries are developing rapidly in China, creating an evolving environment with unprecedented challenges and opportunities. In the coming years, the government's control on BMI funds for medtech is expected to be similar to what it has in the pharmaceutical industry.
As we witness new waves of policies gradually becoming implemented, we are looking forward to the corresponding internal capabilities to grow in parallel with the dynamics in the industry.
This is why medtech companies should actively change their internal organization structures and take a more flexible approach in inter-departmental cooperation to facilitate faster market access.
For further information, feel free to get in touch with our authors.