Competition in consumer goods is heating up as cost pressure intensifies and consumer budgets erode. To win in Europe, companies need to rethink their go-to-market model in many dimensions. Our five-step approach is a proven path to success.
The European consumer goods market must contend with several trends right now. Online retail is transforming the consumer decision journey, international retail companies are entering the game, and competition is intensifying. A growth-focused, cost-effective, and consumer-centered go-to-market (G2M) model is crucial for commercial success in Europe.

In this article, we share our proven approach to developing a winning G2M strategy.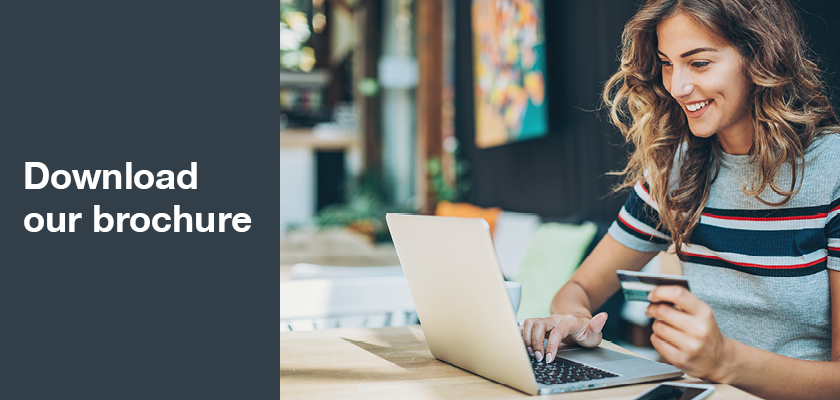 The online retail landscape is rapidly evolving, reshaping the consumer decision journey and presenting new obstacles for manufacturers. Traditional "push" models have become outdated. Transition to a "pull" model, where manufacturers engage directly with consumers across all channels to generate demand, is becoming indispensable.

Additionally, international and online retailers are expanding at a rapid pace, leading to Europe-wide negotiations with multinational purchasing groups. Meanwhile traditional, national offline retail is in decline. Localized management structures, inflationary cost pressures, and unpredictability in supply and demand all contribute to the challenges faced by manufacturers. To conquer these challenges, G2M models must exhibit resilience and adaptability.
Master the commercialization challenges in the European consumer goods market
To successfully navigate these challenges and create an effective G2M model for Europe, a comprehensive approach is required, ranging from understanding organizational improvement potential in alignment with the company-wide strategy, through enhancing the marketing, sales, and supply-chain organization, to ensuring successful implementation. Our framework can help you create a consumer-first European go-to-market model:

1. Strategy and focus: Align your approach with your overall business objectives
Start by identifying business opportunities and deriving organizational improvement potential from them. Here you should determine the strategic priorities for customer segments, product portfolios, promotions, and pricing, highlighting the necessary enablers across all relevant dimensions.

Meanwhile, holistic capability benchmarking helps you to identify opportunities by assessing current capabilities, benchmarking performance across markets internally, and comparing them to industry best practices.

Identify critical capability gaps and formulate and prioritize actions to close them. Assess synergies by mapping relevant processes and activities, identifying procedural pain points, and determining process opportunities to further understand future organizational design implications.
Design a future-proof organization
Use the insights gained in alignment with the overall strategy to develop a future-proof organization with a robust GTM approach. A comprehensive design encompassing marketing, sales, and supply chain processes is crucial.
2. Marketing organization: Harmonize activation and drive international price management based on a communalized European portfolio
To streamline your European portfolio and reduce its complexities, you need to analyze channel and customer segments and eliminate local variants and long-tail items where possible.

Consequently, A&P budgets can be spent in a more targeted way to generate "pull" while supply chain profits from the reduced complexity. It also enables you to strengthen your pricing power in multinational negotiations by aligning international pricing policies and negotiation tactics. Finally, you can enhance the efficiency of your marketing initiatives by coordinating efforts internationally and across channels while using local knowledge to create Europe-wide campaigns that closely align with customer needs.
3. Sales organization: Manage European omni-channels holistically using state-of-the-art e-commerce platforms
To succeed commercially, a winning European approach optimizes the duet of B2B and D2C sales:
B2B Sales: First, you need to segment customers regarding their value and strategic focus. With a differentiated service model per segment, you make sure you prioritize your resources so that you are investing in the right places, e.g., your top accounts. For less attractive accounts, you can encourage remote-selling or self-service.

European key account management can also be improved by harmonizing end-to-end international account management, facilitating interaction with centrally organized customers, and creating customer-specific P&L visibility.
 
Direct-to-consumer (D2C): Winning the D2C channel unlocks direct access to your consumers at higher margins. For a successful D2C approach, you should centralize content management and align campaigns across Europe, ensuring a consistent experience across the continent. Infrastructure, capabilities, and D2C expertise need to be leveraged across Europe for scale.
4. Supply chain: Achieve supply chain agility via shared and networked European infrastructure, inventories, and teams
Optimize your European distribution strategy by evaluating centralization potential, enhancing the infrastructure with future-proof fulfillment capabilities, and catering for diverse distribution service offerings.
Here it's also important to establish a unified European inventory pool for flexible product distribution across channels and regions, supported by adaptable management systems and asset-light models. In addition, you can implement a networked planning and forecasting organization, incorporating central baseline creation, local market knowledge, and data-driven automation through advanced tools.
5. Transformation and governance: Make it stick
To ensure lasting success of your new go-to-market model, it's crucial to have proper planning and program setup. Here, establishing a program management office is an essential step in driving organizational alignment across all key functions and supporting departments.
This office will ensure execution excellence, provide support and proper program administration, and offer strategic guardrails and continuous feedback for program team members. Defining an overarching business case with a baseline and north star is also vital. You'll need to establish granular KPIs and break-down targets for each transformation initiative, setting up KPI reporting to track transformational success.

When it comes to processes and change management, detailing new job descriptions, processes, and RACIs is critical. This requires comprehensive training curriculums that highlight the "from-to" changes in daily work routines and use cases. Additionally, providing regular, transparent, and well-aligned communication to the organization is key to fostering a smooth transition.
Set up a strong G2M model today – we're here to help
With our proven approach, we identify opportunities, develop strategies, design a future-proof setup, and ensure a strong transformation process. There's no one-size-fits-all approach. Depending on your individual situation, we decide together what is the best solution to improve your business.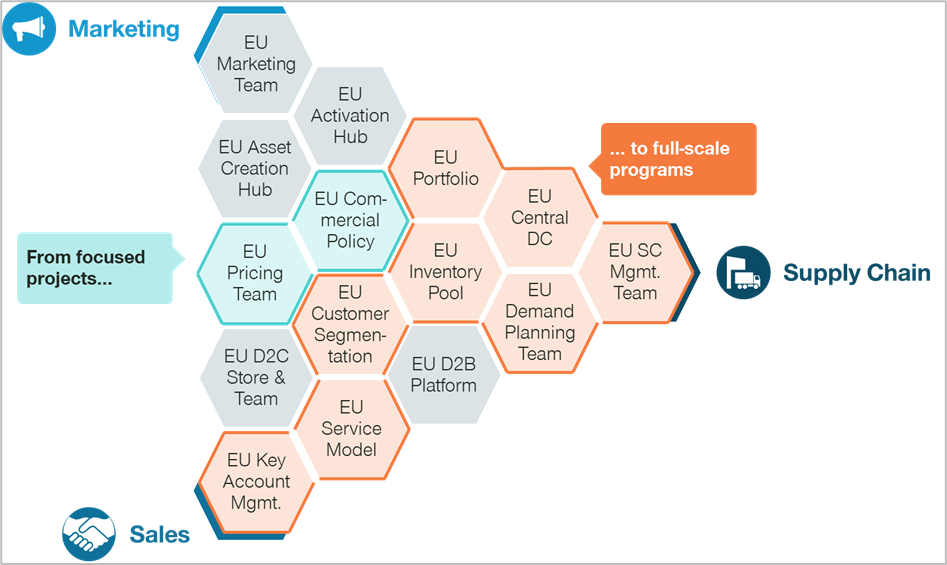 If you want to stay ahead of the competition, there's no time to lose. We can help you create a European go-to-market model that unlocks better growth.
Reach out to Martin Mattes and Björn Dahmen today!