China's 2020 NRDL (National Reimbursement Drug List) process has been unfolding since July this year with a number of new changes and interesting twists. Based on Simon-Kucher's extensive experience and observations, as well as ongoing discussions with key players and stakeholders in the industry, we have identified three themes and made five predictions on the likely outcomes of 2020 NRDL process.
China's NRDL (National Reimbursement Drug List) updates and negotiations have become one of the most watched events in recent years, and for good reasons. First of all, they directly affect all the industry players in the world's second largest pharma market, including multinational pharma majors, biotech, and Chinese companies alike. Second, the results have real-life impacts and implications on the entire Chinese population, as access to and coverage of the right drugs could make a world of difference for the patients in need. Last but not least, there has been plenty of drama in the NRDL listing process. Price negotiations in particular could be very dramatic, or even melodramatic in some cases.
The 2020 NRDL process was slightly delayed partly due to the COVID-19 pandemic, but has been unfolding since July this year with a number of new changes and interesting twists. Based on Simon-Kucher's extensive experience and observations, as well as ongoing discussions with key players and stakeholders in the industry, we have identified three themes that have made the 2020 NRDL even more interesting, and share five predictions on the likely outcomes of the process.
Theme 1: NRDL processes evolve to include more engagements and interactivity
Theme 2: Long list of drugs going into the NRDL heralds intense competition ahead
Theme 3: Strong signal encourages innovations that address unmet needs
Theme 1 is evident from the timeline and stages laid out by the NHSA (National Healthcare Security Administration), in particular Stage 2 on soliciting submission of NRDL applications from pharma companies, which is different from previous years.
In the past, the NHSA would release the short list after confidential reviews, and invite those on the short list for negotiations;
The year 2020 marks the first time that pharma companies are the ones to initiate the process by preparing and submitting their own applications for formal review;
While the change may seem small and procedural, it is very encouraging for the industry. Many pharma companies responded enthusiastically and rushed to submit their applications by the end of August 2020.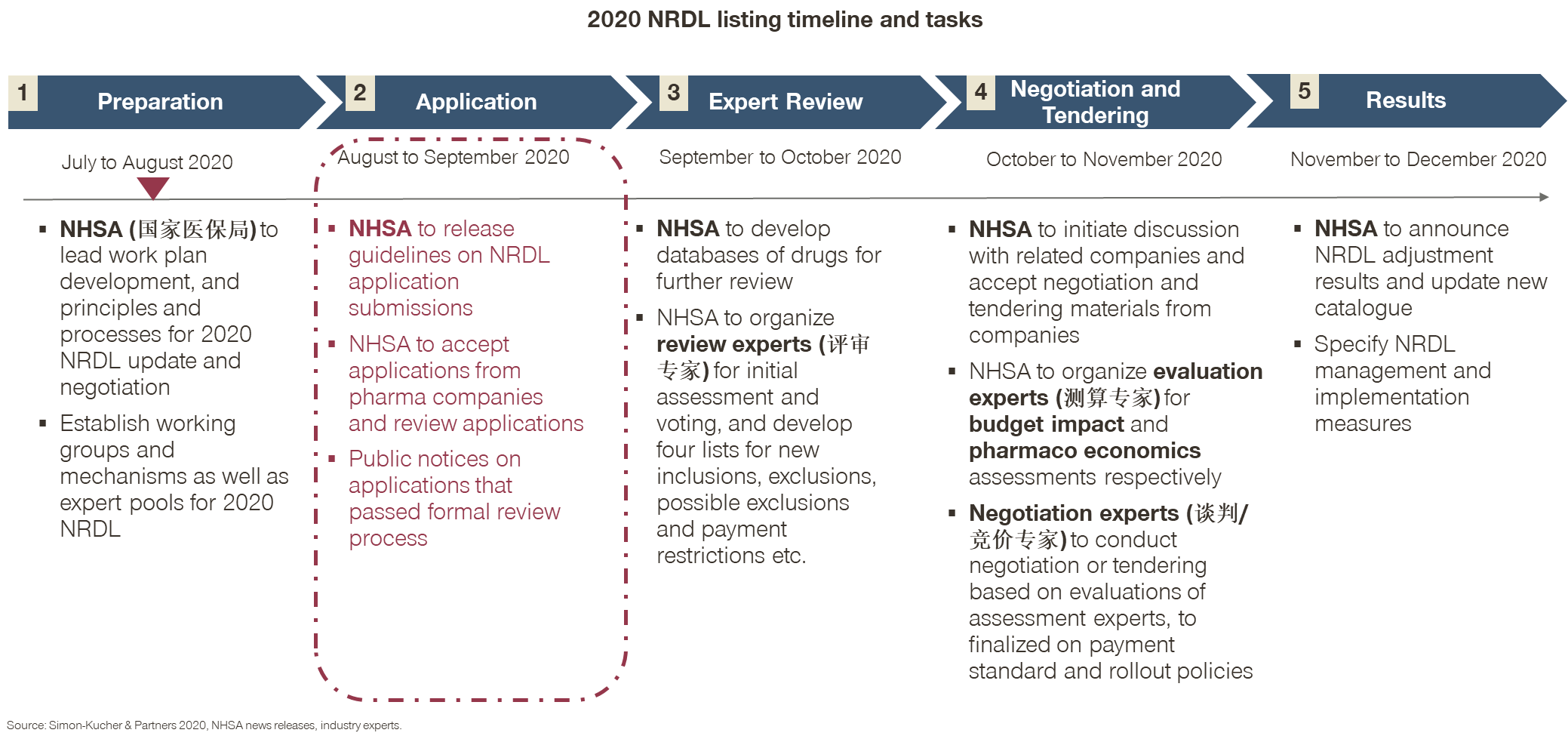 Theme 2 emerged as a result: The NHSA received a large number of submissions in August, and on September 18 it released a long list with seven categories of new entries that passed its initial formal review as per Table 1, making it the longest list of drugs in history to go into the NRDL process.
Table 1: 2020 NRDL new entries that passed NHSA formal review
| | | |
| --- | --- | --- |
| Category and conditions | Number of drugs | Examples |
| I: Drugs in COVID-19 treatment guideline 7th version | 12 | Ribavirin, Arbidol, Clostridium butyricum etc. |
| II: 2018 Essential Drug List (EDL) drugs | 11 | Citicoline Sodium, Isosorbide Dinitrate etc. |
| III: Overseas New Drugs Urgently Needed in Clinical Settings (ONDUN), List of Encouraged Generic Drugs, List of Encouraged Pediatric Drugs for Development, etc. approved prior to 08/17/2020 | 28 | Nusinersen, Dupilumab, Apalutamide, Fulvestrant, Sildenafil Citrate, Crisaborole, Fingolimod Hydrochloride, Evolocumab, Ixekizumab, Ustekinumab etc. |
| IV: 2nd round national Volume based procurement (VBP) drugs | 3 | Paclitaxel protein-bound particles, Ambrisentan, Tadalafil |
| V: NMPA approved new drugs from 01/01/2015 to 08/17/2020 | 171 | Abatacept, Alirocumab, Apalutamide, Atezolizumab, Emicizumab, Baricitinib, Beinaglutide, Benvitimod, Perampanel , Sodium Oligomannate etc. |
| VI: Drugs with major changes in indication, function and usage approved from 01/01/2015 to 08/17/2020 | 10 | Ibuprofen, Nivolumab, Secukinumab, Tolvaptan, Levosalbutamol Hydrochloride Nebulise, Edaravone, Remimazolam Tosilate, Camrelizumab, Imiglucerase, etc. |
| VII: Drugs listed in five or more latest provincial reimbursement drug lists (PRDLs) | 493 | Amikacin Eye Drops, L-Glutamine and Sodium Gualenate, Amoxicillin and Sulbactam Pivoxil, Aprepitant, Sodium Ferulate, Idebenone, Estazolam, Ambrisentan etc. |
Interesting to note, though, is that the seven categories were laid out with clear criteria and definitions, but not in a MECE (mutually exclusive collectively exhaustive) way. For example, Category III is a subset of V, and some in Category IV like Ambrisentan also appear in VII. Therefore, the total number of new entries was not 728 as stated in many reports and analyses, which simply added up all the numbers by category;
Still, at around 700 drugs, this is the largest number of drugs in history going into the NRDL process, as compared to 119 drugs invited to negotiations in 2019;
While all of those on the list have a chance of making it to the final list theoretically, the reality is that the 2020 budget is unlikely to be much larger than that of 2019, hence there will be either fiercer competition or more price cuts, and most likely both going into next stages;
At the same time, not all drugs are created equal: some categories are likely to see more price pressure, while other categories may receive different considerations and attentions, as implied by the purposed non-MECE categorizations.
Theme 3 therefore stands out, as this year's policies have been sending out a stronger signal than previous years, encouraging new and innovative drugs that address unmet healthcare needs;
Category I for COVID-19 drugs, for example, reflects the NHSA's recognition of the pandemic as a top public health priority. As a result, antivirals like Arbidol and Ribavirin injections, and immune boosters like Clostridium butyricum etc. were included in Category I based on the 7th edition of the China COVID-19 treatment guideline;
Category III is also of great interest, as it includes newly approved drugs from the lists of Overseas New Drugs Urgently Needed in Clinical Settings (ONDUN), List of Encouraged Generic Drugs, and the first and third batch of List of Encouraged Pediatric Drugs for Development as per Table 2;
Table 2. Select category III drugs approved in 2019 and 2020
| | | | | |
| --- | --- | --- | --- | --- |
| Drug | Company | Brand | Indication | China approval date |
| Nusinersen | Biogen | Spinraza | Spinal Muscular Atrophy (SMA) | 02/2019 |
| Secukinumab | Novartis | Cosentyx | Ankylosing Spondylitis and plaque psoriasis | 04/2019 |
| Denosumab | Amgen | Prolia | Giant cell tumor of bone that is unresectable or where surgical resection is likely to result in severe morbidity | 05/2019 |
| Fingolimod Hydrochloride | Novartis | Gilenya | Multiple Sclerosis | 08/2019 |
| Agalsidase Beta | Sanofi | Fabrazyme | Fabry's disease | 12/2019 |
| Sodium Zirconium Cyclosilicate | AstraZeneca | Lokelma | Hyperkalemia | 12/2019 |
| Tafamidis Meglumine | Pfizer | Vyndaqel | Transthyretin amyloid polyneuropathy (ATTR-PN) | 02/2020 |
| Vedolizumab | Takeda | Entyvio | Ulcerative Colitis | 03/2020 |
| Deutetrabenazine | Teva | Austedo | Huntington's disease | 05/2020 |
| Laronidase concentrated solution for infusion | Sanofi | Aldurazyme | Mucopolysaccharidosis | 06/2020 |
| Dupilumab | Sanofi | Dupixent | Atopic dermatitis | 06/2020 |
Drugs approved in 2020 like Austedo, Aldurazyme, and Dupixent are the lucky beneficiaries in particular. They wouldn't have been eligible to enter the NRDL process as per the NHSA's earlier plan in July;
What was truly refreshing was the revision made by the NHSA itself on Aug 17, which allowed drugs approved up to that date to submit NRDL applications;
This signals a much desired linkage between new drug approval and coverage that is becoming similar to Germany and France, and represents the most encouraging gesture so far of dynamic inclusion of innovative drugs that are intended to address unmet clinical needs for rare diseases, critical diseases, and pediatric needs alike.
Building on the three key themes above, as well as our extensive experience in pharma access and reimbursement globally and in China, Simon-Kucher has made five predictions on the 2020 NRDL:
Prediction 1: With around 700 drugs that have made it into the 2020 NRDL process, only a small fraction will make it to the final list.
There is likely another round of shortlisting after this formal review. Based on the current longlist, the success rate would be at around 30% at most, or around 200 drugs for final NRDL inclusion;
In comparison, the success rates were 82%, 94%, and 59% in the NRDL negotiations for the last three years.
Prediction 2: The seven categories stand to have very different likelihoods of NRDL inclusion, roughly in descending order reflecting NHSA priorities.
COVID-19 still ranks high as a potential public health concern despite China's general success in containing it so far;
EDL (essential drug list) drugs are considered key to healthcare coverage by definition and will be the priorities for inclusion;
Category III drugs that were on the priority lists for NMPA approval have a leg up as they have been recognized for their clinical values in addressing unmet needs, and those with an annual cost below 200,000 RMB stand a good chance of making the final list, although some may come with indication restrictions to limit budget impact.
Prediction 3: Price concessions will be substantial, and more so for Category V and VII with magnitude of cuts exceeding those seen in previous years.
Category V has had 171 drugs approved in recent years, with some in highly contested areas like immune checkpoint inhibitors, BTK inhibitors, plaque psoriasis, HIV, and pan-genotypic HCV drugs etc., which may see severe price pressure and competitive biddings.
Category 7 has 493 drugs, many of them matured generics and TCMs that are on five or more PRDLs, but were set to be phased out per the earlier NHSA plan. For many in the category, the 2020 NRDL might be their last chance to stay relevant, and price cuts could be 80% or more in some cases.
In comparison, the price cuts for NRDL negotiated additions in the last three years stood at 44%, 57%, and 61% respectively.
Prediction 4: Pharmacoeconomics and budget impact considerations are becoming increasingly important and institutionalized in the 2020 NRDL.
While pharmacoeconomics and budget impacts are not new concepts to the NRDL by any means, the abilities to assess and quantify them are becoming core for NHSA decisions on inclusion, exclusion, price negotiations, and payment models, given the sheer number of drugs going into the 2020 NRDL, and the competing value propositions among many of them;
At the same time, the ability to engage the right stakeholders and equip them with the right value dossiers and evidence will be key for pharma companies to justify their values and differentiate from competitors and comparators.
Prediction 5: Innovative contracting models may emerge at the 2020 NRDL.
Unconventional contracting models such as patient caps, per-patient spending caps, and outcome-based pricing were considered but eventually not pursued in the 2019 NRDL;
This year, the timing is right to pilot something that is easy to implement, and willingness is high among pharma, payers, and patients. Oncology, immunology, and rare diseases are some of the most likely therapeutic areas to get started.
Against this backdrop, many pharma companies are recognizing and embracing the changes, and are moving forward with internal alignment, external engagement, and innovative thinking.
One of the key decisions to make and align internally is the magnitude of the price concession they are eventually willing to accept.

There is no one-size-fit-all answer for this, as price elasticities vary by disease, physician perception, patient affordability, and competitive dynamics, and entail an in-depth understanding of the China market reality and price volume tradeoffs;

Tarceva, for example, was included in the NRDL in 2017 after cutting prices by 66%, but has seen yearly revenue decrease by more than 30% in 2018 and 2019 when compared to that of 2016;

In addition, other factors like LOE (loss of exclusivity) status, portfolio planning, launch sequencing and global price integrity considerations may also be key inputs to the pricing decision;
As a result, alignment among all the internal stakeholders on the price setting strategies, reimbursement scenarios, and decision mechanisms is a key first step going into the 2020 NRDL.

Meanwhile, engaging the right external stakeholders is equally if not more important.

There are three types of expert stakeholders with different roles at different stages of the NRDL process, with review experts (评审专家) key at Stage 3 for shortlisting, evaluation experts (测算专家) at Stage 4 for pharmacoeconomics, and budget impact assessments and negotiation experts (谈判/竞价专家) at the final stage for price setting;
Compared to other experts, there is a relatively small pool of evaluation experts in China, and they will be flooded with the large number of drugs to evaluate in coming months. From our past experience, most of the evaluation experts tend to be open-minded and number-driven, and actually appreciate well-structured value dossiers and quality arguments that companies are able to provide;
Engaging evaluation experts early on with clear messages, tailored models, and relevant data that can facilitate their decision-making can make a big difference, as they are the ones that set the price range for final negotiations.

Finally, innovative contracting models can help address payer concerns, and should be explored proactively, especially in light of the many newly approved drugs in the 2020 NRDL process.

In Australia, for example, plaque psoriasis biologics like Adalimumab, Etanercept, Infliximab, and Ustekinumab have price-volume and outcome agreements in place, and continued reimbursement is only given if the patient responds to treatment and is properly monitored. Additionally, Australia also had success with a "Netflix" pricing model for HCV drugs, where a lump sum payment of about $766 million USD to four different manufacturers gave Australia unlimited access to the most advanced HCV drugs for five years, reducing per-patient cost by 85%;
In comparison, cost-capping could be key to addressing payer concerns on budget impact, either by patient cap, per-patient spending cap, or sales cap. In France, for example, government payers typically would negotiate a five-year contract that specifies the price and expected sales volume of new products. When sales exceed the contract cap, manufacturers pay rebates of between 50 percent and 80 percent so that the budget impact can be mitigated. In South Korea, a per-patient utilization cap is negotiated with Roche's Perjeta for HER2-positive metastatic breast cancer, placing a maximum reimbursable cost per patient at ~$3,300 USD per month.
Having worked closely with leading industry players over the several rounds of NRDL updates and negotiations to date, we have witnessed firsthand how China's access and reimbursement environment has evolved over the past decade, and each round seems to be another testimonial to the observation that the only thing doesn't change is the change itself. The 2020 NRDL has lived up to that so far, and we expect to see more changes to come as the process further unfolds over the coming months.
---
Read more from this series:
Part 2: Embracing the Change: Revisiting Simon-Kucher 2020 China NRDL Predictions
Part 3: Embracing the Change: Strategizing on Volume-based Procurement in China
Part 4: Embracing the Change: Accessing Rare Disease Patients in China
Part 5: Embracing the Change: China Commercial Health Insurance Opportunities