The importance of online shopping has increased enormously due to the effects of the COVID-19 crisis, also in the fashion, lifestyle, beauty, and luxury goods industries. For manufacturers, this means that now it is high time to profitably expand their own e-commerce channel and make direct online business their strongest sales asset. We explain how to achieve this in four steps.
"Own the game": This is the name of Adidas' recently announced five-year strategy. As it suggests, the German sportswear giant plans to put a heavy focus on direct-to-consumer (D2C) business. CEO Kasper Rørsted even declares that by 2025, Adidas will be a D2C-driven company with online as the most important store. This proclamation is just the latest signal of a continuing trend. Ever since the effects of the COVID-19 crisis increased the importance and sheer amount of end consumers' online shopping, fashion, lifestyle, beauty/ cosmetics, and luxury goods manufacturers had to realize that it's high time to eclipse retail as a middleman and foster a direct sales relationship with consumers. What does this entail?
Shift your sales efforts to where consumers are shopping
In October 2020, we researched in what way consumer habits had changed due to the impact of the COVID-19 pandemic. A key result: Two-thirds of people surveyed stated that their general shopping behavior had changed, and almost half of this group said that they significantly shifted their shopping to online. As a consequence, manufacturers in the fashion, lifestyle, beauty, and luxury goods industries gained the opportunity to directly make contact with them by creating their own D2C e-commerce channels. The benefits obtained are significant:
A reduced offline channel dependency creates stronger resilience.
Their own e-commerce channel has a higher margin potential.
There is better access to useful consumer data and a stronger consumer relationship.
But how can fashion, lifestyle, beauty/ cosmetics, and luxury goods manufacturers achieve those benefits? Industry forerunners already show how it's done: Apart from the aforementioned Adidas, there is for example Nivea: The personal care brand specializing in body-care plans to invest 300 million euros for digital projects over the next five years, already has its own e-commerce where it sells its own products, and in addition conducts D2C partnerships worldwide, for instance in India.
Two role models from the luxury industry are the Italian brands Gucci and Tod's, who are both pushing their digital agenda. Gucci is following the trend of increasing gamification in the luxury industry to support community building and new consumer recruitment. Not only are they offering consumers the opportunity to interact with their products online and dress digital avatars in the newest Gucci styles – consumers can also shop virtual products at affordable prices. This digital engagement enables the brand to recruit a new and younger audience that might shop physical products in the future. Tod's on the other hand has been demonstrating that having the right people on board is also a critical success factor. When the company recently published that famous fashion influencer Chiara Ferragni would join the brand's board of directors, share prices increased by more than 12 percent to the highest level since March 2020.
4 steps to build a successful D2C sales channel
As you can see, best practice examples already exist. But how can companies that are not yet at home in the e-commerce sphere build their own successful D2C business? From our experience in the industry, we know that all successful D2C businesses follow a clearly defined vision and value proposition that is aligned with their operational model. We were able to extract four key action areas companies should focus on: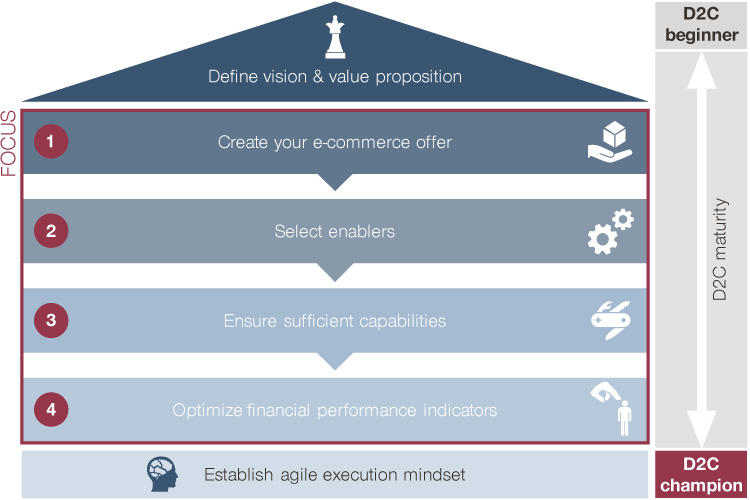 1. Create your e-commerce offer
In a first step, you need to take a look at your offer portfolio. Is it suited for a direct-to-consumer sales channel? Since this target group's needs and preferences differ widely from your previous customers (i.e. wholesalers), chances are, you might have to optimize your offering design. While doing so, one thing to keep in mind is to thoroughly differentiate your D2C offering from your wholesale offer. There are a variety of levers that can be pulled to achieve an optimal direct online offer, for example:
Portfolio (extensive or focused)
Offer strategy (bundles or exclusive offers)
Revenue model (price per product or subscriptions)
Marketing (organic or paid)
Consumer engagement (loyalty programs or newsletters)
Services (personal shopping assistants or wish lists)
Delivery (same day or 24 hours)
…
A company already utilizing these levers is for instance the sustainable fashion manufacturer Armedangels, which designed its offer strategy in a way that when displaying e.g. one piece of underwear in their online shop, consumers immediately get presented a reduced bundle price for two and three pieces as well as the opportunity to order them with one click.
2. Select enablers
After you've optimized your offer design for your D2C sales channel, the next step is to take a look at operations, tools, and processes that enable a successful e-commerce channel. A substantial operational structure as well as processes and systems are key to support your D2C ambitions. Elements to consider:
Financial model (e.g. financial flows & P&L ownership, financial reporting, invoicing & dunning)
Legal & tax structure (e.g. existing vs. separate D2C legal entity & in which countries, impact on tax payments & structure)
IT (e.g. IT system changes, central data warehouse, SEO & CRM management, technical platform)
Supply chain model (e.g. goods flow, delivery value proposition, operations for D2C fulfilment)
Q&R (e.g. product registrations & ISO certifications, internal controls)
3. Ensure sufficient capabilities
Speaking of that: Building a successful direct-to-consumer online business requires holistic capabilities. Manufacturers need to create or enhance their skills in front-end areas like pricing, marketing, UX design, etc., but also regarding back-end processes like supplier management, channel deployment, IT, etc. To realize these abilities, companies have to choose between make or buy (which includes also collaborations and outsourcing). A thorough analysis is needed to identify the best approach on this topic for your company.
4. Optimize commercial performance indicators
The last step is to ensure your D2C channel's commercial success. Here, you need to focus on a new set of commercial performance indicators, namely consumer lifetime value (CLV) and consumer acquisition cost (CAC), that you need to optimize.

There are three major steps that lead to improved CLV and CAC that each have their own best practice examples:
Acquisition: Manufacturers can combine influencer & performance marketing to directly contact consumers with regard to already seen content and retarget them via existing networks. L'Oréal for instance is very successfully optimizing consumer engagement and conversion rates by using social media networks.
Engagement & retention: Another option is to personalize overall shop experience to consumer needs and wants to ensure maximum comfort and familiarity. Cosmetics brand Function of Beauty does that by deploying a "hair quiz" with individual recommendations on their website as well as the possibility to personalize products (name, color, scent, etc.).
Monetization: The systematic utilization of blank spaces in e-mails, invoices, retour documents, packaging, etc. for cross- and up-sell offers is also something companies should definitely consider.
Of course, for each of these areas there are many more growth hacks available that – provided they are deployed and implemented strategically – can gain fashion, lifestyle, beauty, and luxury goods manufacturers significant financial impact by optimizing consumer lifetime value and consumer acquisition costs.
Conclusion: Find out where you stand and act now!
As you can see, building your own successful D2C business is not easy, but an endeavor definitely worth your time and effort. Before starting out, you should find out your status quo to determine the most urgent action areas. The answers to these questions will help you with this:
Does your company have a clearly defined strategy and value proposition?
Did you already translate this strategy and value proposition into an optimal offer design for D2C?
Do you possess all necessary enabling operations, tools and processes for speed and automation?
Do you have embedded the right capabilities inside and/or outside the organization for agility in execution?
Do you know how to master the key metric of Consumer Lifetime Value (CLV) and Consumer Acquisition Cost (CAC)?
Does your company demonstrate an agile mindset which facilitates constant improvement and supports scalability?
Don't forget: Each company's starting point is different. Specific challenges and the way forward need to be discussed in-depth to make sure that fashion, lifestyle, beauty/ cosmetics, and luxury goods manufacturers are successfully entering e-commerce business and build profitable D2C sales channels.