Our experts have worked for some of the world's largest telecom companies. Dr. Ekkehard Stadie and Martin Deutschenbaur share 6 marketing strategies for telecommunications companies to succeed now and in the future.
1. Define why and how customers should buy your services in 2022
Certain consumer segments now see telco companies solely as providers of a commodity, while the internet giants are seen as distributors of life-enhancing digital content and entertainment. Telecom providers have a big opportunity to establish a clear and differentiated positioning, e.g. with offer models that go beyond GBs. A customer-oriented positioning refresh will help to increase the brand value of telcos long-term.
Action
Define your "Reason Why" 2022 by answering a number of key questions, such as:
Why and how should customers buy your services?
Will your customers buy your services as part of an integrated digital ecosystem?
How can you differentiate from your competitors now and in the future?
What is the roadmap for your offer portfolio?
Our best-practice project
We defined a data-centric offer and pricing vision for the period until 2022, and established an improved monetization framework to guide our client's organization.
2. Set-up the tariff portfolio journey with optimal bundling & behavioral pricing approaches
The bundling of core services with digital services will become more and more important for telcos. To create successful bundles and to differentiate from competition telcos can benefit from applying the latest bundling excellence approaches.
In thousands of successful bundling projects, we have learned that for bundles to be effective, they must consist solely of "leaders" and "fillers". They can't include any "killers" (products that cause the bundle to flop). As well as optimizing their bundling approaches, telcos can also unlock considerable potential by employing innovative behavioral pricing approaches.
Action
Design your offer and pricing journey:
Apply bundling excellence for core services and digital services by identifying "leaders" and "fillers" and avoiding "killers" through proven methodology
Use behavioral pricing approaches to help customers make the right decisions along each step of the customer lifecycle
Determine the optimal balance between simplification and comprehensiveness
Our best-practice projects
We significantly increased subscribers and profits by eliminating "killers" from tariff bundles. We achieved a double-digit increase of up- and cross-selling with the latest behavioral pricing approaches.
3. Enrich product marketing with segment-specific marketing for the offer journey
Future-proof offer marketing requires telcos to take a more segment-oriented view. The needs and pain points of each segment are becoming more differentiated in the digital environment. Telecom service providers need to identify exactly which segments constitute their natural space. Then focus on growing in these areas as well as in underpenetrated segments with brand affinity.
Action
Become a segment marketing champion:
Create an actionable, data-rich segmentation framework that works across the customer lifecycle, i.e. acquisition, base, and retention. Existing segmentation approaches may be combined
Use the framework to design a segment-specific marketing mix and customer lifecycle journeys for the identified core segments
Our best-practice project
We generated double-digit growth for our client – the only market provider with positive growth.
4. Benefit from innovative device pricing – address customer needs, save on costs
Unleash considerable profit potential with innovative device segment propositions. For example, for the meta trend "sharing is the new owning" and professionalized device-pricing approaches.
Action
Establish new device pricing approaches:
Differentiate from the competition with innovative price models, such as Device-as-a-Service programs
Create cost-savings through professionalized device pricing management; opportunities range from dynamic device lifecycle pricing to optimized device pricing organization
Our best-practice project
We increased sales by six percent with an optimized subsidy budget and established the first "true" Device as a Service program.
5. Embark on the loyalty excellence journey – reward service usage and create magic moments for customers
Telcos can differentiate from competition by offering innovative loyalty systems that go beyond points-based loyalty programs. Rewarding service usage and creating magic moments for customers with innovative loyalty systems can have a significant impact on KPIs, such as brand value, NPS, churn and profit.
Action
Employ innovative loyalty systems that work for your company, there are several options for evaluation, e.g. lifetime- and engagement-based systems, product-based magic moments, and loyalty systems which are integrated in a digital ecosystem
Our best-practice project
We reduced churn by one third with a lifetime-based loyalty system that includes product-based magic moments for customers.
6. Use our digital Peer Pricing decision support solution to improve deal pricing
We have conducted many B2B pricing excellence projects in both telco and other industries. Our experience shows that in B2B deal situations offering sales reps pricing support tools can significantly improve deal success. These tools factor in customer-specific value and willingness-to-pay drivers, as well as the precise market situation. This helps to harmonize discount levels. Moreover, aligning sales incentives with the most recently defined KPI goals and "incorporating a price quality component" will help improve profits.
Action
Win/retain more deals at higher prices and secure more profit and growth with our digital Peer Pricing decision support solution. The Peer Pricing journey will be tailored to your company's requirements, different set-up levels exist:
Level 1: Optimized rate card
Level 2: Digital quoting tool with frequent updates (yearly/quarterly/monthly)
Level 3: Digital quoting tool with dynamic/AI/machine-based self-learning
Our best-practice projects
We secured a profit uplift of over three percent. Our digital practice is currently implementing the first AI/machine-based self-learning Peer Pricing tools with leading telco companies.
Simon-Kucher & Partners designs winning offer portfolios, pricing strategies, and go-to-market approaches:
We have substantial marketing and pricing knowledge from consulting 60+ telcos globally
We bring in benchmarks from both telco and other industries
We have achieved double-digit growth with our offer portfolio, price model, and go-to-market innovations
We have proven tools and methodologies to make recommendations stick and help you achieve sustainable growth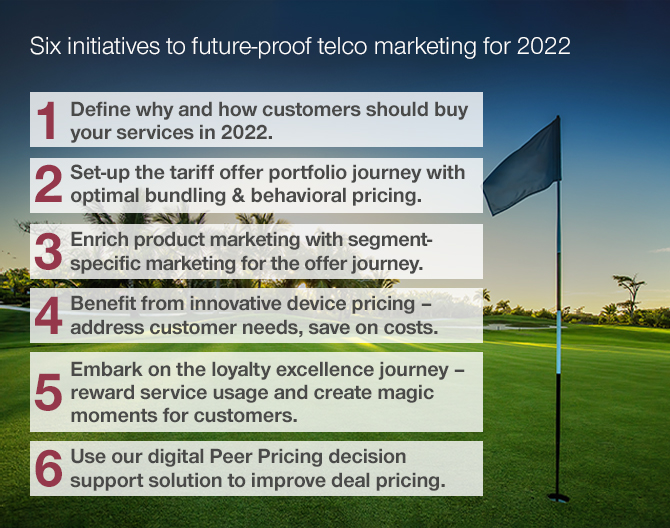 Get in touch if you would like to hear more about our six initiatives to future-proof telco marketing for 2022 and learn about our expert approaches.