According to our latest research, megatrends are changing the face of business. But B2B confidence remains strong, and strategic investment in sales remains high for top performers.
Major shifts such as Covid, de-globalisation and digitalisation have brought about rapid change. To thrive, B2B companies need to adapt to the subsequent shifts in buyer behaviour. The key is to align strategy with new expectations, and be prepared for continuous change.
Our recent B2B study outlines how the landscape looks right now, and explains why some companies are getting it right.
B2B has a positive market outlook
The ongoing volatility in B2B is complex, as are the causes. Some industry segments like construction are being heavily impacted by high inflation, others like energy are sensitive to the war in Ukraine, yet others like hospitality are still recovering from Covid. Food and beverage is seeking sustainability, healthcare is looking to digitalisation, minerals and mining must respond to trade wars, and transportation and logistics are still looking for talent after the great resignation.
But in spite of this, ambition amongst B2B players is strong. More than 50% of companies we surveyed intend to grow above their industry average growth rate, suggesting high levels of confidence and an eagerness to adapt.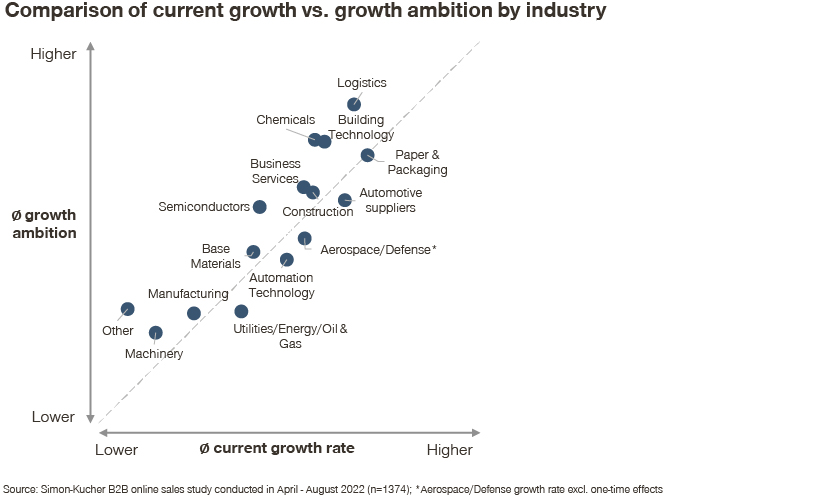 Executive teams have the highest growth expectations
Our survey shows that C-level executives hold 12% higher growth expectations than those in mid to low-level management. This could be the result of an age-old disconnect between the C-suite and the frontline. But it could also indicate anomalies in the forecasting process or plans for mergers and acquisitions that are tightly held.  We expect more focus on both of these factors in a potential recession.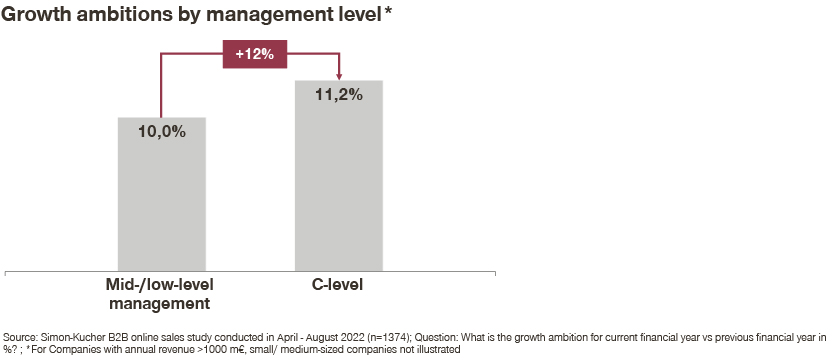 If this gap in expectations persists, it could prove problematic – a single, agreed set of growth ambitions is always important, but it becomes absolutely vital during turbulent economic times. Our clients are working hard to improve communication throughout levels and departments. Business goals, whether communicated to shareholders or frontline employees, must reflect the current strategy and climate as realistically as possible. Adapting to scenario-based planning is also important in times of volatility.
Ambition worth investing in
The top performers in our survey have something else in common – more investment in sales. Companies with higher growth goals tend to increase sales investments at a faster rate than their less-ambitious peers. Many of these organisations are looking at the changing needs of customers as an opportunity for growth, but also recognise that re-tooling and upskilling don't happen overnight.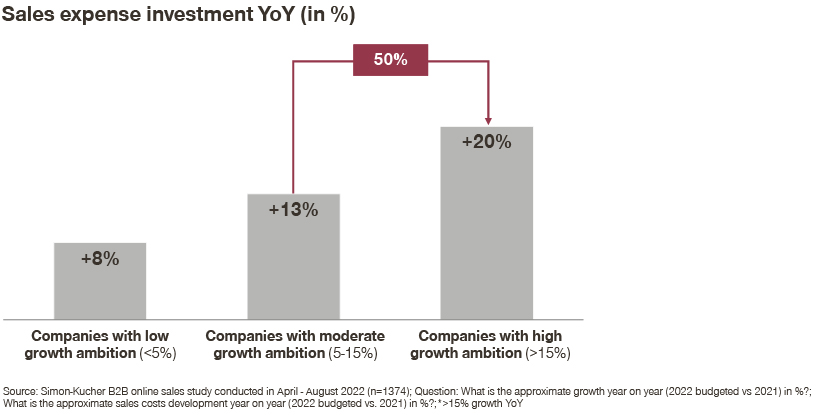 To set themselves up for success, companies are embracing change with their sales operating models – taking note of what their customers need right now, then tweaking or transforming their offer. Of course, this requires up-front investment. Which is why companies with strong growth ambitions have increased investment in sales by 50% more than counterparts who only seek moderate growth.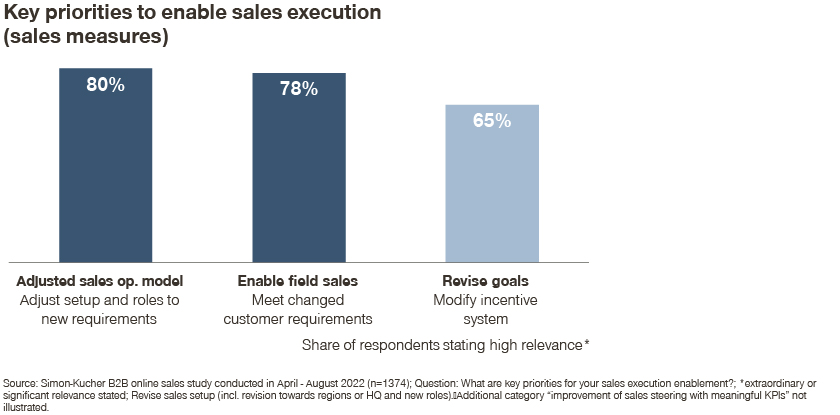 Change to the sales operating model not only acts as a response to several global shifts, but as a driver for success. By tapping into different needs as they surface, these companies embrace change and aim to thrive, not just survive.
Ops are changing too
Increased investment in sales demands a new take on sales setups and roles. 80% of people we surveyed found changing their sales approach to be a key priority when it comes to strengthening performance. Bigger goals mean a bigger, or different, team – with an introduction of new skillsets, perhaps alongside a reset of business priorities. 
What has driven sales in the past, and how has this changed? Would a hybrid model be more effective than a legacy in-person model? And how does your sales methodology compare to your competitors'? Switching up the process, or processes, can be a game-changer when navigating unfamiliar market territory, creating differentiation, and adapting to customer buying behaviour.
Innovation as an antidote to uncertainty
According to 90% of respondents, new products and innovations are the biggest focus when it comes to reaching growth ambitions – the targets being both new and existing customers. There currently seems to be a lower focus on existing products.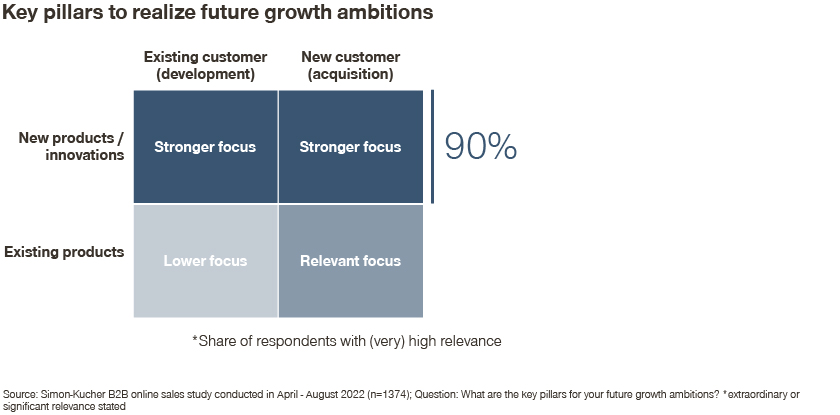 Cross-selling new products is a specific sales motion that demands time and skill. This is a focus of a portion of the incremental investment in sales. As needs change across the board, businesses are preparing ways to stand out, and fulfil needs they might not have considered previously.
This can win new customers. But new customers means more resources, and more time spent on sales – typically five times as much as existing customers. To succeed, the investment must focus on the right segments and measure the right KPIs.
A seamless customer experience is as crucial as ever
A flexible, easy route to purchase can be the difference between a one-time customer and a repeat client. According to this year's survey results, if B2B companies don't have an efficient omni-channel infrastructure, they're losing out.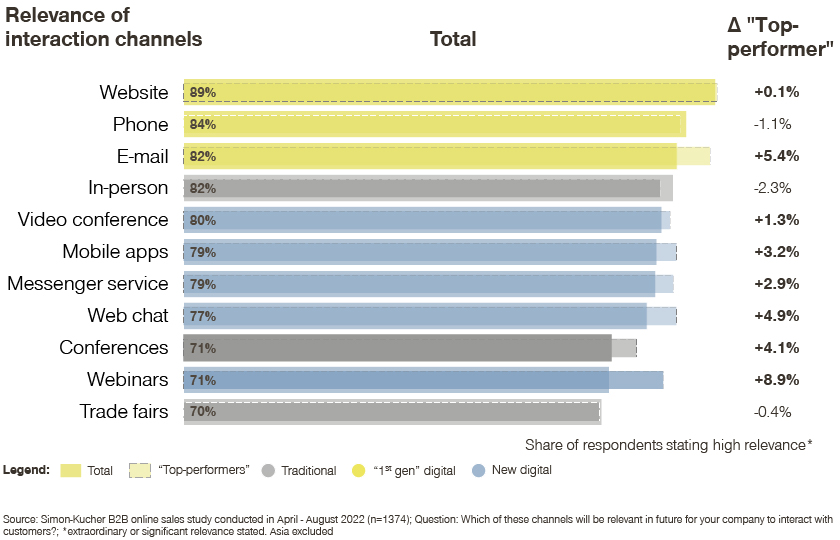 Companies must provide a positive end-to-end experience for their customers and be strong on all levels of communication. If the service the customer receives is consistent, easy, and customised to their needs, that's one less thing for them to worry about in times of uncertainty. Not only that, but it encourages them to invest more of their budgets in the suppliers who get it right.
Businesses are also thinking forward to what communication channels will work best for them and their customers in the future. Compared to pre-covid, the importance of new digital interaction channels such as video conferencing and web chat are seen to be more relevant for times ahead.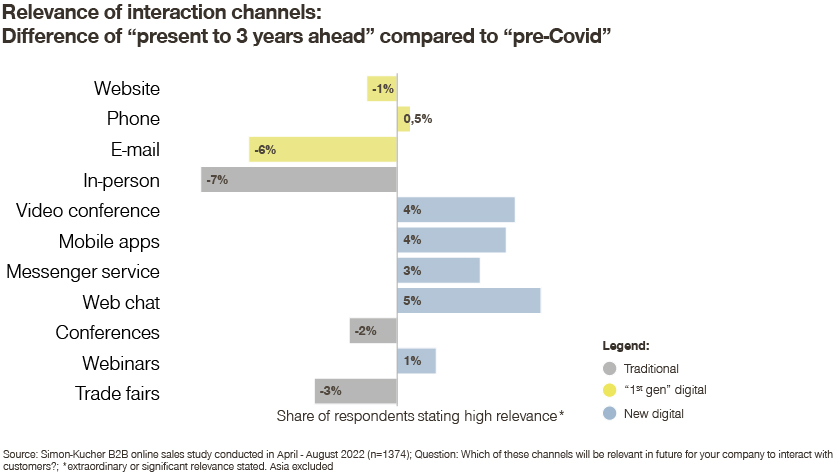 We can help you adapt and differentiate your organisation, sales operating model and processes to drive higher profitable growth in these challenging times.
To speak to a Simon-Kucher consultant, or to take a closer look at the B2B Sales Study, get in touch.