It is time to shift from 'growth at all cost' to 'sustainable profitable growth', or as we like to call it: 'Better growth'. To fight increasing sales cycles, lower win rates and decreasing NRR, packaging and pricing should be the first point on the agenda of your next board meeting.
The latest industry metrics are not great. Across the B2B SaaS landscape, we observe that NRR is decreasing, sales cycles have increased and win rates are down 15-20%. Today's companies are more selective than ever with their technology purchases — in fact, in the face of recent hikes in inflation and precarious macroeconomic conditions, many companies are scaling back on any new technology-driven initiatives. As a result, B2B SaaS businesses are navigating a more complex customer acquisition process.
SaaS companies need a product line up that is compelling enough to get customers through the door, and rich enough to enable future expansion. Through our recent experience we observed that companies are able to increase new logo inflow by >10%, new logo average spend by >15% and base monetization by >20% all at the same time through an optimized packaging and pricing model.
How do you know if this is for you? Well, do you recognize any of the following: Facing difficulty to up-/cross-sell? Does your customer usage increase but bill size does not? Do you need increasingly large discounts to convert specific customer groups, or to fight increasing sales cycles and lower win rates? If so, get a coffee and keep on reading.
In this article, we're taking a closer look at the three pillars that shape a packaging and pricing model, as well as the value it provides scaling B2B SaaS companies. 
It all starts with your Ideal Customer Profile
Many B2B SaaS companies don't have a clear understanding of their ICP in our opinion. Especially scale-ups sell their solution to anyone willing to purchase. By doing so, they miss focus, leading to high CAC and low win rates across the board. But also, this means they lack the foundation for developing the right packaging and pricing model: A thorough understanding of ICP and their specific needs.
When developing a strong software offering, it is crucial to understand who it's for. Using carefully crafted Ideal Customer Profiles (ICP), leading B2B SaaS companies prioritize the most lucrative segments and subsequently tailor their product through a flexible offering structure. To do so, it is key to understand the behavioral differences between distinct customer groups — this is where feature-specific usage data or contract data can play a vital role. These differences are the basis for differentiation within the packaging and pricing
A differentiated offering for different needs
With a clear understanding of behavioral differences across customer segments, businesses can then start the process of figuring out the best packaging line up to attract them. At the end of the day, the success of a customer acquisition strategy depends on the extent to which different packages cater to the specific needs of each distinct segment. 
The visual below outlines five packaging structures that vendors tend to adopt. More than 60% of the best performing SaaS companies (top quartile in our research) apply the good/better/best model. However, the level of flexibility or customization incorporated will depend on the type of solution the company is offering and the end market they're serving. For instance, while SMBs will typically opt for standardized product offerings, enterprise companies tend to have unique needs that require more modular build-up and a certain extent of customization. 
Figure 1: Packaging structures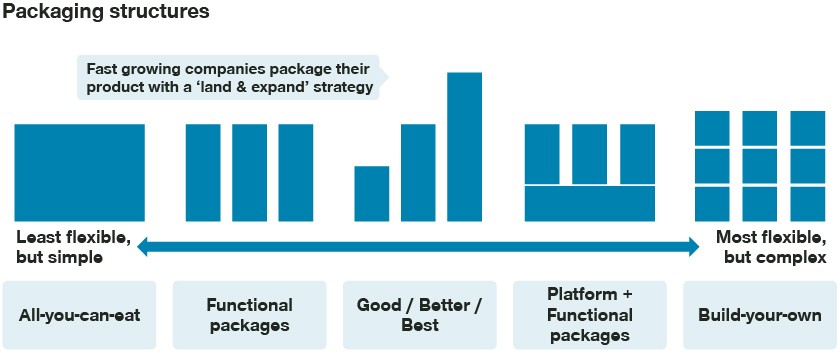 'All you can eat'-models are simple and often preferred by start-ups, aiming to boost adoption of all features and functionalities. 'Build-your-own'-models are most flexible but also very complex and most difficult to sell. This model usually fits well to established firms in the enterprise segment, because the needs of enterprise customers differ greatly from one another. Once you've selected the most suitable structure for your business, the next step is to define the content of the packages in terms of features, services, and potentially usage caps ('fences').
The resulting line-up should have a compelling entry package with sufficient core features to appeal to small or starting businesses. Successive packages or modules each have distinct use cases to cater to specific customer needs. In the case of a good/better/best packaging structure, this means that high-value features should be carefully divided over the different tiers. Additionally, fencing mechanisms can be introduced to promote fair usage, or better steer customers to the package that is right for them. To illustrate, starter packages can be fenced on the number of users that are allowed to create an account.
Figure 2: `Marketing platform' Proposition Mailchimp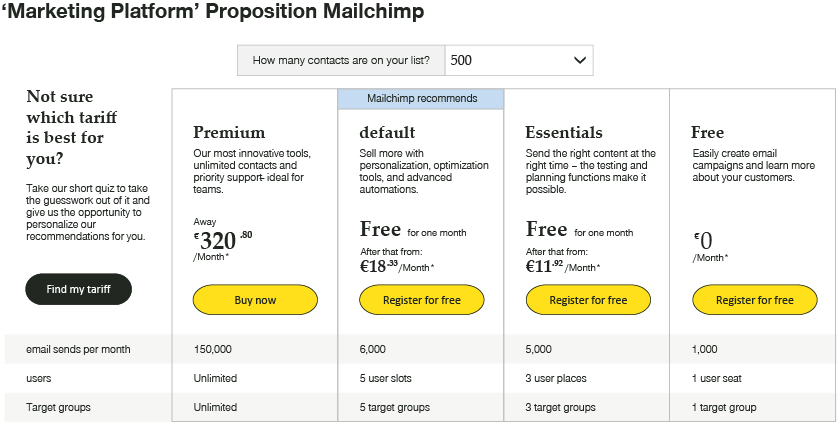 Let's look at an example of this in practice. A leading software company that has successfully leveraged the value of a differentiated packaging line up is the marketing platform, Mailchimp. There are a number of things they do well, including feature allocation, freemium offerings, free trials, and fencing. 
Originally designed as an email campaign tool, today Mailchimp offers a large range of marketing-related functionalities. As a result, the company's recent product innovations have been allocated to different packages based on their ability to satisfy distinct marketing automation and personalization needs. 
Mailchip became famous for their free plan, and they've leveraged that as part of their pricing strategy. As an acquisition model, freemiums provide the ability to educate customers on how to use your product while also creating stickiness. Depending on the time required to get to know the program, and the ability to fence features within an offering, free trials or freemiums can be useful in generating purchases. 
Mailchimp currently offers both. Aimed at early-stage businesses, freemium customers currently need to stay below the 1,000-contact limit to use the service for free. In comparison, Mailchimp's free trials provide larger, mature companies the possibility to try the more advanced functionalities, which they can purchase at the end of the trial period. 
In addition, Mailchimp introduced new fences to prevent under-monetization and create a clear upsell path. To illustrate, the Essentials plan has a limit of 50,000 contacts. Thereafter, customers need to upgrade their package, which would also grant them access to more advanced functionalities. 
Thus, through a series of packaging updates, Mailchimp has repeatedly added product innovations, recalibrated price levels, and introduced new fencing mechanisms. These continuous offering revamps have enabled the company to achieve sustained growth and remain relevant in a constantly evolving martech market. 
Figure 3: Acquisition models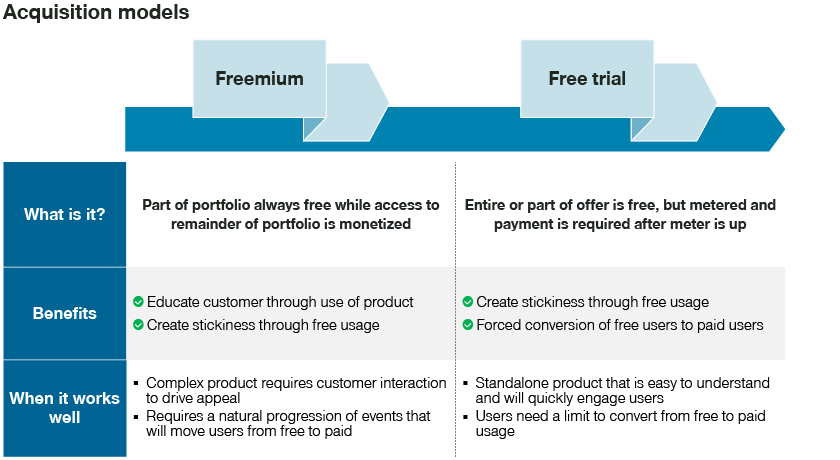 It is all about how you charge, not how much
The importance of pricing is notoriously underestimated by most B2B SaaS companies. When it comes to pricing, there are three components to optimize in concert: price metrics, price levels, and discounting. Many companies put too much focus on price levels, while the true impact comes from optimizing the price metrics – how you charge.
Price metrics 
The most effective price metrics are the ones that are aligned with the value customers derive from the offering. This means that the price scales alongside customers' success or their usage of the software. How predictable and measurable these metrics are will depend on the industry your company operates in. At a minimum, however, price metrics should be accepted and considered fair by customers. In the software space, price metrics are typically user-based or usage-based. 
"The most effective price metrics are the ones that are aligned with the value customers derive from the offering."
More and more, B2B SaaS companies are moving from fully user-based to a hybrid model that includes usage-based components (also known as 'activity-based' or 'success-based' pricing models). Based on their research, Openview, a leading US-based venture capital firm, predicts that by the end of the year, 61% of the general SaaS index will have adopted usage-based pricing in some shape or form. This is because these models both provide the flexibility to offer low entry prices for acquisition, as well as the opportunity to scale with customers as they grow.
For usage-based models, the metric should be one that best correlates with business outcomes, like number of transactions, shipments, payments, etc. On top of an activity-based primary metric, additional metrics can be used to help steer customers to more premium plans. B2B SaaS companies should be designed to reward long-term success and stimulate usage. Customer success reps can work with customers to derive the best possible value from the product, while also increasing their usage and, thus, increasing their spend.
Figure 4: Price metrics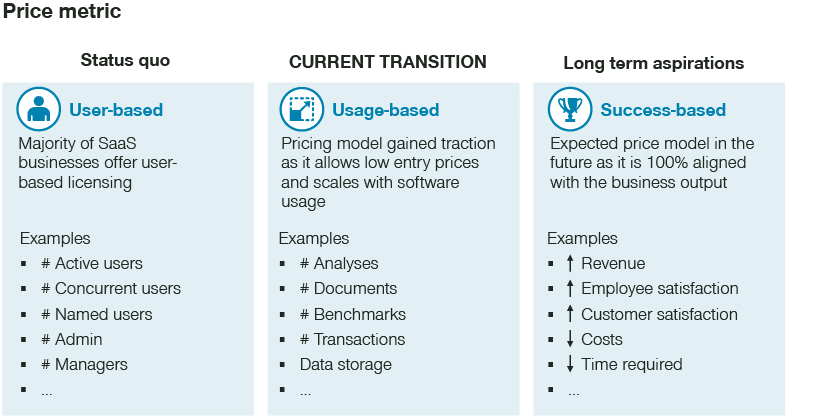 Going back to the Mailchimp example, they chose to price their marketing platform based on the number of contacts in a company's email marketing list. As such, monthly billed prices increase as their customers' audiences grow. This allows them to "help small businesses achieve big things" whilst also monetizing on the potential of large customers. In addition, they offer a 'Pay as You Go' model which is billed based on email credits, targeted at segments that send campaigns infrequently.
All these pricing decisions provide them with the flexibility to serve a large range of customers whilst scaling the value delivered to them. Even though usage based pricing requires changes to incentive structures, monitoring, billing, forecasting, and so on, they have worked out well for Mailchimp and many others SaaS companies.
Price levels
To ensure price acceptance, price levels should be in line with the value customers feel they are receiving from the product. Likewise, price differences between packages should be aligned with value differences. There are a number of inputs that can be considered when setting value-based list prices, including competitor benchmarks, transaction data, and quantitative voice-of-the-customer research.
Especially customer research is important. We observe that most SaaS businesses have no good first-hand understanding of what it actually is that customers want. Often there is too little insight into what the most important features and services are, and what customers are willing to pay for it. Taking the time to talk to your customers about their needs, what they value, and indirectly how they feel about the pricing model, does not only provide the insights that you need, but also makes them feel seen, heard, and appreciated. Quite literally.
B2B SaaS companies who offer more flexible packaging structures have the ability to better align their prices with customers' willingness to pay. Likewise, SaaS companies that use an activity-based price metric can more accurately reflect the value delivered to customers. In some cases, a regressive pricing structure — one that lowers the cost per unit as the usage increases — can be used to attract large or high-usage customers. 
Discounting
Next to setting the right price, clear conditional discounting practices are a vital tool for sales teams to sell a product effectively. Most high-performing software companies define clear discount drivers based on selected segmentation criteria. As such, variable discounts can help to cater to segments with high strategic importance or to drive growth for selected markets and segments. On top of a segmented discount framework, there's a need for tight escalation guidelines to avoid excessive discounting, as well as robust training for the sales team. In the end, discounts should not become the default, but instead be used as a lever during negotiations. 
Optimizing packaging & pricing design for 'better growth'
With lengthening sales cycles, lower win rates, and reduced technology budgets, it's now key to design your software offering in such a way that optimizes acquisition and monetization at the same time.
This starts by understanding the needs and characteristics of distinct customer segments and prioritizing the ones that deliver most value or align with strategic goals. The packaging line up should be tailored to the specific needs of the most lucrative customer segments. Compelling entry packages, freemiums, and free trials can help to lower adoption barriers, improve conversion rate and scale with customers over time.
All in all, for business leaders that want to keep their companies on a sustainable growth path, packaging and pricing should be the first point on the agenda of your next board meeting.
If you're ready to start refining your packaging line up and pricing and need some help, get in touch with one of our specialists. We'd love to help.