Improved efficiency, more successfully completed transactions, and – in the end – higher revenues: The benefits of a professional request for proposal (RFP) process are significant. However, many companies are having serious gaps in this regard. How can they be filled? It is worth taking a look at the pioneers in this field.
RFPs contribute to a significant share of revenue in many industries, as for example business services, logistics, automotive or construction. Quite often the process to win proposals hasn't changed much in recent years though. Companies tend to stick to their traditional approaches when reconsidering them would be the much wiser choice. But how much harm is done exactly by this behavior? And what are measures to change that? We deployed an international study with over 130 key stakeholders from RFP-heavy industries, mostly in the US and Europe, to find answers.
Substantial challenges in tender management
The topic is an important one for many companies, after all, according to our survey, 56 percent of the participants revenue is defined as RFP-driven. However, those revenues are not easily achieved due to a variety of external and internal challenges: More powerful competitors inducing higher price pressure as well as highly professionalized procurement departments at the client make it tough for companies to win profitable business via RFP. Unclear requirements within the RFP documents were also named as a major challenge. In addition, internal challenges add to the pressure: Insufficient time/resources to coordinate efforts internally, a lack of relationship with client stakeholders, and insufficient support through tools and processes are key for many difficulties in our study respondents' RFP processes.
Only few companies have professional RFP processes
These challenges have an even more destructive effect since many companies aren't – according to their view – very prolific when it comes to requests for proposal. We assessed the companies RFP level of sophistication along the RFP process based on these parameters:
Analyzing the initial situation

Defining a suitable strategy

Setting a price

Preparing and following-up

Governance
According to our study results, based on these KPIs, only 11 percent of participants can call themselves professionals. An overwhelming 89 percent have more or less large gaps. Here, the improvement potential of the less professional companies is distributed almost evenly across all areas.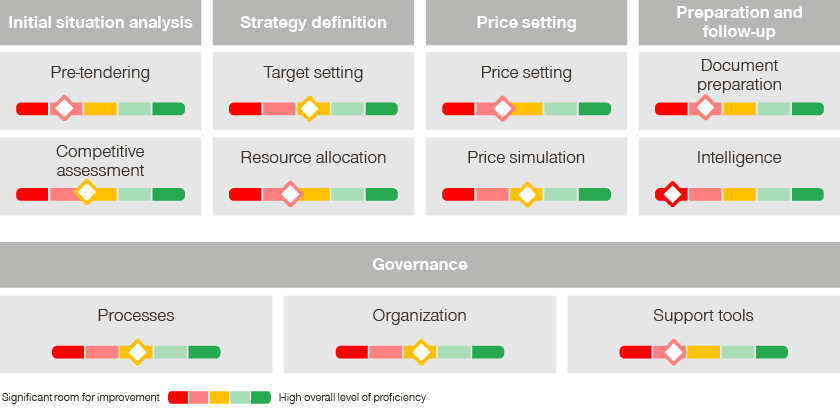 RFP excellence: Learning from the best
To improve proficiency regarding proposals of request, it is worth the effort to take a look at companies with highly professional RFP processes. What are they doing others aren't? They know, for example, about upcoming RFPs, are able to influence them, and make use of competitive data more often. In contrast to that, only 52 percent of the RFP stragglers know about incoming RFPs well in advance, 31 percent can systematically influence the RFP design, and 39 percent are strongly in favor to methodically collect win/loss data from previous RFPs and use it to make informed decisions. And while almost all professionals categorize incoming RFPs and allocate resources accordingly, only 60 percent of the other group do this.
Sophisticated pricing secures advantages
With pricing being a vital element for winning a proposal, companies with a professional RFP process make sure to have thorough pricing strategies in place, including systematic price setting methods and differentiated versions/service levels for various customers. Looking at the group of RFP stragglers, they are for the most part missing such a strategic approach.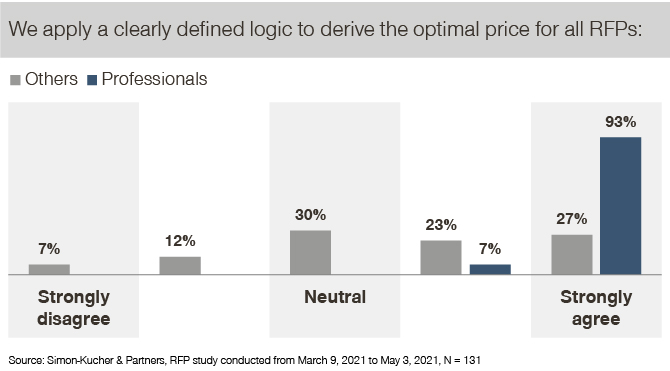 Compared to 93 percent of RFP professionals, only 66 percent of the rest provides alternative solutions at different price points with staged value proposition to improve success chances.
Big improvement potential regarding negotiation preparation
A field where RFP stragglers are even more lagging behind is their preparation for tender negotiations. Almost all companies with professional RFP processes maintain predefined timelines to ensure that they have sufficient time to prepare a quote, predefined steps and checklists for their RFP documents to increase its quality, and price verification processes to quantify their offer's added value against competitors'. The rest of the companies isn't as good prepared: Only 35 percent have predefined timelines, 58 percent have checklists, and 45 percent a price verification process. 
Looking at data intelligence, the difference is even more obvious: While nearly 90 percent of RFP professionals feel confident in anticipating competitors' actions for their RFPs based on past data, only 27 percent of RFP stragglers do.
In addition, during negotiation, the latter don't use every resource available to receive a good outcome. About one-third don't have any tools or software in place to support the RFP response process – a clear contrast to the professionals, which consistently rely on a fully integrated tool.
Conclusion: Achieving RFP excellence really pays off!
As you can see, there are many improvement areas for companies without a professional RFP process. The measures to do so change, depending in which stage of professionalization maturity they are:
Beginner:

Conduct status quo analysis, define strategy (e.g., set targets), define processes and responsibilities

Experienced:

Develop systematic price setting and institutionalization of value argumentation, introduce proactive RFP management elements (e.g., pre-tendering, qualification, prioritization)

Professional:

Provide holistic tool support (e.g., competitive intelligence, past negotiation outcomes), analyze competitive advantages to further differentiate pricing based on multiple criteria, set up a tender management team that includes professional negotiators
In our experience, initiatives to reach RFP excellence pay off, since – despite similar participation rates – professionals on average have a win rate of 79 percent, whereas the other group only wins 44 percent of tenders. Achieving the win rate of the former would increase the latters' revenue from tenders by almost 80 percent – which company can afford to pass up on opportunity like that!