Is your business ready to face a downturn? As rising inflation drives up costs, go through your business with a fine-tooth comb. Here are some immediate steps you can take to reinforce your business strategy.
There's no avoiding the current economic circumstances.

The world is facing a polycrisis and markets are straining under issues aggravated by COVID-19, geopolitical instabilities, labor shortages, supply chain problems, and inflation. In many markets, there are forecasts of recession. According to World Bank, the global economy is expected to grow by just 1.7 percent this year.
Act now to recoup margins
While market volatility is a big challenge, it's also an opportunity to tackle your commercial operating model and pricing and improve margins.

As production costs rise, your business margins are at risk and how you exercise your pricing power could be the answer to growth and profitability – despite potential decreases in demand. It is critical to adopt the right measures for better growth. Otherwise, your business will continue to experience the negative impacts of unpredictable global economic forces in 2023.
Businesses lack readiness to counteract inflation
We recently conducted our B2B Commercial Trends Study 2023 surveying over 900 key stakeholders from different B2B industries worldwide.

Our study results reveal that businesses have a way to go before they are fully prepared to face the future. With the threat of recession looming over markets, it is critical to take immediate action to realize commercial effectiveness.

Growth remains the primary focus for this year. 72 percent of respondents expect stable or increased profits, in stark contrast to the recession forecasts in many markets. Industries such as Manufacturing Machinery as well as Paper and Packaging are the most hopeful regarding what this year will bring. Meanwhile, Aerospace and Defense and Chemicals are more pessimistic about market gains. Interestingly, firms view regions outside of Europe to have the most potential for growth.

We know that optimizing commercial levers and cost-cutting measures are seen as the two primary instruments for tackling a recession. Companies increasingly recognize the potential in a focus on growth, though. From our recent study, 73 percent see commercial levers as a key tool to improve performance, while only 27 percent are focused primarily on cost-cutting measures. In general, 54 percent of respondents worldwide believe they are ready to respond to a recession. However, that means that almost half lack a clear plan, and many are unprepared to navigate key commercial trends effectively.

There are some important areas where companies appear confident and ready for the challenge, such as– adapting commercial operating models, driving sustainable innovation, and adapting the sales strategy. However, when it comes to other areas, such as attracting talent, protecting margins from recession, passing on cost increases, and mitigating supply chain disruptions companies report lower readiness. Without immediate action, it will be difficult to navigate this new and competitive landscape and keep pace with changing markets. Even small differences in strategies will matter now more than ever before.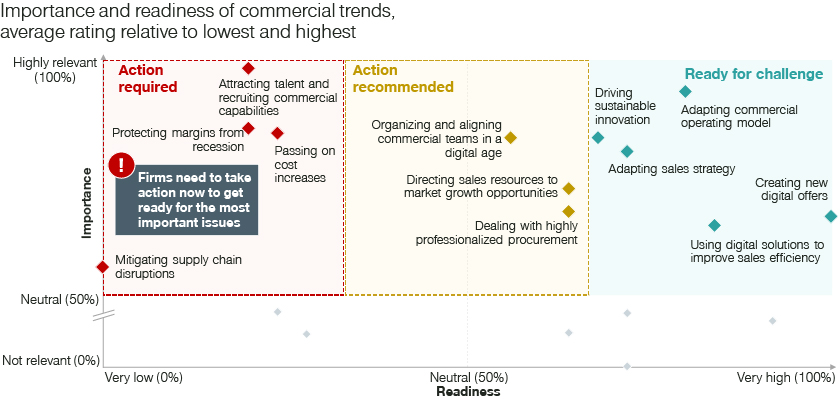 Future-proof your business in 2023
With everyone on the lookout for recession, it's increasingly crucial to understand your business demands and develop tailored strategies to minimize negative effects from future events.

Start by implementing three key steps for your business to flourish in this economic climate.
Take steps toward profit-oriented revenue increases
Develop an action plan to protect your margins in 2023
Initiate a price increase campaign in a timely manner to face the high-inflation environment.
Here at Simon-Kucher, we have developed a framework that can help businesses navigate this volatile global economy. It covers how you can reevaluate your business around three factors – product and offering, marketing and sales, and pricing and monetization.

It's critical to review the commercial levers that have the potential to yield more rewards and develop plans around their growth. As increasing costs affect your business margins, it is time to reevaluate your pricing power and make suitable adjustments. That might mean a push for sales effectiveness. Or leaning on dynamic pricing to capture willingness to pay.
What you can do next
Time is a crucial factor in the ability to pivot successfully in business. So, it is not only necessary to assess and make the right moves but doing so at an opportune time can have a huge impact on your firm's future.

This year will test all industries worldwide. Those who anticipate feeling the burn of the economic downturn the most should be the quickest to react. Implement strategies that are customized for your business. Explore alternative revenue models.

We are global experts in commercial strategy. For decades we have helped businesses of all sizes grow strongly and profitably. We are happy to help you take the next step towards future proofing your business.

Find out more about how you can build a growth-focused plan to navigate the economic uncertainty and maximize your opportunities.
Related events:
Positioning Your Company for Growth in an Uncertain Economy
Unlocking commercial growth: Maßnahmen für 2023 und darüber hinaus