Digitalization in the industrial sector
August 15, 2017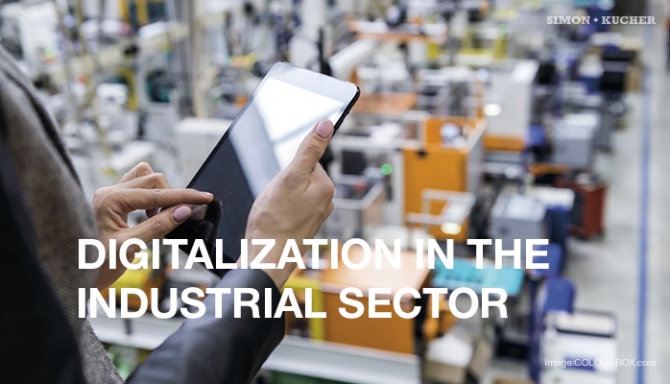 Industrials: The Internet of Things (IoT) is far more than just smart factories. It also causes disruptions on the commercial side.
Digitalization has so far primarily been a hot topic in the B2C markets - with intelligent apps, smart homes, and driverless cars generating excitement among end users. However, Industry 4.0 and the IoT are currently reshaping the world B2B companies operate in, and a quick reality check reveals an alarming gap: Most industrials firms restrict digital technologies to production processes and are running their commercial operations as analog as ever. This half-hearted way of embracing digitalization entails a major risk. New competitors with digitally enriched products and modern marketing, pricing, and sales approaches are entering the markets, and customers increasingly expect digital technologies to be used in all business areas.
Insights
Digitalization is a complex topic for industrials companies. As they have been intensively working on smartening up their factories and streamlining production processes, they may argue they are already digital. But Chief Digital Officers and digital units are hard to find in the industry, and most C-levels don't consider their companies to be digital frontrunners, acknowledging that they are far from fully tapping into the potential these new technologies bring. Only a few companies are launching digital initiatives to address the commercial opportunities and challenges of digitalization. But this is exactly what the industry needs, and they need to start right now as a full digital transformation takes some time. There will be a tough fight ahead for those who only start bringing their house in order once digital products, services, marketing, and sales approaches have already gained significant market share.
On the offer and pricing side, digitalization makes it possible to generate more revenue and profits, as analog products can be enriched with information and data that add value from a customer perspective. In theory, this value can of course be monetized, but this is easier said than done, especially as many industrials companies have a "give away" mentality for these digital additions. Whichever the approach, shifting from the traditional hardware business (selling a product) to a software business (data and related services) requires changing the business model from one-off purchases to recurring revenues, and it may put much more emphasis on solution and service elements (e.g., predictive maintenance). Besides, price models and metrics need to be revisited. While new services may run best under subscription models (service contracts, license fees), traditional products can also be monetized in a new and improved way: Instead of paying "per piece", customers may prefer to pay "per use". This model works thanks to sensors that measure and report usage, and the price is considered fairer by customers.
The biggest headache for industrials companies may be transforming their sales approach. First, the availability of much more data opens up opportunities to efficiently steer sales teams. For this, CRM systems need to be state-of-the-art, and sales processes need to be clearly laid out. Second, selling software instead of hardware requires very different skills on the sales rep level. Ensuring the right competences are in place for the right customer, product, or service is not an easy task for a B2B company with a big field sales team. And third, online channels are also emerging in the predominantly analog sales world of industrials companies. Integrating them means not only ramping up processes and logistics, but also improving price consistency across channels and attributing revenue correctly to avoid cannibalization. The digitalization strategy therefore needs to be rooted deeply within the company's organizational structure and processes.
At the forefront of digitalization
A good example of how the Internet of Things can turn established business models upside down is SmartBin. The company manufactures and sells sensors that are mounted on all types of waste containers and send data e.g. on the fill-level to a software platform via Wi-Fi. This gives waste management and recycling companies a holistic view of their operations so they can optimize the route of their waste trucks, reduce the number of hauls, save time and energy, and avoid overflowing waste containers. Monetization follows a typical software price model: SmartBin sells usage analyses, not sensors, and clients pay license fees for the data assessment software.
Advice from our experts
Start today! Digitalization is happening right now, even if your business still seems relatively safe. New competitors are entering the market daily, and customers increasingly expect digitally enriched products and a seamless experience across all channels with every online purchase, be it in business or private life. Here are the three things industrials companies need to focus their efforts on:
Be relevant to your customers! Assess your company's specific need for action, investigate your customers' needs, and revisit your business models for each product and service. Don't wait for your competitors to take the lead. Their business may operate under different circumstances than yours.
Overhaul both your offering and pricing! If you are a machinery company, adding smart sensors to your traditional products is likely to generate a multitude of valuable data that you can sell as value-adding services through software licenses. For component manufacturers, a solution-oriented offering with both tangible (hardware) products and software elements could address your customers' changing needs. Obviously, all this needs a sound price model to ensure your commercial success, and here new technologies can create innovative ways to monetize your offer.
Thoroughly transform your sales approach! In an evolving digital world, sales cannot continue to operate in the same way as 25 years ago. Like it or not, the online channel needs to be integrated, and a switch to a more solution-oriented offering also requires roles, tasks, and responsibilities to change. Accomplishing all these changes takes time, so even if you are not under direct attack right now, prepare your business for the imminent change.