Our 2022 Global Sustainability Study found that many customers are still not aware of their bank's ESG initiatives and rank the importance of sustainability lower in financial services than all other industries. Our experts Morten Kaae Sorensen, Caroline Kastbjerg, and Gustaf Edgren outline the three strategies financial services companies can employ to bridge the gap to their customers.
In recent years, all industries have been taking steps towards becoming more sustainable, and the financial services (FS) industry is no exception. The industry has so far raised billions in ESG investments and placed large resources behind developing sustainable offerings and other initiatives.
In five of the world's biggest markets, sustainable investments represented more than a third of all assets. Additionally, the number of global ESG funds grew to almost 6,000 as of December 2021 – a 43 percent increase from the end of 2020.
This shows the great lengths the FS industry is taking to enable the green transition through the positive leveraged impact of sustainable finance.
Despite these efforts, the importance of sustainability as a purchase criterion is still lagging behind other industries and is trending negatively (5 percentage points lower than last year – the largest decrease out of any industry).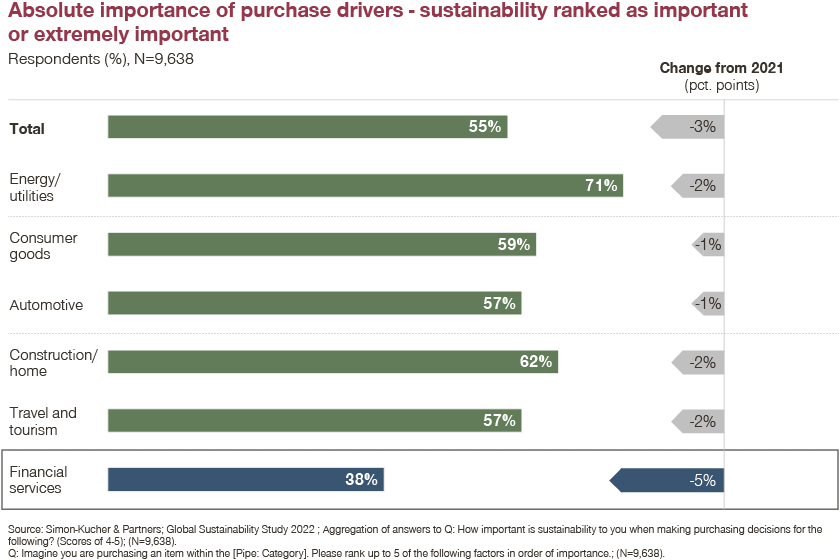 The low importance placed on sustainability in financial services is surprising when you consider the high impact sustainable investments can have on the environment. For example, according to the Make My Money Matter campaign, placing your pension in a sustainable fund can provide far greater CO2 reductions than activities like changing diets or giving up flying. Though, of course, such investments are not a replacement for activities that reduce consumption – both are needed to fight climate change.
The reason for this low prioritization is clearly not a lack of efficacy but perhaps a lack of awareness of this efficacy.
Knowledge gap is blocking consumers from seeing the value of sustainable financial services
Although FS firms have gone to great lengths to embrace sustainability, word of these efforts has not reached their customers. In fact, over 40 percent of customers are still unaware of what their primary bank or service provider is doing to reduce its environmental impact.
The question then remains: How can the financial services industry catch up in getting the customer base to realize and commit to the importance of sustainable financial products and services?
The answer lies in how FS companies engage and communicate with their customers around their ESG initiatives and the positive impact they bring.
There's an opportunity to engage and activate customers
If sustainability initiatives are implemented at the core of the business and clearly communicated to customers, they can become a competitive advantage. The result? More satisfied and loyal customers. Recent evidence shows a clear link between a customer's satisfaction with their bank and their awareness and use of the bank's sustainable financial products and services.
Even without knowing much about their providers' efforts, customers are independently signalling high willingness to commit to sustainable financial solutions.
Our study found that out of all industries, FS ranks the highest when it comes to the premium that customers are willing to pay for a sustainable purchase. Further, almost 25 percent of all customers are willing to forego a share of their investment returns if they can be guaranteed that their investments are made in an environmentally sustainable manner.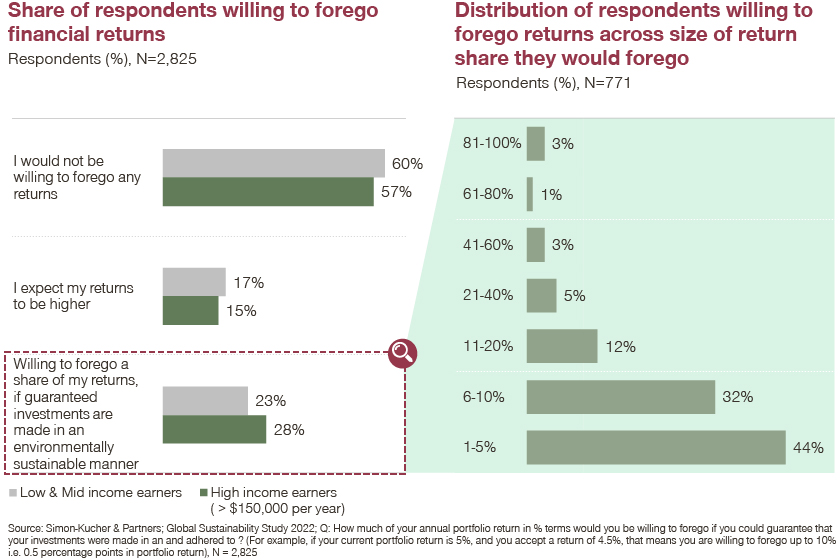 How to serve the sustainable customer
All this evidence emphasizes that there's a strong demand for sustainable finance and ESG. This is an opportunity for FS firms to foster and channel these commitments, increasing the positive impact while bringing them closer to their customers.
To seize the opportunity from sustainable finance and ESG, banks need to go beyond regulatory minimum standards and take sustainability to the core of their business strategy.
From our experience, there are three strategies with increasing levels of commitment and results, that banks can employ to reach their desired goals and best serve the sustainable customer.
Optimized sustainable offering: Three strategic responses
Sustainable offsetting
Banks can link traditional core products and services to a sustainable offsetting feature.
The purpose of this strategy is to demonstrate to customers your willingness as a company to fund sustainable causes. In turn, customers can rest in the knowledge that their purchasing decisions are contributing to improving the environment.
Case Study: neon
neon is Switzerland's fastest growing Neobank, reaching 130,000 in 2022
In 2021, they launched a sustainable digital bank account for sustainable banking. The neon green account is carbon neutral and costs 5 Swiss francs a month
One tree is planted for every 100 Swiss francs spent. And five additional trees are planted per month to offset Switzerland's annual carbon footprint 
Sustainable core products
Further differentiation can be achieved by designing or redesigning core products to align with the demand for sustainable offerings.
Many banks have already started this journey. Today, some banks offer green car loans or energy loans that are offered to customers at low interest rates. Likewise, most banks now have a wide range of ESG investment funds that customers can choose from. This gives customers the freedom to go for sustainable options
Case Study: EthikBank
EthikBank is a German ethical-ecological bank that was founded in 2022 as a branch of Volksbank Eisenberg
Private customers can receive green mortgage-backed construction financing. This means that the more sustainable criteria the construction project fulfills, the lower the interest rate customers get on their loan
Customers can also receive a subsidy bonus (discount on interest) between 0.1-0.15 percentage points. This is based on energy efficiency, materials used, and if the rebuild involves setting up renewable energy sources  
Sustainable advisor: The highest commercial opportunity and best differentiator
Becoming a sustainable advisor requires integrating sustainability in your company's core service offering. You'll need to leverage your specialty to help customers make more sustainable investments and consumption choices by offering expert advisory services and supporting digital tools.
Such initiatives enable the communication and transparency required to increase awareness of your firm's ESG measures. This also enables customers to make sustainable investments and consumption choices, helping them reach their personal environmental goals while also fostering loyalty and trust.
Case Study: Nykredit's climate tool
Nykredit is a Danish bank and mortgage provider that is majority owned by a
co-operative of customers
In 2022, the bank launched a climate tool to help farmers get clear oversight on their farms' carbon footprint
The climate tool calculates the current climate impact of a farm, as well as the impact other possible climate actions could have. This helps farmers choose the best course of action for their farm
The tool will provide farmers with the knowledge they need to understand why climate action is needed on their farm. The aim is to deliver climate education to 3,000 to 5,000 farmers and students in the coming years
The importance of being a sustainable advisor
We believe that banks should ultimately take the role of a "sustainable advisor" helping their customers make their lifestyle or business more sustainable. This requires fundamental changes in a bank's strategy, services, and mindset. Yet only through this level of commitment can banks grow their sustainable financial services and form stronger and deeper customer relationships.
At Simon-Kucher we have years of experience helping banks adjust their value proposition and product portfolio to incorporate sustainability. Our advisory services span across all aspects of the commercial optimization journey: Commercial strategy, value proposition and communication, packaging, pricing, as well as sales and advisory.
For more information on this topic, reach out to our authors!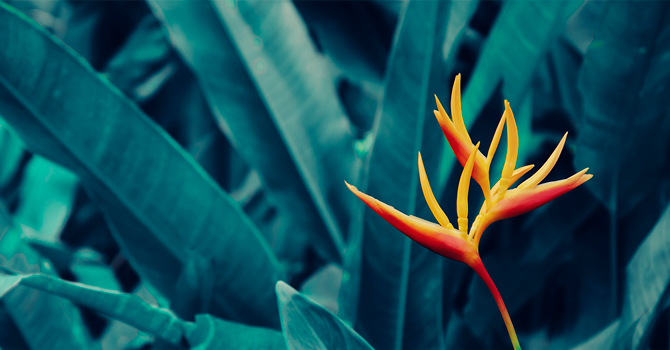 FS Sustainability Study
3 Strategies to Successfully Implement Sustainable Banking