Innovative therapies can make a significant difference in clinical outcomes. But for some therapies to become a true success, it's vital to secure access as early in the disease trajectory as possible. Here, early detection tools can be a decisive resource, helping pharma broaden the patient pool for innovative therapies.
In the words of Sir Francis Bacon, "knowledge is power." Being equipped with accurate information early on gives the ability to act. This is highly relevant in healthcare, where early detection of diseases can lead to immediate and more successful treatment, slow down disease progression, and reduce the need for invasive and expensive procedures. Early detection tools unlock better health for everyone.
Trending Topic
Better Health
We help you to unlock better health for everyone. We see opportunity for the industry to deliver even more value by maintaining and improving health, going beyond just treating it.
The challenge? While there's an increasing availability of new therapies for early intervention and treatment, few innovative diagnostic solutions achieve market access. Still today, many diseases lack effective diagnostic tools for early detection, and a large pool of patients begin treatment years later than they could have done.
At Simon-Kucher, we help pharmaceutical companies unlock sustainable growth by bringing advanced therapies to more patients worldwide. We also have extensive experience in helping diagnostics companies build commercial partnerships and holistic offerings. This makes us the perfect partner to help successfully monetize early detection tools and broaden the patient pool for innovative therapies.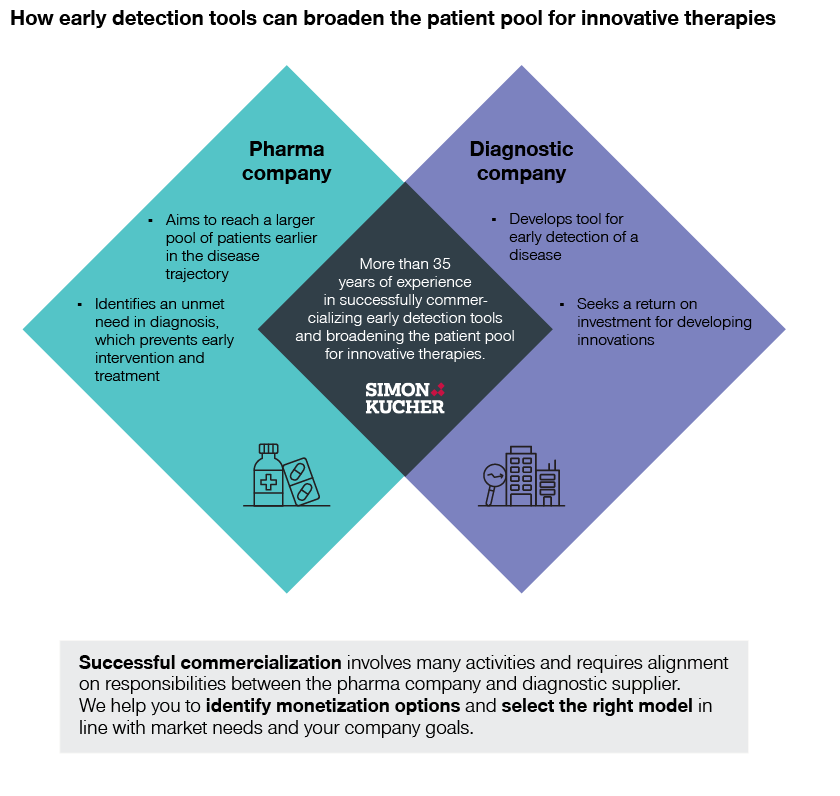 We know the funding and adoption barriers in early disease detection. And we've identified four potential business models to address these challenges:
Why early detection tools, and why now? Read on to find out more!
Diagnostics is lagging behind…
Across healthcare, we see an increasing focus on new therapies for early intervention and treatment. At the same time, there is a lack of effective diagnostic tools for early detection.
For example, several companies are investing in amyloid targeted therapies (ATTs) to treat Alzheimer's disease by improving cognitive function and delaying disease progression, such as Eisai and Biogen's Leqembi (lecanemab). Eli Lilly also has an ATT treatment, donanemab, in the pipeline.
Meanwhile, 50 percent of seniors have not received proper assessments for early detection of Alzheimer's. The current average diagnosis comes 2.8 years after the onset of symptoms – by which time the disease has already progressed and Leqembi is no longer a relevant treatment.
...but AI-driven solutions signal positive change in healthcare
Fortunately, this is starting to change thanks to growing investment in innovative diagnostic tools and modalities.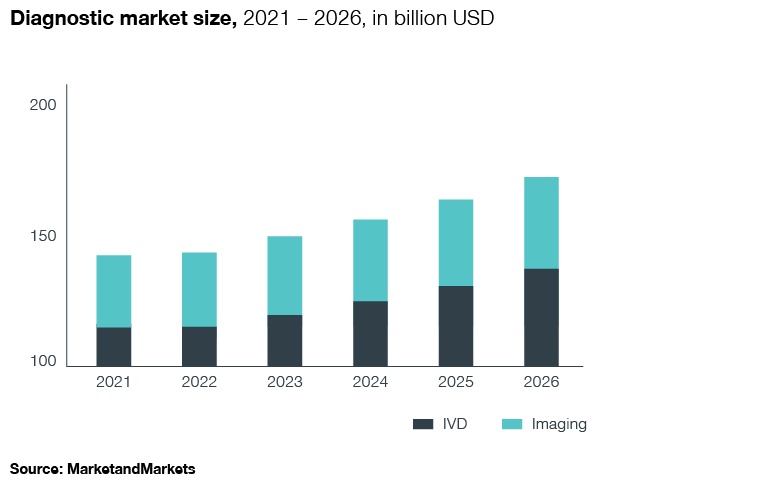 AI applications in diagnostics are a particularly high growth segment, currently valued at more than 11 billion USD with an expected CAGR of more than 50 percent in the coming years. Here we see both startups and large diagnostic companies working on innovative solutions to address the significant unmet need in the early detection of diseases.
A recent example is 3Derm's new AI-powered tool, DermSpot. Its algorithm can autonomously detect melanoma, squamous cell carcinoma, and basal cell carcinoma, offering primary care providers triage options for referring patients with potential skin cancer.
Read our article: AI in healthcare: Just what the doctor ordered?
… while pharma and diagnostics join forces
In certain indications, pharma sales strongly depend on innovative diagnostic solutions to identify suitable patients. Pharma companies are starting to realize the potential of collaborating with diagnostic companies to detect diseases earlier and grow the patient pool for their new therapies.
We see this in the partnership between digital health company Eko and pharma firm AstraZeneca. As one of the market leaders in heart failure treatments, AstraZeneca aims to enhance diagnosis and enable treatment access for patients, while Eko provides AI-powered digital stethoscopes to screen for early signs of cardiovascular diseases. The collaboration enables Eko to generate real-world data for its technology so that it can build on and further advance its solution.
Then there's the Elecsys Amyloid Plasma Panel (EAPP) blood test. Its development stems from a collaboration between Roche and Lilly to improve timely and accurate diagnosis and treatment of Alzheimer's – highly relevant for Lilly's ATT in the pipeline.
Other examples include a partnership between Siemens Healthineers and Novartis, as well as a partnership between Digital health company Analytics 4 Life and Actelion Pharmaceuticals.
Pharma companies developing therapies dependent on early detection of a disease can form mutually beneficial partnerships with diagnostic firms to ensure they reach their target patients. Such a partnership can help increase therapy revenues through a larger patient pool and prolonged treatment. However, successful commercialization involves many activities and requires alignment on responsibilities between the pharma company and diagnostic supplier.
Funding and adoption challenges in early disease detection
In many healthcare systems, numerous funding pathways exist for innovative diagnostic tests. However, the feasibility and requirements to access the different pathways are often unclear and require a detailed assessment. Meanwhile, few innovative diagnostic solutions achieve market access due to strong evidence requirements, with healthcare systems demanding significant clinical as well as economic evidence to grant funding.
Proving clinical utility and cost-effectiveness of a standalone diagnostic is difficult, as a link to improved outcomes resulting from earlier or better treatment needs to be established. Payers typically ask for a randomized controlled trial against the standard of care, as well as improvements in hard clinical endpoints, such as mortality. From an economic perspective, systematic quantification of cost savings (or at least neutrality) and cost effectiveness below the ICER threshold would accelerate positive funding decisions in several countries.
However, achieving broad physician adoption may be equally difficult. Physicians, especially GPs, don't always stay actively up to date on the latest diagnostic innovations, with many performing the diagnostic procedures they learned in their studies. Some distrust diagnostic innovations, especially digital and AI-driven solutions which, without the right training, can be perceived as a "black box".
Meanwhile, hospitals and GPs operate under tight budgets and time pressure. New solutions may not always fit naturally into the current diagnostic pathway, physician workflows, and EMR systems. A new solution needs to make tasks easier – not more time-consuming. Without a financial benefit, many physicians are unwilling to invest extra time and resources.
Select the right path to monetization
We've identified four potential business models to address the abovementioned challenges:
1. Invest in evidence generation and obtain public funding
Following the traditional approach to target broad adoption, you need to generate sufficient clinical and economic evidence through trials and studies to secure public funding. The advantage with this model is that, once funding is available, it enables immediate adoption at a large scale. It also provides the highest revenue and profit potential. The drawback? It requires significant investment in clinical and economic evidence and typically entails a complicated and lengthy process with an uncertain outcome.
Case example: OncotypeDx
This diagnostic test predicts risk of breast cancer recurrence and identifies patients who will not benefit from chemotherapy. Around 80 studies with more than 96,000 patients provided consistent evidence across prospective RCTs, validation studies, and registries. In the USA, OncotypeDx first achieved coverage by commercial plans in 2004 and coverage for around 80 percent of covered lives by the end of 2007. In Europe, success was faster in some countries than in others. In the UK, positive NICE guidance was achieved in 2013 but regular outpatient reimbursement only later in Germany in 2020.
2. Utilize pharma funding to push for adoption
Building the business case around the therapy is an alternative way to achieve uptake. Here, the pharma company provides the funding to enable free testing for suitable patients to eliminate barriers and directly grow the patient pool for drug therapy. This also increases awareness for appropriate use of both the detection tool and therapy. However, revenue depends on pharma sales only and may jeopardize the public funding opportunity. This approach is also inhibited by legal challenges in many countries which make it difficult to offer free tests (direct pharma funding) to a broader patient pool. In this case, indirect pharma funding (grants for trials, research) still works for a small patient pool.
Case example: OncoKDM platform
In Italy, Eli Lilly is collaborating with OncoDNA to broaden access to biomarker testing for thyroid cancer patients. While Lilly pays for testing, OncoDNA is in charge of delivering tissue sample logistics, thyroid NGS testing services, and patient-specific treatment recommendations (including Eli Lilly's therapy for thyroid cancer)
3. Enter the market as an OOP/private funding-only solution
When combined with marketing to HCPs and patients, this approach can achieve initial traction in the market. It requires a strong value proposition to generate initial adoption and revenue in the absence of public funding. The benefit is fast implementation with limited formal requirements. However, this approach typically lacks scalability due to little acceptance and willingness to pay in many markets.
Case example: Screening tests
Several screening tests targeting a broad patient population require out-of-pocket payment (or are only funded by private insurances). Funding varies by country, but examples include cervical cancer screening with HPV tests, prostate cancer screening with PSA tests, CRC screening with Cologuard, and asthma monitoring with exhaled nitric oxide.
4. Collaborate with a third-party provider and use their existing ecosystem
This approach is generally limited to digital solutions. An established diagnostics company offering an open solution platform makes a strong partner when seeking market access for a digital diagnostic, enabling fast adoption on a significant scale without a large resource investment. However, this approach requires a widely used platform to ensure broad access and usage. In addition, it creates dependency on the partner's success and willingness to promote your solution.
Case example: Bayer Calantic platform
Bayer launched the cloud-hosted AI application platform and marketplace Calantic to offer AI solutions in radiology. Calantic includes innovative solutions developed by different third-party startups, which are thereby made available on a larger scale.
Early detection and treatment of diseases: better for everyone
Ensuring the detection of suitable patients is a critical success factor for pharma companies launching therapies for early treatment. The high level of innovation in the diagnostics market is an opportunity to overcome the challenge of diagnosing patients at an early stage of disease. However, there are significant barriers in obtaining funding and achieving adoption of a new diagnostic test. Investment is required from pharma to pave the way.
Ultimately, all involved stakeholder groups will benefit from early detection and treatment of diseases. Patients will receive better clinical outcomes through earlier treatment and, with smart positioning and acceptance among physicians, innovative tools will save healthcare professionals time through reduced diagnostic work-up time. Payers can achieve cost savings through reduced complications and hospitalizations, while diagnostic companies achieve a return on investment for developing innovations. Finally, pharma companies achieve increased therapy revenues through a larger patient pool and prolonged treatment.
Reach out to Simon-Kucher today to learn about how we can help you identify monetization options and select the right partnership and business model in line with market needs and your company goals.
Thanks to contributing author: Tien Le, Senior Consultant
Trending Topic
Better Health
We help you to unlock better health for everyone. We see opportunity for the industry to deliver even more value by maintaining and improving health, going beyond just treating it.