At Simon-Kucher, we believe in better health.
We see opportunity for the industry to deliver even more value by maintaining and improving health, going beyond just treating it.
From preventive care, integration and use of technologies to new vaccines and diagnosis tools. The opportunities for healthcare to deliver more value seem endless. Until recently, payers reacted to these trends with scepticism and resistance. How can the industry influence this mindset and make "better health" a reality?  
We help you to unlock better health for everyone.
Our thinking
Better health: Let's rethink healthcare
New developments and technologies have put more emphasis on maintaining and increasing health for everyone. This opens new value chains and benefits for patients, providers, payers, and society. However, this space is new and evolving and comes with its own set of challenges. 
What can companies do to identify and evaluate the growth potential in their portfolio?
Why now?
What does "better health" stand for? And why are we talking about it now?
Watch our video to learn more from our industry experts!
The growth of population health in Europe
The recent years had a lasting impact on the healthcare sector, influencing policy, drug development and access, commercial health management, and digital innovations.
We believe that these developments will have a major impact on population health and make it a key feature for the future. So, what does it mean to European payers and stakeholders, and how will this new focus change the perception of what constitutes "value" in the healthcare sector?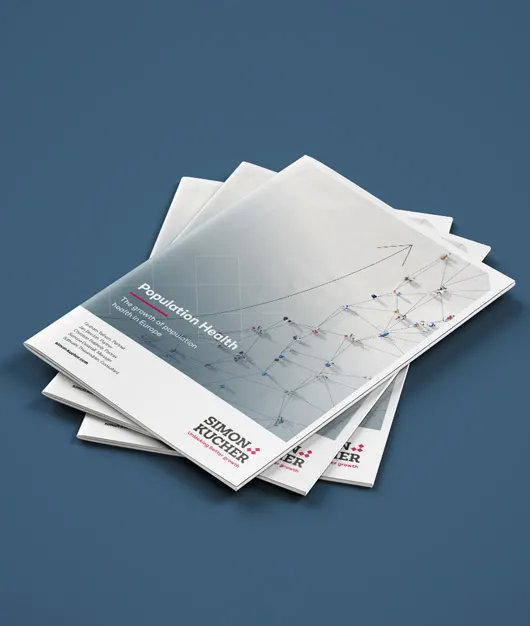 How we've helped
Optimizing a go-to-market and monetization strategy for a digital mental healthcare provider
Digital healthcare is a growing topic within mental health given most existing treatments for mental health have been pharmacological.
Assessing commercial opportunities in China for herpes zoster mRNA vaccine
China represents both opportunities and challenges for innovative vaccines.
Find out more
At Simon-Kucher, we have led the way in the healthcare industry for over 35 years, helping pharmaceutical, medical technology, digital and consumer healthcare companies identify, enhance, and realize the true value of their offers.
With our highly experienced teams based across Europe, the Americas, and Asia we provide truly global delivery capabilities combined with deep local market expertise to address the specific commercial challenges of our clients.
Working together with you, we unlock growth opportunities as we help commercialize innovations that improve patient health and wellbeing.