As many as 34 percent of companies in the Leisure, Travel, and Tourism sector have not introduced any price adjustments and do not plan on doing so in response to rampant inflation, according to our survey. We explore how to successfully and confidently execute price increases in the face of inflationary pressure in a sector still recovering from the coronavirus pandemic.   
The leisure, travel, and tourism (LTT) industry was expecting a strong summer travel season in 2022. Early projections had pointed to global travel returning to pre-pandemic levels.
However, historic rates of inflation have thrown a wrench in the industry's hopes for a recovery from the coronavirus pandemic. Rising fuel prices, supply chain snarls, shortages in even the most basic necessities, and higher wages are driving up costs, eating into margins, and threatening the sector's long-term health. Inflation is especially problematic in the United States where the consumer-price index surged 8.5 percent in March and continued close to that level in April. The eurozone also saw a sharp 7.5 percent annual rise in prices in April, while Asia and Australia stayed in lower levels with 5.6 and 5.1 percent in April and March, respectively. 
High inflation is leading to uncertainty about future costs and profits. In our recent global survey of LTT providers, 57 percent of respondents said they didn't know how much their company costs would increase in 2022, and the remaining companies expect costs to increase around 12 percent compared to 2021. Expectations of cost increases worsen in EMEA and America, where inflation has hit harder.


To compensate for rising costs, LTT providers can either step up marketing efforts to increase sales volume, improve efficiency and processes to extract savings, or implement price increases.
In our survey, we were surprised to find that the LTT sector is being more cautious than other industries regarding price increases. As many as one-third (34 percent) of LTT providers said they already have and plan to continue implementing price increases in the coming months to counter rising costs. This is rather low in comparison to sectors such as consumer goods, automotive manufacturers, or raw materials.
Regions that have seen higher inflation rates have been more aggressive: In America 20 to 30 percent more companies have implemented price increases than in APAC or EMEA, contributing to the inflationary spiral.
Even when they do implement price increases, LTT providers only partly rely in this measure to protect their margins. In our survey, LTT providers said they are planning on using higher prices to mitigate only 57 to 60 percent of rising costs, relying on volume increases and operational efficiencies to address the remaining cost increases.
Why aren't LTT providers leveraging and leaning more on pricing adjustments to compensate for inflationary pressure and skyrocketing costs?
LTT was one of the sectors where demand plummeted most as a response to COVID restrictions. Additionally, current high rates of inflation in grocery products and the decrease of disposable income could be seen as major threats to the sector's recovery, and anxiety towards volume losses might have spread between providers. In our survey, 30 percent of respondents said any drop in sales volume arising from rising prices is not an option for their business, while 36 percent said a loss of volume within limits is acceptable. Only 12 percent said their organizations would consider a loss in sales volume to be consistent with price increases.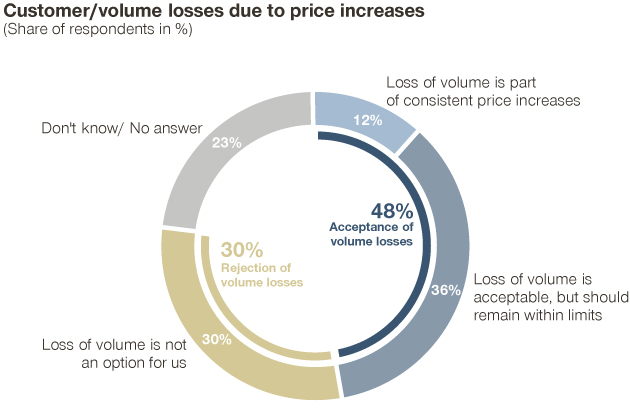 There is also a clear need for a more sophisticated pricing management. In our survey, most LTT providers declared to use undifferentiated approaches to price increases, with only the APAC region showing significant product differentiation pricing. This reflects that a similar rise in prices is being applied to different segments, regardless of willingness to pay or profitability. This lack of prioritization, or scattergun approach, makes the customer perceive price movements greater than they actually are. According to our survey, in the LTT sector consumers perceive inflation from two to four times higher than the real indexes.
A price increase is one of the most important levers to protect margins in today's uncertain, high inflationary environment. Correctly executed, a price increase can fully counter rising costs caused by inflation. Organizations must acquire the capability and confidence to charge the price they deserve based on the value they are delivering to their customers and on real costs.
Here are three principles to keep in mind to ensure price increases during inflationary times will lead to positive outcomes.
Plan price increases regularly and ambitiously
In inflationary environments companies must be ready to execute regular price increases if necessary. Companies that have successfully elevated prices previously, can build confidence to plan and undertake future pricing measures. LTT providers with sophisticated pricing capabilities can also be ambitious by seeking to fully compensate rising costs through price increases.
Expect sales volume declines
Successful price increases must start with clear objectives and realistic expectations. Sales volume declines will happen following a price increase. Nevertheless, promotional efficiency and loyalty programs can boost effectivity, maximizing value and safeguarding the company's resilience and long-term health. The ability to increase prices while retaining customers demonstrates superior pricing power and will pay-off potential volume declines in the bottom-line.
Apply a differentiated approach 
Instead of blanket price increases across the customer base, LTT providers must differentiate price increase measures according to customer segments, products, services and channels. A differentiated approach must also take into account different demand elasticities or willingness to pay across clients, geographies, etc., in order to mitigate price increase the impacts
The ability to respond to rising input costs and inflationary environments with the appropriate price increase is a competitive advantage. Sophisticated pricing management can fully protect margins and build resilience when combining it with levers to minimize volume loss. This will ensure long-term profitability in today's uncertain, high inflationary environment.
If you're a business in the LTT sector struggling to optimize prices in this climate, feel free to reach out to our experts who will guide you to better growth.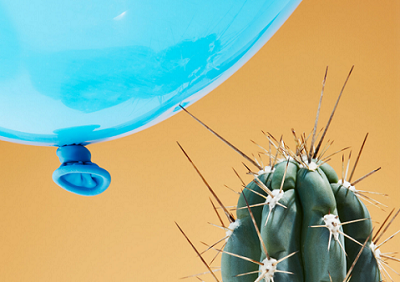 How to Grow Despite Inflation