Sustainable business practices, products, and services are becoming a must for more and more companies as stakeholders – regulators, investors, and consumers alike – demand change. Adopting a wait-and-see approach towards the topic is no longer an economically viable long-term strategy. But how can companies recognize and realize the commercial potential sustainability offers them? We have defined three distinct phases to undertake that transformation successfully, and realize the benefits of a more environmentally sustainable offering.
The global Covid-19 crisis has acted as a massive accelerator for environmental sustainability initiatives and commitments around the globe. Governments have introduced green (new) deals, announced more climate-related regulations and defined sustainability targets such as net zero and carbon neutrality. At the same time, investors are also increasingly focusing on the topic of sustainability, as large money managers and pension funds make ESG targets a condition for their financing. And consumers – as we found out in our recent global sustainability study consider environmental sustainability to be increasingly important, driving significant changes to their consumption behaviors and showing a growing need for sustainable offerings. Through this concerted demand revolution, sustainability is gaining unprecedented momentum. The stage is set for the 2020s to be the decade of sustainability.
Is sustainability now a hygiene factor for companies?
With all these stakeholders pushing for more sustainability, companies have to realize that very soon, sustainable business models and offerings will be the standard, rather than the exception. Change is inevitable and businesses resisting sustainability requirements may soon become economically unviable and unprofitable. Sound scary? Not necessarily. A large share of companies have already started their sustainability business transformation journey. However, from project experience we know the key challenge is that even though many recognize the commercial potential sustainability offers, they haven't been able to fully realize it. The result: They don't see sufficient return on their investments (ROI).
How to make investments in sustainability transformations successful
To change that and make a more sustainable business model or product/service offering commercially rewarding, a clear transformation strategy is needed. Which measures do companies need to take? That depends on how far they have already progressed in their sustainability journey. From our experience, sustainability transformations fall into three distinct phases. Each involves very specific challenges and measures, risks and benefits - especially regarding viability and their impact on companies' business models.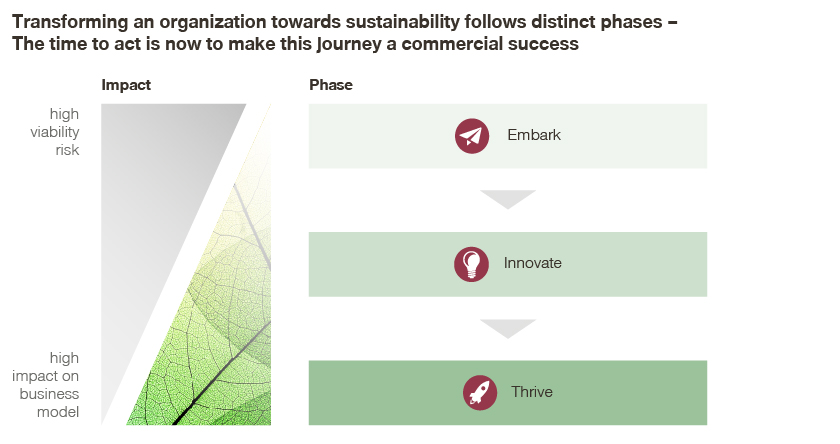 The three phases of sustainability transformations
Companies typically progress through clear steps in the progression towards sustainability. In step 1, companies will keep their products and services as they are and offer offset options. Step 2 involves introducing optional alternative materials, packaging, or additional services, such as recycling. Step 3 actively changes the existing products and services to be more environmentally friendly and potentially to introduce completely new and sustainable products and services. These three steps align to the three phases we have identified.
Through this series, we will take an in-depth look at each of the phases. The goal? To provide you with concrete best-practices as well as commercial insights that inspire and enable you to make your company's sustainability business transformation successful.
Phase 1: Embark
Companies at this stage are the least advanced on their sustainability business transformation. Therefore, they bear the greatest future viability risk and urgently need to define their top-line objectives for sustainability, enable investments, and give customers offset choices.
Which companies fall into this group? Those that have maintained their business "as-is" and have not (yet) made any specific changes to their products, services or offering when it comes to sustainability. However, this "strategy" won't work in the long run! Due to regulations such as increasingly strict emission trading schemes or carbon taxes on national levels, organizations will start to notice the commercial impact as they have to offset their emissions by purchasing increasingly expensive carbon credits.
To cope with repercussions like these, companies need to kick start their sustainability transformation now. The first step on their transformation pathway is to define their sustainability strategy – not only for operations, but also for their commercial top-line objectives.  Such a strategy could involve retaining the cost of offset investments or proactively offering customers' add-on choices such as investing in reforestation projects. In either case, this must be accompanied by an in depth portfolio review and an update to the brand's communication strategy.
Phase 2: Innovate
Here we find organizations that have or are currently in the process of re-imagining their existing products and services towards more sustainable solutions. They are in the course of introducing alternative production processes, materials, and changes to operations in order to decrease the environmental footprint of their current portfolio.
Whilst still keeping existing business models in place, this means making significant changes to successfully realize the full commercial potential of their new and more sustainable value proposition. Sustainable options need to be properly positioned in terms of portfolio fit as well as pricing. In addition, the sales force needs to be equipped with the right tools and arguments to defend the value of these redesigned solutions. An essential prerequisite before starting the work on the portfolio is to gain a thorough understanding of the market dynamics and the customers' preferences as well as potential new segments that can be explored.
Phase 3: Thrive
Realizing the optimal commercial potential of newly created sustainable innovations is one of the most important challenges that organizations have to tackle. In this phase, new sustainable products and services are introduced to the market, initially building on existing internal knowledge, capabilities, and strengths.
However, the effort might not only be limited to one's own company. It may also involve working with up- and down-stream partners in the value chain to find new solutions to collectively enable sustainability. Gauging market demand and shaping the right price models is critical as direct customers might not be the ones requesting and paying for sustainability, but others further down the value chain.
Once fully embraced, sustainability enables new and innovative solutions previously unavailable through the use of legacy materials or processes. This makes the (re-) invention of new business models of key importance. What might this look like? For instance, traditional ownership models could be replaced by Products-as-a-Service, circularity or multi-reuse options to achieve more sustainability and net-zero or negative-emission targets.
Setting up a strategy to optimize ROI from the get-go is essential to ensure long-term viability and success. Moreover, the interactions with customers and consumers may not follow traditional channels or customer journeys. Deeper links and more purposeful engagement can be achieved by leveraging digitalization.
Conclusion: Act now to realize positive impact on people, the planet and your profitability
As you can see, no matter where your company stands on its sustainability pathway, wait-and-see is no longer a viable strategy. You need to tackle the commercial challenges head-on to fully realize the potential! If not, you will lose ground to the ever-growing competition with the market's current winner-takes-it-all mentality. Commercial actions in sales and pricing can help you become a true sustainability leader and realize significant ROI along the way. The result: A successful sustainability business transformation that will not only have a positive impact on people and planet but also on profit – the full triple bottom line.

---
Read more from the series: