In parts 1 and 2 of our four-part series, we explained how a better offering and an optimized pricing strategy can help capture value in self-pay healthcare. In Part 3 our experts explain how private hospitals can better grow their self-pay services through standardized pricing and quoting processes.
Private hospitals are facing increasing operational challenges as more patients seek self-pay services. Yet many hospitals lack the tools required to meet the rising demand.
Without professional sales guidelines, processes and software solutions, the sales team can't efficiently communicate the improved offerings  or adhere to group-wide pricing strategies. To benefit from increasing demand, therefore, private hospitals will need to focus on professionalizing two technical aspects of revenue management: Quoting and pricing processes.
Streamlining the sales process in private healthcare: Why is it important?
Most private hospital chains or groups currently operate without a standardized pricing and quoting process. Instead, while sales teams have a common idea of business objectives and price levels, individuals tend to communicate and execute them differently. The result is an approach that is not harmonized, processes that are not standardized, and best practices that are not shared effectively. Ultimately, this leads to inconsistent or even unfavorable patient experience.
For private hospitals this means that there's an opportunity to improve patient experience by creating clear communication. This more professional approach should include all relevant quoting information in a consistent and transparent way that allows systematic customization to each patient's needs.
Moreover, without software support much of the administrative tasks of the sales team are still operated manually. Price lists are printed out, for instance, or critical information is kept on multiple Excel sheets on individual computers (instead of working from a central and digitalized database).
This effort is further increased if physicians manage their own fees (on top of hospital fees and consumable costs), which need to be regularly retrieved. Not only is this work repetitive, but it increases the risk of human error and makes it difficult to onboard people. For private hospitals there's a chance to standardize and professionalize quoting and pricing processes to reduce lead times, improve quality, and become independent from the personal knowledge of key individuals.
Finally, the absence of a central database and reporting structure means that many private hospitals have limited transparency on their overall business. This lack of clarity makes it difficult to steer the business appropriately and quickly adapt to changing needs. In fact, private hospitals see themselves confronted with resource intensive processes.
Moreover, exceptions in pricing and quoting will become the norm, if organizations fail to operate under a clear pricing governance structure. Therefore, private hospitals should develop pricing rules and policies to maintain their optimized price system (as we outlined in Part 2).
Three steps to improve pricing and quoting effectiveness through standardization and software support
Develop a group-wide pricing and quoting process
To standardize and harmonize sales processes, you must first assess the status quo. Ask yourself: What are the current processes in place? How are processes different across the group? And what is the optimal quoting process to improve patient experience, drive up- and cross-selling, and increase operational efficiency?
Once you've answered these questions, you can then create best practice guidelines for people to follow. This will provide the sales team with a working methodology, better equipping them on how to manage clients professionally as well as how to identify the right offering for different patient segments and needs.
Increase central data transparency
In order to steer the business more efficiently and effectively, central transparency on pricing and quoting performance is key. A central price database and pricing cockpit will enable you to track development on a continuous basis and perform adjustments on list prices or temporary promotions easily and quickly (see point 3).
In addition, you should clearly assign responsibilities and define policies to handle exceptions and deviations. A clear price reporting structure and price governance structure makes sure that the price model is put into practice as planned and supports the overall business objectives.
Use a smart pricing and quoting solution
Finally, a professional software solution will take the commercial operations of any private hospital to the next level. As mentioned before, a price optimization and management (PO&M) tool creates central transparency and helps to establish an informed revenue management program. Instead of relying on manual work and Excel spreadsheets that limit pricing excellence, the support of a customized tool can easily put a sophisticated and value-based pricing model into practice.
In addition, digital tools such as a CPQ (configure, price, quote) software will enable your sales teams to effortlessly create complex offers in a standardized and consistent form thanks to clear tool guidance.
Connection to your hospital's CRM will provide an even more personalized and automized patient journey. The system builds on existing information (e.g., to create follow-up quotes) and reduces manual effort (e.g., by sending automatic reminders and information to patients). The result is an unparalleled patient experience without friction points (e.g., manual errors, long time-to-quote, repetitive processes) but optimal support.
How we've helped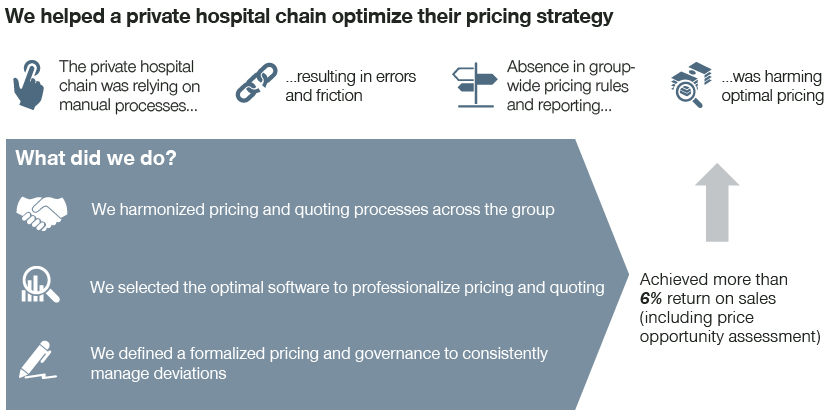 If you would like more information on how to provide optimal self-pay services, reach out to our experts! 
________
Read more from our series:
Part 1: How Private Hospitals can Improve their Self-Pay Healthcare Offering
Part 2: How Private Hospitals can Optimize their Self-Pay Healthcare Prices
Part 4: How Private Hospitals can Execute Change Management Successfully