In a fiercely competitive market burdened by decreasing customer loyalty, companies are searching for new ways to retain customers for the long term. With this objective in mind, adjusting revenue models offers numerous opportunities to engage customers on a monthly basis thus generating more stable and recurring revenues. Two revenue models are particularly appropriate for creating a higher customer lifetime – subscription and rental models.
Subscriptions and rentals are effective methods to keep customers consistently engaged. In the past, subscription models were limited to magazines and newspapers, but nowadays, the average household in Europe spends more than €130 per month on subscriptions. The usual suspects, e.g. Netflix and Spotify, still account for the largest portion; however, subscription models have found their way to physical products as well. Several start-ups have successfully entered the market with products such as groceries, flowers, and even socks.
Service as a topic in the fashion industry is a new and growing concept: second-hand items, rentals, and subscriptions are the top three fastest growing categories1 in the US, as today's consumers seek variety and value. There are two important reasons for this move toward a service economy within apparel. First, it is in line with an increasing customer need for flexibility and convenience. Payment is postponed, but gratification is instant. Second, companies adopting the subscription model are often valued more highly as in net worth than their competitors2. The stable revenue stream is considered attractive. Moreover, growing revenue via the existing customer base costs less than it does to acquire new customers. So, "fashion as a service" is becoming a crucial topic for the apparel industry with importance growing more and more.
Closet of the future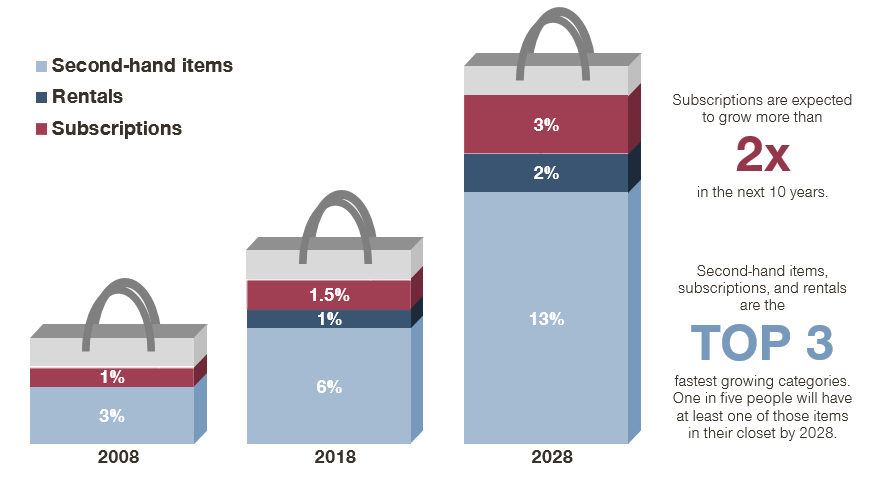 Source: Thredup 2019 Resale Report
Subscriptions in fashion
A subscription model is one way of introducing services in fashion. Using a subscription model, subscribers are engaged in that they regularly receive new items. The demand for subscription boxes has been rising for two main reasons: personalization and convenience. First, the need for personalization, to be on trend, and to boost confidence can be found in a box with unique customized items delivered at regular intervals. Stitch Fix is an online personalized shopping service that has proved its significance in the subscription market. Their objective is to make personal styling available for everybody with hand-selected items. Since shipping its first box in 2011, its annual revenue exploded to $1.2 billion. It had 2.9 million active customers in the latest quarter, an increase of 22 percent from the previous year. It is a rare Silicon Valley creature, a young company that actually generates profit3. Second, is the urge for convenience, e.g. a necessity box with everyday items you need to substitute periodically, for example socks, tights, etc. Dollar Shave Club is an example of a successful convenience subscription. They offer inexpensive razors to customers who sign up to receive regular deliveries. It was one of the first direct-to-consumer brands to catch the attention of a corporation in 2016, and in that year, Dollar Shave Club was sold for $1 billion to Unilever. The Dollar Shave Club posted double-digit growth last year, according to Unilever, with four million subscribers in 20184.
Rental models in fashion
Marketing fashion as a part of the service industry can also be done successfully by applying a rental model. Using such an approach, customers can subscribe to monthly clothing packages, but do not actually own the products. The potential value of the fashion rental market in the UK has been estimated at £923 million5, and the model is currently well established for designer items and men's suits. Rent the Runway is an online service that provides designer dress and accessory rentals, and has become a significant fashion player since its launch in 2009. To engage consumers, rentals need to be convenient, cheap, accessible, and offer something unique. Rent the Runway is built on change, but will undoubtedly face challenges related to transportation, intentional returns, and dry cleaning.
Six steps to monetize your fashion services
The growing importance of services within the fashion industry will lead to a shift from a product-based to a service-based business. This shift requires a distinctive monetization approach to generate revenues, which is not only important for start-ups but also an opportunity for existing fashion companies. We recommend using the following six steps: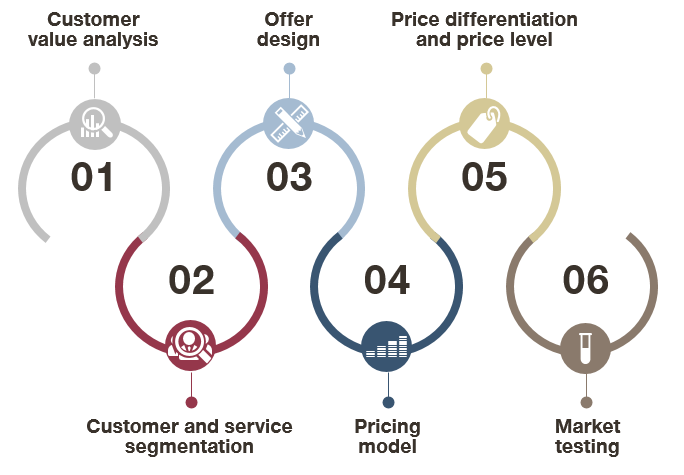 Source: Simon-Kucher & Partners
Customer value analysis
Analyze the (added) customer value of the service or individual element, quantifying, e.g. the value of getting personalized fashion items. How does the customer assess the convenience of periodic substitutions?
Customer and service segmentation
Cluster your customer base into homogenous groups according to their needs and willingness to pay. Not all customers have the same service requirements or the same purchasing power.
Offer design
Define your future service offering (bundling, modular, etc.) based on the value specific to each customer segment. How often do you need to offer your service, e.g. monthly, quarterly, etc.? What are the differentiators within your service (e.g. number of products, different categories, etc.?)
Pricing model
Select the most suitable pricing model to derive the best combination of customer loyalty and profitability in line with your overall strategy. With a greater focus on services, there is a shift from traditional price-per-unit approaches toward continuous revenue streams. This can be achieved via subscription fees per month/quarter, pay-per-use, or other price metrics. The basic business idea is to base your approach on customer need and use "value sharing" (dividing added value between the company and the customer) to remove any doubts the customer may have about your service.
Price differentiation and price level
Determine the right price level to suit the design of your offering (including the incremental difference between each option) and differentiate according to customer segment. Simon-Kucher recommends using quantified customer value as a basis to estimate the willingness to pay of each customer segment. We use a variety of methods (our PriceStrat, van Westendorp, Conjoint, etc.), to derive differentiated price levels. Moreover, pricing psychology can be used to promote upselling.
Market testing
Validate your offer design and pricing model/level with a broad customer survey so that your offering can be finalized.
Viewing fashion as a service is gaining popularity and importance; to get the most out of this development, apply either a subscription or rental model. Both models increase customer engagement and can create more stable revenue flows. We recommend six steps to monetize these models; 1) customer value analysis, 2) customer and service segmentation, 3) offer design, 4) pricing model, 5) price differentiation and price level, and 6) market testing. The transition from conventional product-selling to service-selling is a development that traditional fashion companies cannot afford to overlook.
1Source: ThredUp 2019 Resale report
2Source: Carl Gold, The Subscription Economy Index Report, Zuora 2017
3Source: https://www.bloomberg.com/opinion/articles/2019-01-03/stitch-fix-s-success-story-is-underappreciatedThredUp 2019 Resale report
4Source: https://digiday.com/retail/companies-get-addicted-notion-subscriptions-dollar-shave-club-ceo-michael-dubin/
5Source: https://www.drapersonline.com/news/uk-offers-untapped-fashion-rental-market-worth-1bn-says-new-report/7014881.article