2023 is a year marked by uncertainty. Inflation, raw material price volatility, interest rates, and labor shortages make the business environment become less attractive and more uncertain – but not demonstrably worse. Companies experience these trends differently based on their sector and position. Consequently, actions need to be taken to grow or protect businesses dynamic period. In this article we outline the short-term actions business leaders can take in various markets to be able to ensure growth or protection in these uncertain times.
Current macro-economic and political dynamics
When the pandemic was on its return experts predicted that the impact of COVID would have lasting impact on personal and business environments. Not all predictions came true: Working from home did not stay (in full), and consumers are travelling again. The economy was destabilized but quickly recovered. Nevertheless, the world is different now compared to five years ago.
Tensions between world powers are increasing, and 'make local & buy local' mindset is increasingly apparent across the globe. Technology is evolving. AI is becoming visible to the public through ChatGPT, and digital sales and marketing tools are increasingly mature. Gen-Z has entered the consumer and labor market, and is shifting priorities: Sustainability, diversity, equality, and work/life balance are becoming increasingly important. And driven by (international) regulations and consumer demand, companies are forced to adapt towards more sustainable products, materials, and manufacturing methods.
Sustaining growth is no longer a given
On top of, and driven by these macroeconomic dynamics, there are four recent trends with significant impact on the way we think, work and purchase. These trends are connected, and combined they create a sense of ambiguity regarding what lies ahead, resulting in a less attractive and more uncertain business environment, although not demonstrably worse.
Raw Material Price Volatility
Global disruptions have led to shortages of key materials and commodities, such as natural gas, oil, fertilizer, and food. These shortages have driven up prices, first at the source of the value chain, but propagating towards the consumer. And while most material prices are down again, the economy is still digesting the 'pricing shock'.
Inflation
Record-high inflation rates have disrupted the market, causing an increase in prices across all industries. While the rate of inflation may be cooling off and is expected to cool off further, prices will remain at an elevated level for 2023 and its impact continues to be felt by the consumer, impacting purchasing power, and purchasing decisions.
Interest Rates & Cost of Capital
In response to recent inflation concerns, central banks have raised interest rates, making capital (hence growth) more expensive for businesses. The situation is expected to remain in the next year. This directly hinders growth and investment plans, forcing companies to carefully evaluate their financial strategies and seek alternative funding options.
Labor & Leadership Shortages
The labor market is experiencing a shortage across all levels of all organizations. Companies are hindered in their growth by a shortage of both skilled workers and leaders. The number of open vacancies has been on the rise and will remain high throughout 2023, presenting challenges for organizations striving to fill critical positions.
Figure 1 : Four trends creating a more uncertain business enviroment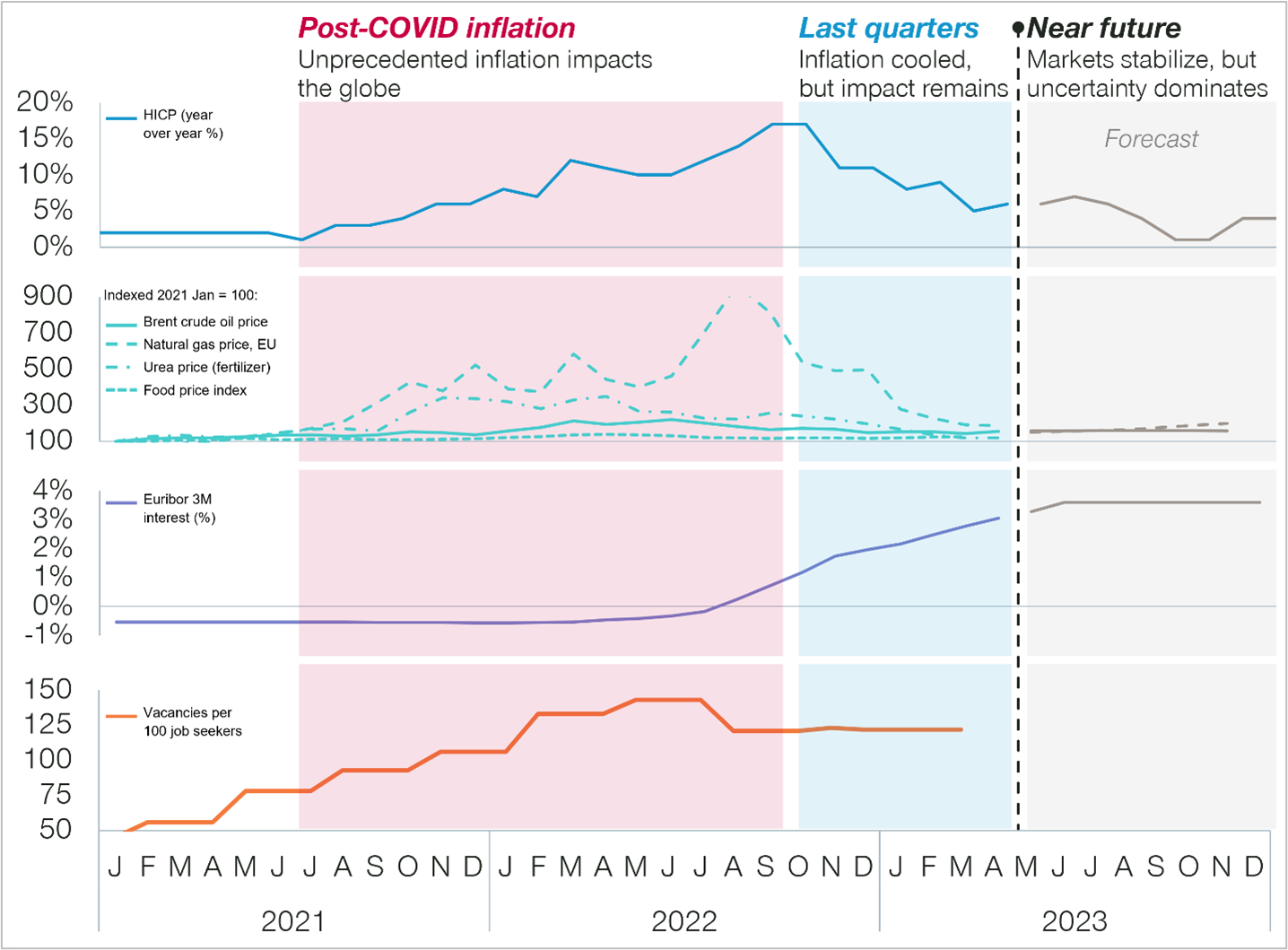 Companies must navigate substantial uncertainty, which shows in shifting costs and demand
The combination of shifting factors has created a complex and dynamic business landscape, with impact noticeable by companies in their cost and demand, which strongly varies across industries: Luxury goods and A-brands experience a decline in demand, while private label soars as consumers seek for cheaper alternatives due to inflation. Capital-intensive industries see their margins decline resulting from the increased cost of capital, while the manufacturing industry is experiencing some pressure relief from decreasing costs of raw materials. The ongoing labor shortage negatively impacts business across the board, but is most significant in business services and logistics.
But while the long-term market outlook is uncertain, there are short term actions companies can undertake today to ensure continuity in a difficult time, or boost growth in an advantageous market situation
Take the right action: Recommendations based on your current market
Shifting industry dynamics can be simplified to four core demand/cost scenarios; to take the right action, companies need to tailor their approach accordingly
Figure 2: Four core demand/cost scenarios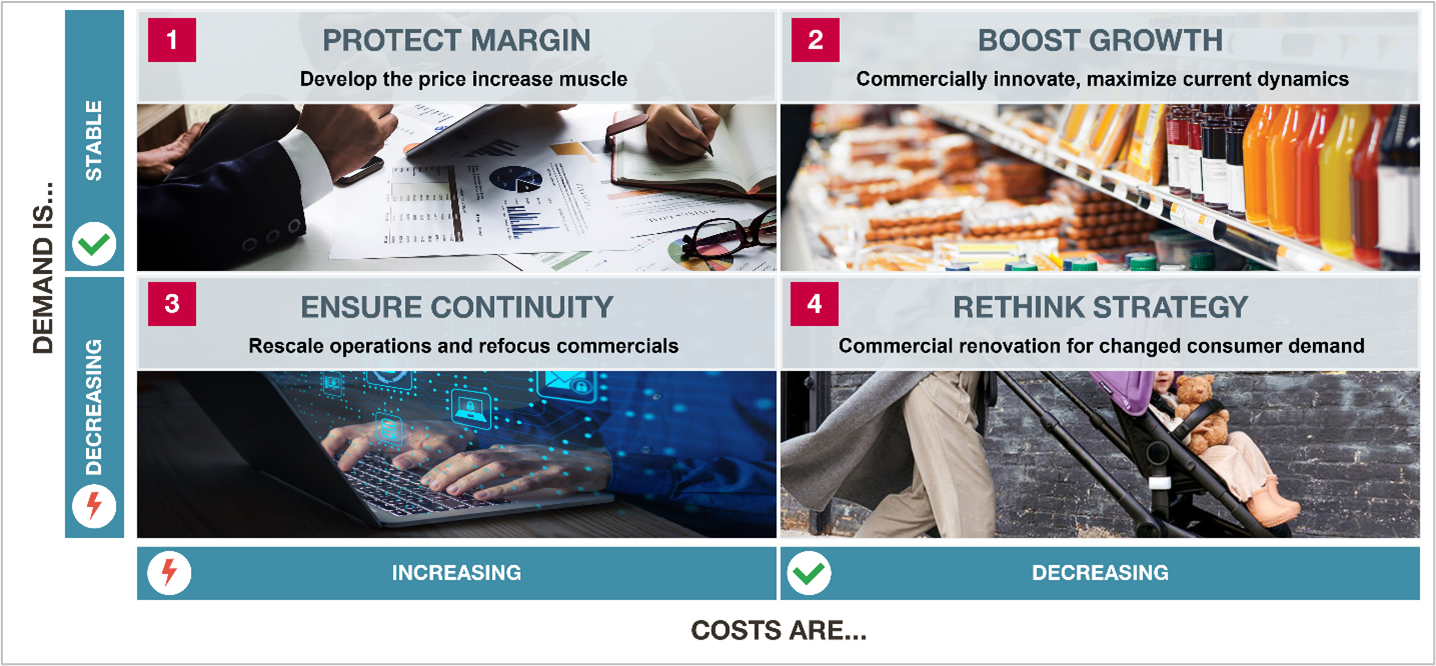 Stable demand and increasing costs: Protect margin
Industries such as wholesale and business services are experiencing margin pressure through increased costs, although demand is seemingly stable. This provides opportunity to utilize pricing as lever for growth. To protect margins, prices must be increased, and sales of high margin products or services need to be prioritized (e.g., by means of sales incentives or portfolio rationalization). The stable demand provides opportunity to prioritize high-margin customers and address customer outliers.
Stable demand and decreasing costs: Boost growth
In the most beneficial quadrant, organizations will experience stable demand and decreased costs. Private label brands, for instance, have the fortune to experience these dynamics. Companies here should maximize the current dynamics to boost growth by sustaining prices. Key is to create and communicate value to customers. Additionally, the increased profitability can be utilized for further commercial innovation and growth initiatives.
Decreasing demand and increasing costs: Ensure continuity
Companies in the most challenging market quadrant are facing both a decrease in demand and an increase in costs. Software and media are examples here. Ensuring business continuity is key in this area. The primary focus should be on boosting sales through short-term initiatives to capture market share: Keep your existing customers close to grow volume and scout the market for additional market share. Identifying quick wins in pricing is an additional tool for short term margin uplift. Finally: Assess if radical change is needed to secure continuity.
Decreasing demand and decreasing costs: Rethink strategy
Luxury goods and A-brands are experiencing decreasing demand and decreasing costs. Like the other quadrant with a decrease in demand, a short-term sales boost to grow market share is required. To address long-term shifting consumer demand, these companies need to rethink their strategy and prepare for commercial renovation; for example, by offering a low-cost alternative, or targeting a growing customer segment with a sustainable offering. Additionally, pricing can be used as lever to balance volume and margin and optimize for profitability.
Seminars to navigate growth in uncertain times
To help business leaders succeed in their quest for more sustainable growth in these challenging times, we host two industry-specific seminars.
Growth Summit for Consumer Industries in Baarn, 26th of September. Our industry specialists and Ewald Frenay (Cloetta, Area President Middle Europe and International Markets) will inspire you with best practices on today's key boardroom topics such as revenue growth management, sustainability and the commercial digital transformation. You can find more information and register via this conference page.
B2B Growth Seminar near Den Bosch, 19th of September. During this seminar our B2B specialists will share key insights and best practices to assist business leaders from B2B companies in building commercial success in times of volatility. Main topics during this seminar will be: Margin management in uncertain times, Organizing the commercial team to boost sales, Transition to recurring revenue and Monetizing sustainability

. 

You can find more information and register via this link.
We can help
Simon-Kucher is the leading global consulting firm specializing in unlocking better growth. For over 35 years we have been thought leader and partner to decision makers on strategy, pricing, and sales. Our deep knowledge of TopLine growth topics positions in the perfect spot to help your company grow.
To learn more about our solutions, and our thoughts on the best growth levers for your company, please don't hesitate to reach out to our specialists!