In today's digital world, everything is available online. But does this mean CHC devices should be too? While our first article in this three-part series covered the opportunities and risks of selling CHC devices online, part 2 highlights the steps companies need to take to compete with online retailers and become a CHC forerunner in ecommerce.
As ecommerce is now becoming a realistic sales channel for medical device companies, the CHC industry needs to strategically think about how to engage consumers and patients with a state-of-the-art shopping experience. CHC companies that succeed with the online channel will be those that fully prepare for the opportunities and risks.
Ecommerce opportunities: From higher sales volume and greater access to more consumers, to more independency and powerful performance tracking, CHC companies can expect many benefits from the online channel.
Ecommerce risks: CHC companies also need to prepare for the risks, which include cannibalization, high investment, increased price transparency, and decreased price control.
Becoming an ecommerce champion is a lot more than just consumers being able to place orders online. We identified 3 key success levers for companies to make the most of the opportunities of the online channel while carefully mitigating the risks. Here's what it takes to compete with the best:
1. Generate awareness: Make sure consumers find and buy from you!
Optimize for search engines (SEO)
The higher you rank in search results, the better the chances of your target consumers landing on your product and eventually making a purchase. Medical supplies are often classified by reference numbers, but this information is meaningless to the average consumer. And if you don't show up in the consumers' searches at all, then your products might as well not exist. Adapt product titles to fit with user search trends, including instantly recognizable vocabulary related to the disease or symptoms targeted by your device (e.g. blood pressure monitor). How easy it is to find the product and surrounding information will greatly impact the final purchase decision. That's why it is also worthwhile to run campaigns on relevant keywords with a good cost per click, e.g. through Google AdWords.
Enter paid social media partnerships
Another way to generate awareness and better reach consumers is to partner up with social media influencers who have an engaged following in your target niche. Companies from a wide range of industries have already adapted their advertising strategies to reflect the rise of social media. Now CHC companies are also joining this trend, with Instagram one of the most popular networks. Investing in these partnerships can definitely pay off. By having influencers promote your products, you reach new lifestyle segments and have the opportunity to convince thousands of more potential consumers. Today's generation identify more closely with influencers than they do with traditional advertisements. If you have right influencer shining a positive light on your device, consumers will be inspired to try it too.
2. Stimulate purchases: There's always more room in the shopping basket
Welcome consumers to an attractive and user-friendly environment 
Once consumers are able to find you, make sure that they arrive on an appealing landing page. This needs to be similar in style to online pharmacies to make sure the consumer is in a familiar environment, and ultimately drive conversion. CHC companies usually make large investments in the right packaging for their devices, but often fall short when it comes to using visuals in ecommerce. However, without the opportunity for customers to physically touch or open the product, displaying devices attractively on the online channel is essential. Include detailed descriptions, 360° images, and even videos of the product in use. Always create your own page and banner, clearly displaying your brand and the associated theme (e.g. travel themes for sunscreen, fitness themes for scales etc.)
Encourage consumers to "collect" products using a product category generator
How satisfying is it to finish a jigsaw puzzle and see all the pieces fit together? People love to collect things and achieve a sense of completion. The idea with product category generators is to trigger an urge in the customer to buy more. By providing a checklist of products surrounding the main purchase, customers are encouraged to make their shopping basket "complete". For example, toothpaste, mouthwash, and replacement brush heads go hand in hand with an electric toothbrush. The consumer might have originally only been looking for one device. But by displaying the next logical products, you simplify the decision-making process and open up new cross- and up-selling opportunities. Start by identifying the adjacent product categories to your devices, then develop the concept and engage with channel partners to explore the options their platforms have to offer. A product category generator could look something like this: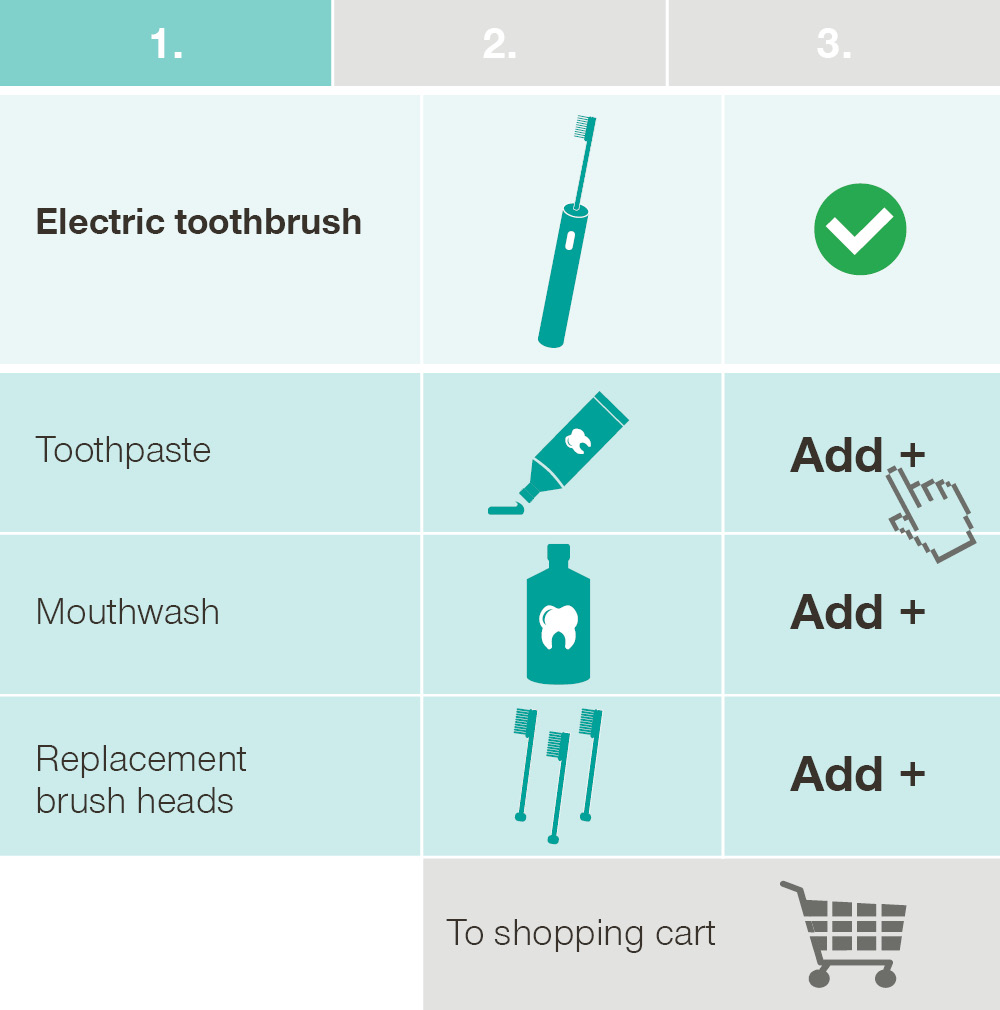 Include rankings and bestseller recommendations
One of the challenges of shopping online is information overload. Consumers can find the amount and variety of products overwhelming, and struggle to feel like they are making an informed purchase. The good news? Online allows you to incorporate recommendation mechanisms along the customer journey. Just like Netflix recommends TV shows based on its customers' recent viewing behavior, CHC ecommerce platforms can provide active recommendations such as product rankings, most bought items from similar customers, tests, and ratings. Use data-driven analytics to understand relevant keywords and click-through rates, and establish a proactive process to manage internal SEO in your key countries. It might also make sense to partner with an external agency to provide country-specific best practices. 
3. Drive consumer loyalty: Grow relationships, not just transactions
Complement online subscription models with extra benefits
The digital age means new competition and increased pressure to hold on to existing customers, but it also creates several opportunities to build loyalty. CHC companies can attract and retain customers by offering additional benefits and incentives in the online store and combining them with innovative subscription programs. Just like Amazon Prime provides subscribers with faster shipping and access to music, books, and movies at no extra cost, CHC companies can use ecommerce platforms to build loyalty among their consumers by providing recurring subscription services and offering access to exclusive products, discounts, and healthcare publications.
Send repurchase reminders at the right times
Don't underestimate the power of triggered emails. They are relatively straightforward to implement and can contribute up to 75% of digital business revenue. Identify consumer segments and consumer-specific buying behavior so that you can send automated repurchase reminders shortly before a customer runs out of stock. For products that are required on a regular basis (e.g. contact lenses) you can also drive loyalty by providing the consumer with their own personalized plan and order calendar.
Make re-orders automatic
Consumers need peace of mind that they will not run out of the CHC products they use most frequently. This is currently not satisfied by standard distribution approaches, and both the online and physical buying processes for medical devices can be cumbersome and unsophisticated. To lock-in customers, ecommerce platforms need to focus on convenience aspects such as rapid door-to-door delivery, 24-hour customer service, user-friendly websites, and last-but not least automatic re-purchase processes. Connected CHC devices can leverage dash replenishment services such as those offered by Amazon, which will check product level on a constant basis and automatically re-order when consumers are running low. In the race to win the online health category, convenience is the best medicine!
Is ecommerce the future for consumer healthcare?
These 3 levers are just some of the ways CHC device companies can harness the potential of ecommerce. Stay tuned for part 3 of this series, where we'll be covering a CHC best practice case and sharing key takeaways for getting your business ready for the online channel.
---
Read more from our series: Selling CHC Devices Online
Part 1: Selling CHC Devices Online: the Opportunities and Risks