Will future consumers be shopping online for their medical devices in the same way they already buy clothes or music? In this three-part series, Christian Rebholz, Carlos Olabarri, and Alexandre Habib explain how ecommerce is becoming inevitable for consumer healthcare and outline the opportunities and risks.
In today's digital world, everything is available via the internet. From movies and music, to theater tickets, vehicles and groceries, even the most unexpected products and services can be found online. Now ecommerce has also become a viable sales channel for medical device companies as well. Consumers and patients are becoming ever more engaged with the online shopping experience, and previously resistant companies are starting to explore ecommerce solutions and digital platforms to enhance their sales process.
The online channel will be inevitable, with future business driven by ecommerce platforms and retailer sites such as Amazon, Ali Health, and online pharmacies. To succeed with online business and stay ahead in today's competitive markets, CHC companies must provide a shopping experience that matches up to consumer expectations.
The benefits of ecommerce are obvious for most types of online shopping. However, selling medical devices on Amazon and other sites will involve its own rewards and challenges. Depending on the maturity of the online channel, product portfolio, and company's market position, it's important to prepare for the opportunities and risks.
Ecommerce opportunities
Boosted sales volumes
Ecommerce is like having a super-powered salesforce working for you around the clock.
Access to consumers outside of the clinical segment
It has never been easier to reach more consumers and penetrate new markets and locations.
Less dependency on distribution partners
You can replace the physical middlemen with your own, digital middleman.
Detailed performance tracking and more effective marketing efforts
Using a consumer's browsing and purchase history, you can analyze visitor behavior and continuously improve targeting.
Ecommerce risks
Cannibalization of the offline channel and increasing channel partner consolidation
As online sales grow, you risk losing brick-and-mortar retail sales, and you are dealing with highly concentrated ecommerce key accounts.
Required investment in additional resources and new capabilities
Ensuring content is up to date, paying for use of third-party platforms (especially those with a headless commerce architecture), and overseeing performance… an ecommerce system doesn't come for free.
Increased price transparency and decreased price control
Device prices become easily comparable and consumers choose the most cost-effective products.
So how can the CHC device industry fully tap into the opportunities of the online channel while carefully mitigating the risks? There is a lot more to it than just allowing consumers to place orders online. Simon-Kucher's Consumer Healthcare experts have identified three key success levers for CHC device companies to become ecommerce champions: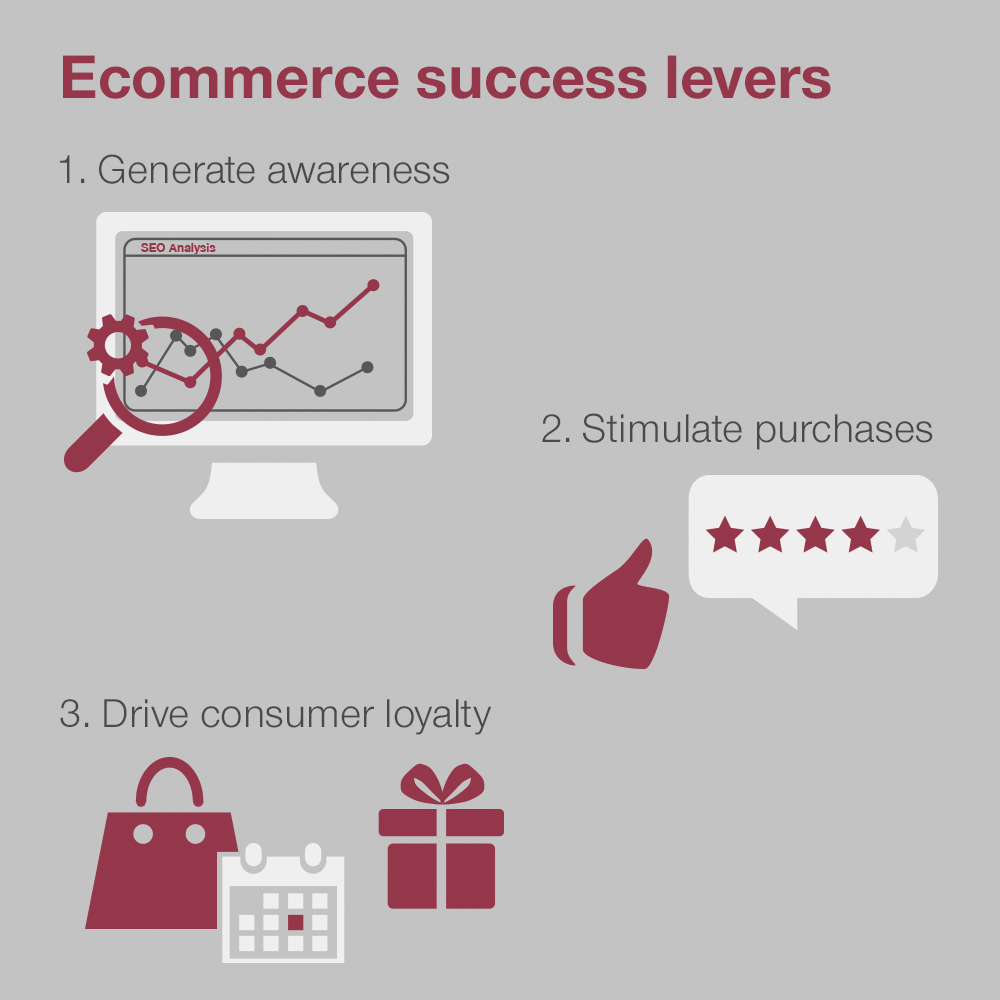 ---
Read more from our series: Selling CHC Devices Online
Part 2: Selling CHC Devices Online: Become an Ecommerce Champion