COVID-19 is more than a health crisis and is infecting the medical technology business at an unprecedented pace. The impact of the pandemic appears to us through a mix of commercial symptoms, such as (1) significant reductions in sales mobility and interaction, (2) rapidly changing purchase demand profiles focused exclusively on procurement of COVID-19 related products, (3) substantial supply chain disruptions, and (4) increased risk aversion towards any investments or unnecessary spending on non-life-threatening, elective procedures. While this crisis represents an unprecedented challenge to all medical technology companies, we see equally unprecedented opportunity to set the direction for future success at an accelerated pace.
An initial observational review of the medical technology landscape illustrates the differences between subsectors, highlighting extreme variation in terms of commercial impact.  
The terrible:

Equipment or infrastructure (e.g. imaging, health IT, robotics) companies with offerings not linked to managing COVID-19 patients see an immediate drop in demand to virtually zero

The bad:

A sharp drop is expected for consumables and implants used in elective procedures, although initial conversations suggest this is not yet consistently the case. However, due to pent-up demand, a swift recovery is expected once the dust settles. This includes, among others, the orthopedic, cardiology, and dental implant industries

The immune:

The non-elective space

continues to see quite

steady demand,

as chronic

patients (e.g. diabetes, dialysis) need their treatments no matter what. The main focus for these companies is to ensure business continuity,

while their challenges are more centered around

ensuring

supply

than in generating

end-user sales

The hustle: 

Selectively, we

see demand in certain businesses go

through the roof (e.g. ICU infrastructure and supplies, hygiene and safety supplies, diagnostics). Companies not originally in the space are now sewing face masks in three shifts, seven days a week, and

some companies

are benefiting from a core piece of their business contributing to the counter-attack

against

the

virus

1) Immediate stabilization: 
Set up a crisis response team:

This team is tasked with daily monitoring of the situation, business planning, and

swift decision-making.

The team should be

cross-functional. In

addition to corporate senior leadership roles, it should entail heads of finance, HR, legal and government affairs. As time is of the essence, the team should have full decision-making power for all operational decisions and meet on a regular basis, if not multiple times a

day.

Outline business scenarios: The duration of the economic impact is unclear, and indicators suggest a range of potential outcomes from relatively quick recovery, to a long period of slow growth. A plausible scenario suggests the COVID-19-induced slowdown resembles a classic, economic, shock-induced recession. Here, a strong rebound with over-proportional uptake could be expected, due to pent-up demand.


When

outlining

scenarios

, companies with a global footprint can learn from their own

experience, as they have

a good template with regards to what may be happening.

Looking

at Wuhan China's

picture, reviewing

the

numbers,

and

talking

to

the local

teams about the effectiveness and impact of their response

strategy may be beneficial. China

is not the US or EU, but similar measures taken internationally will likely yield similar

impact, both during the crisis and during the rebound phase.

Preserve cash flow and financial stability:

This can be done most effectively by curtailing spending. While

painful

, the acceptance for these measures is high if it is done in a fair and balanced way

. This means that cuts

will also apply to the leadership and disbursements are being suspended.

A big variable cost block typically

is

personnel.

To achieve meaningful impact, this cost has to be addressed.

Following the "V-shape" rebound scenario outlined above, solutions

that keep the team intact to the maximum degree

possible would be suggested.

This

means furloughs

and a reduction in working

hours should be preferred over layoffs

.

This approach in many countries also enables companies to qualify for government aid.
2) Short-term business continuity safeguarding:
Simplify the business: Reduce cost by simplifying the offering and cutting out value-adds on the service

side,

where applicable. The airline industry has shown us a blueprint of this approach. They still offer

flights,

but

they no longer offer full

catering, duty free shopping or door to door baggage handling. In the medical technology space this could mean fewer deliveries,

a reduction

in SKUs to only the essential ones, and very limited services. Communicate

to

customers that these are temporary measures with an end date

that is subject

to change

.




Along the same lines, simplification of the communication strategy should be considered. Communication should be centered around COVID-19.

Even if

there is positive news,

such as encouraging trial

results, postponing the press release should be considered. Good

news will be dimmed by the noise of the news cycle focusing singularly on COVID-19. The impact will only be pennies on the dollar.

The

same

logic could apply

to product launches – even if they would be logistically possible

.

Protect topline and apply smart pricing: Heavy discounting is not an effective way to create demand where there is none. If hospitals suspend elective surgeries they do not need a lot of hip implants, no matter what the price is. While discounting may be somewhat effective in the realm of consumer goods, for medical products a lack of demand cannot be overcome by aggressive pricing. Now is also not the time

when market

share can be

gained

.

C

ustomers

have other priorities than

optimizing supply chain cost, and they

will

likely not want to change habits or introduce different products.

For these few categories that see a surge in demand, price as a lever should also be used very carefully. The public scrutiny around price gouging can lead to permanent damage. While it is generally accepted to terminate promotions, price increases beyond the typical are strongly discouraged.

Redeploy resources and focus on key accounts: 

The crisis may render

teams unable

to work

effectively in

their regular field. Think of a

sales force

that would

no longer be

able to physically enter a

hospital. Depending on the profile of the members, could they selectively,

and

temporarily, be redeployed externally to help run hospital activities, or internally to accelerate

the launch preparation of future technologies?

Alternatively

, consider shifting resources and focus to areas less affected to capitalize on growth opportunities. Options include expanding into adjacent

market segments

(i.e. from specialty to primary care) and focusing on

after-sales services,

instead of pushing for capital investments.

Key accounts should be given priority in cases where scarce resources need to be allocated

.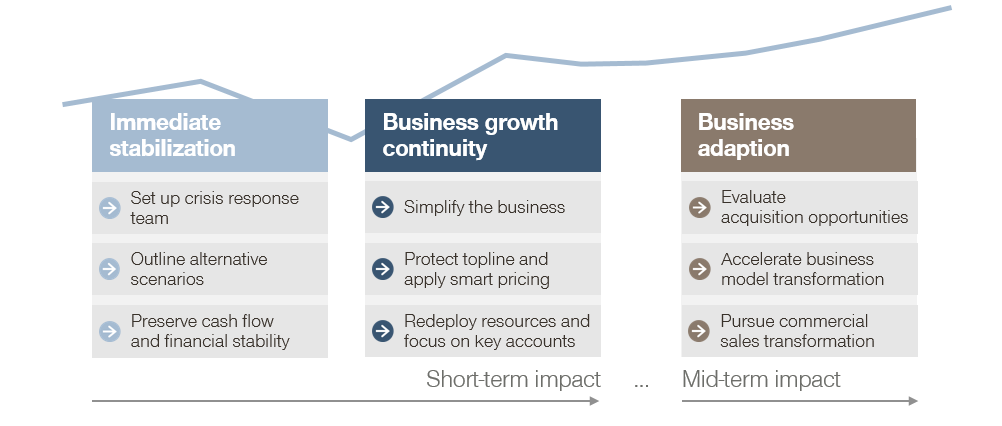 3) Mid-term adaptation:
The current crisis provides unique opportunities to act now, leapfrog competition, and undertake transformational change that in normal times would be long-winded and expensive. The financial return of these initiatives will not be immediate, but rather mid-term after the business rebounds. However, the window of opportunity to act may be short and calls for immediate consideration of these initiatives.
Evaluate acquisition opportunities - horizontal integration: 

Many medical

technology companies were already facing

increased pressure on margins prior

to COVID-19. Consolidation is trending across the healthcare value

chain, and

procurement centralization and professionalization are putting pressure on

prices. For

medical technology

companies

to sustain the balance of power

in this

increasingly challenging

environment, it is crucial to  gain scale and access to groundbreaking innovations, in order to stay competitive. With valuations down around 30% from early 2020 peaks, the crisis presents unique opportunities for acquisitions. Targets could be distressed competitors, as well as early stage companies/assets, that would strengthen the current or future offering. Balance

sheet strength and access to capital are critical success factors.

 
Accelerate business model transformation - vertical integration: 

Now might be the time to lay the groundwork for

business model changes that are necessary in

a value-based healthcare world. While COVID-19 is further increasing the pressure on payer and provider

budgets,

medical technology companies want to prepare their response

by offering

holistic and economically attractive solutions. Companies can utilize this momentum to accelerate their transformation from

being a

transactional supplier

to becoming

a solution

provider,

by acquiring players that own complementary offerings

(e.g.

digital health, service suppliers). Forward integration into the healthcare value chain

may offer immediate

opportunities to provide state-of-the-art

care,

while taking costs out of the system.

Another dimension to explore is the ability to offer rapid targeted services that address bottlenecks exposed by COVID-19. Core hospital services are crucial as patient volume grows exponentially. Companies could explore the development of new products or services to be deployed rapidly in a mobile environment (e.g. diagnostic testing). Additionally, the development of new versions of offerings for use in the home setting could help to reduce acute care patient loads. Immediate steps into vertical integration could include pragmatic offers to help providers with otherwise unconventional assistance, as they struggle with limited resources. How companies handle themselves in the COVID-19 crisis may have a lasting impact on their brand over the next decade

Pursue commercial sales transformation:

Attractive margins and favorable

ROIs

of the traditional sales model

have slowed

down the adoption of

health-economic centered and multi-channel sales models.

A

handful of companies are cautiously experimenting

with defined economic-value-based sales roles, 

hybrid sales

engagement initiatives,

and

digital customer platforms. Nevertheless, penetration

of advanced sales models remains

low, with the

cost of sales

continuing to increase. Relationship--based engagement opportunities,

and access to clinicians and

hospitals, may permanently change as a result of COVID-19. Companies

should utilize

this change

to accelerate

their transformation

beyond traditional sales optimization

initiatives,

such as segmentation, targeting and territory optimization. Few companies excel

in all of the three

areas

below when

it comes to advanced sales model definition:
Ensuring stakeholder access by building stronger health economic and value-based selling capabilities that demonstrate

holistic

company

value

and support strategic

account development initiatives

Applying

a more

digital, lean

approach to sales and embracing remote sales opportunities and

tools,

while securing customer

centricity

Re-thinking the service sales deployment model of the clinical specialist role, which comes at high cost-to-serve. Technology is available to get into the eyes and ears of clinicians remotely and to provide adequate application support. Focus of service activities should shift towards enabling staff competency, rather than replacing staff resources with company application support





The

current

disruption,

which for the most part ties the hands of the traditional relationship-driven sales

organization,

is

a window of opportunity to

anticipate

change

and retrain talented

individuals

.
While activity levels appear to slow down during times of immobility and limited customer access, sustaining a positive business outlook for medical technology companies calls for immediate action, anticipation, and the evaluation of a mix of forward-thinking initiatives.  The current downturn just might provide a springboard for future growth.