In this article, we discuss the expected impact of current trends and healthcare system initiatives on advanced therapy medicinal products (ATMP) Pricing & Market Access and highlight the resulting opportunities and challenges for manufacturers. Read our recommendations on how to best prepare for successful access here.
We have entered a new era of personalized medicine, where one-time treatments can lead to complete eradication of diseases. Advanced therapy medicinal products (ATMPs), encompassing gene therapies, somatic cell therapies, and tissue-engineered products, have different characteristics compared to most existing marketed therapies. They come with a number of access challenges such as single, upfront payments, launching with limited data, and durable/curative claims not proven at the time of launch.
To address the challenges associated with ATMPs, as well as other non-standard medicines, many European markets are undertaking healthcare system initiatives to adapt existing procedures, setup new pathways for innovative medicines, or facilitate alternative funding mechanisms.
Overview of ATMPs in Europe
ATMPs offer new treatment alternatives for rare and high unmet need indications. Since 2009, 16 ATMPs have received marketing authorization in Europe, with four later withdrawn.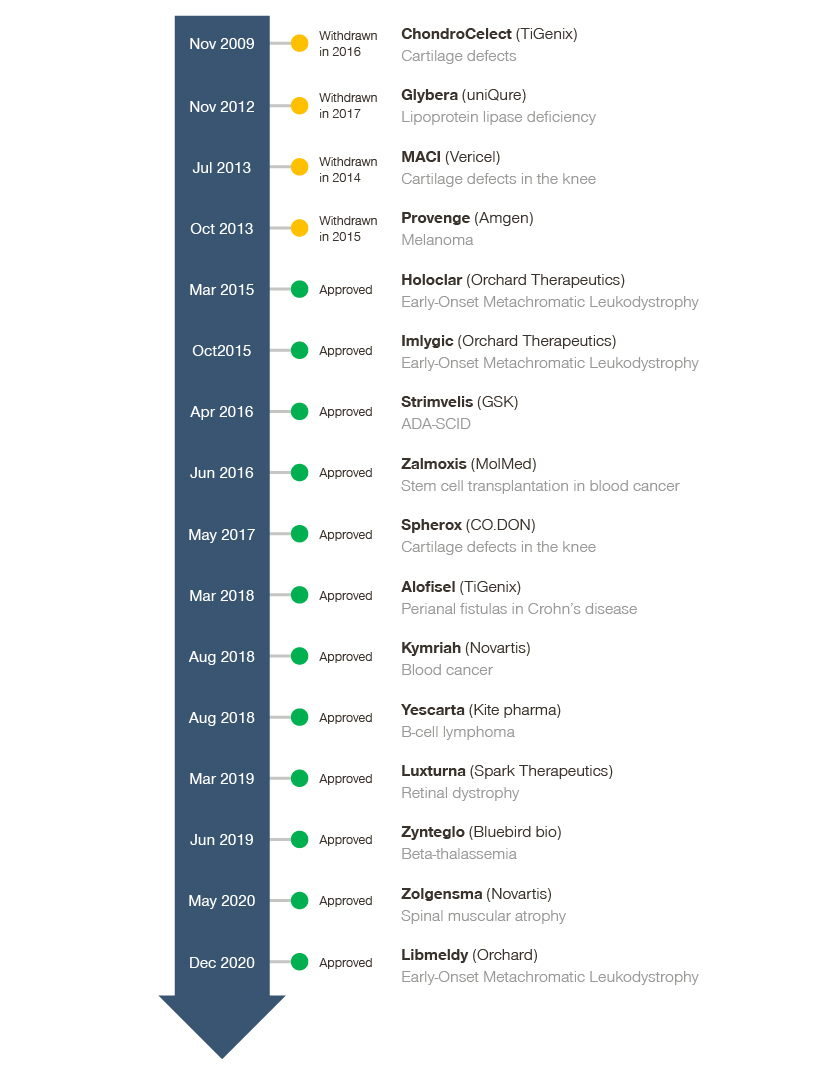 Despite the availability of ATMPs in a variety of indications, product characteristics are often similar. The majority of ATMPs are single administration therapies, with a durable or potentially curative treatment claim. Unlike "standard" treatments, ATMPs are considered personalized medicine, with complex manufacturing and a limited data package at the time of regulatory approval. In most cases, the lack of a mature data package is attributed to the high unmet need, as well as a significant patient and societal impact in the launch indications.
Despite the highly complex nature of these products, the development of ATMPs is a fast-growing field, with an average of 400 trials initiated globally every year according to Alliance for Regenerative Medicine. As more products meet expectations and prove long-term efficacy, we can safely assume that a large number of ATMPs in development may eventually reach the market.
ATMPs – a P&MA challenge
The deviating characteristics from "standard" products, combined with the increasing number of upcoming ATMPs, present several Pricing & Market Access challenges for healthcare systems.
Long-term efficacy uncertainty and potentially misaligned cost-value relationship
With most ATMPs launching with phase II trials and limited long-term data relative to their value claim of durable/curative treatments, there is significant long-term efficacy uncertainty. The resulting lack of payer confidence in the durable/curable claim influences price negotiations, leading to a cost-value misalignment both from a payer and manufacturer perspective. Additional data collection after launch as well as potential reassessment may also be necessary, adding to the administrative efforts of both payers and manufacturers.
One single, upfront payment
Until now, healthcare systems have been used to dealing with acute or chronic diseases, with budgets set annually. Many systems are not set up to pay for multiple years of benefit upfront, therefore ATMPs lead to potential liquidity issues and annual budget concerns.
Concerns surrounding budget impact
Product-specific budget impact concerns arise from ATMPs in rare indications, as they are associated with uncertain patient volumes and therefore a risk of underestimated patient numbers. Additionally, an accrual budget impact effect arises due to the increasing number of ATMPs. Cost of failure is another significant risk to healthcare systems, as the curative/durable benefit cannot be guaranteed, costing the system additional therapies after ATMP relapse.
Impact of increasing number of ATMPs on current access tactics
Currently, systems are not set up to anticipate ATMP clinical effectiveness. Until now, this has been addressed by negotiating payment models or collecting real-world evidence after launch. However, subsequent P&MA agreements and data-collection creates an increasing administrative and logistical burden given the growing number of ATMPs entering the market. The effort required for P&MA stakeholders to collect real-world evidence, track individual patients, and split and monitor payments may not be sustainable in the long term.
Changes in European market policies and market initiatives
European markets are adapting to the changing and challenging ATMP landscape, decreasing the challenges associated with commercial implementation and reducing the need for commercial agreements in the first place.
Commercial initiative in France: New "Accord Cadre"
The new "Accord Cadre" (published March 2021), an agreement signed between the union of drug manufacturers (LEEM) and the CEPS defining market regulation modalities, stipulates the use of payment models if certain conditions apply. The Transparency Committee or the manufacturer may propose a payment model if there is uncertainty surrounding the transportability of clinical data to real life data, or if the performance of a product (efficiency, tolerability or efficacy) can be optimized through an additional offering by the manufacturer.
The new "Accord Cadre" suggests for the use of both financial models and value-added services (e.g., a device to improve compliance), with payment in instalments specifically mentioned as an option to address the uncertainties associated with ATMPs. Specific details, in addition to the type of payment model, are subject to individual negotiation.
Commercial initiative in the UK: NHS England Commercial Framework
The new Commercial Framework as part of the Voluntary Scheme (2019 VPAS) aim to support the introduction of clinically and cost-effective treatments in the NHS. As part of the framework, the use of commercial access agreements is set to increase when deemed appropriate by NHS England, in cases where companies aspire to deliver greater levels of health gain relative to cost, or when due to unusual circumstances launch and commercialization is particularly challenging.
The Commercial Framework details examples of commercial activities which can be pursued by manufacturers, and in which circumstances they could be considered.
Commercial initiative in Sweden: Innovative payment model pilot programs
In 2019, the Swedish government commissioned the TLV to work on making AMTPs accessible to the Swedish market. The task included analyzing the current health-economic processes and submitting proposals on how health economic assessments of precision medicines should be carried out. Additionally, a key aim was to evaluate payment models brought forward by the industry in order to manage the large treatment costs and uncertainties associated with ATMPs.
TLV was assigned to report outcomes of this work by May 2021, with economical, practical, and sustainable models to be selected for piloting. To date, a number of manufacturers have presented the TLV with potential payment model designs to be considered as pilot programs.
Changes in financing in Germany: Risk Pool
As part of the reformed morbi-RSA (morbidity-orientated risk adjustment scheme), the health fund allocation system equalizing risk differences between sick funds, a new Risk Pool has been introduced. The Risk Pool aims to decrease the financial burden of the increasing number of ATMPs on single sick funds. For each patient exceeding €100,000 per year, 80% of the exceeding cost will be covered by the Risk Pool, which is solidarily financed through the German Health Fund. This mitigates incalculable risk in financial planning and makes innovative treatments fundable, especially for smaller sick funds. However, the Risk Pool does not alleviate the overall budget impact of ATMPs on the German healthcare system.
Changes in financing in the UK: Innovative Medicines Fund
Currently in the UK, innovative medicines like all other products get funded (baseline funding) through the NHS budget following a positive NICE recommendation. Whilst interim funding is available during the appraisal process, longer term interim funding on the basis of data collection is currently only available for oncology products, through the Cancer Drugs Fund (CDF).
In December 2019, the conservative party pledged to extend the CDF into an "Innovative Medicines Fund", adding £160 million to the CDF's current pot of £340 million. The new £500 million fund is aimed to boost access to cutting-edge products, speeding up their time to market. Currently there is limited information on what products could qualify for funding, or on the structure and management of the fund, however it is likely that the criteria used will be similar to those of the CDF.
It is expected that the interim funding will be based on the price submitted to NICE, with any difference between the routinely commissioned price and the price agreed in the Managed Access Arrangement (MAA) to be paid back by the manufacturer. Products will be revaluated at the end of the MAA period, based on the data collected. In the event of a positive recommendation, the product will receive baseline funding through the NHS.
Summary of changes in European market policies and market initiatives and impact on key ATMP challenges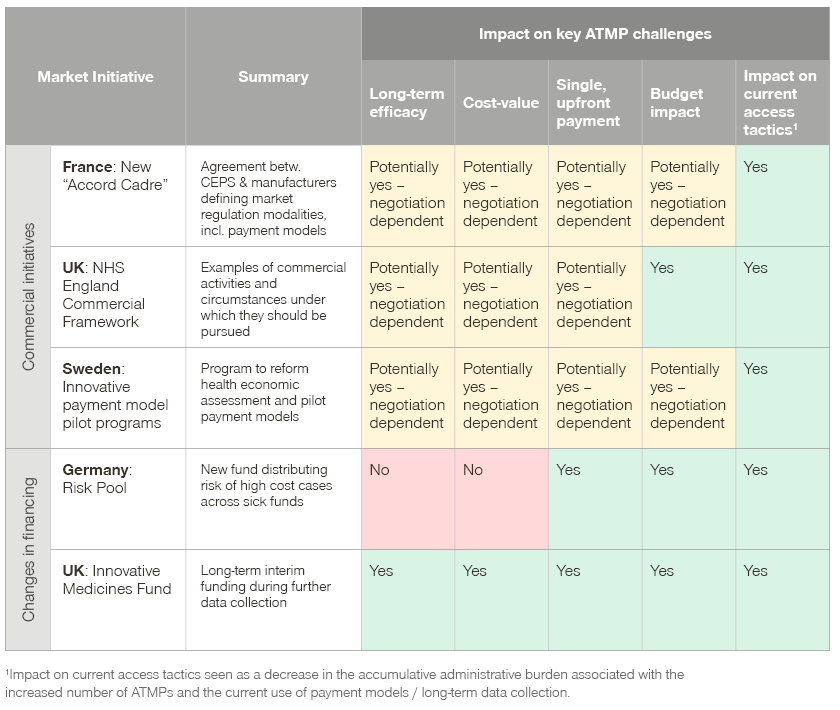 Recommendations and conclusion
For successful access, manufacturers need to understand the associated challenges with ATMPs as well as how to utilize any emerging opportunities. A set of actionable recommendations helps manufacturers to be prepared for the changing environment and develop their ATMPs' full commercial potential.
Three key actions to successfully master upcoming healthcare changes
Stay up to date with the constantly changing environment

Evaluate payment models mentioned in the Commercial Framework, the Accord Cadre, and the models used during pilot program in Sweden to identify most well-accepted models by payers
Investigate through competitive intelligence the impact of healthcare system changes on new ATMP and other innovative product launches, including impact on launch timelines, price potential in Germany due to the new Risk Pool, and changes in/set-up of monitoring systems in markets with increased use of outcome-based models
Evaluate whether the changes in the healthcare system address the expected underlying pain points associated with ATMPs, how these may vary by market, and whether leveraging these system changes is the best approach for ATMP launch (i.e. evaluate the benefits of a simple discount offer vs. the risks of implementing a more complex model)

Engage with healthcare systems, where legally possible, in order to appropriately address pain points and seize upcoming opportunities on shaping the market

Proactively engage in discussions with external stakeholders in the UK through the Office for Market Access, in Germany through the Federal Office for Social Security (Bundesamt für Soziale Sicherung), and in Sweden to ensure a detailed understanding of ongoing healthcare changes and identify hidden opportunities
Get involved in discussions, initiatives, and pilot programs such as the Sweden ATMP conference, sharing suggestions, testing potential access approaches/models shaping the market, and creating positive experiences

Assess the impact of the ATMP lifecycle on internal processes and proactively plan commercial and post-launch activities

Assess which P&MA activities may need to be frontloaded as the majority of ATMPs launch with early data (e.g. phase II), shortening the development time significantly
Evaluate which commercial activities to engage in based on identified payer pain points and ATMP-specific characteristics, e.g. assessing if pain points can be addressed by simple or more complex solutions/payment models
Identify ways to leverage existing market processes, experience, and infrastructure, e.g. Swedish national registries, German sick fund data, hospital IT systems, or existing national databases, such as the Programme National de Médicalisation des Systèmes d'Information (PMSI) in France or investigate ways to improve those to save resources
Increase focus on post-approval data collection to respond to "incomplete data" at regulatory approval/HTA assessment by identifying needed evidence, required infrastructure, and essential resources ideally already in the early development phase of the ATMP
Get more insights from our Pharma & Biotech experts!