While the National Reimbursement Drug List (NRDL) continues to be the dominant path to public reimbursement in China, commercial health insurance (CHI) in China is quickly emerging as an alternative reimbursement option. Its development gained momentum particularly around 2015, driven by government policy support, unmet demand, and supply-side innovations.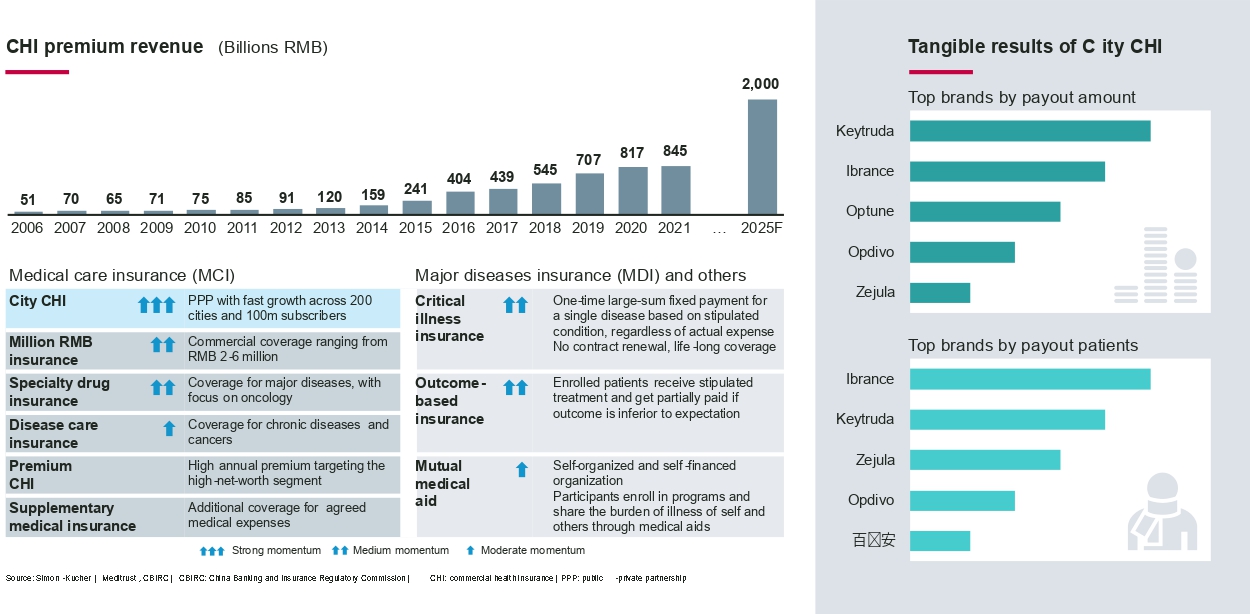 City CHI has been one of the fastest-growing categories in the market, driven by a fast rollout, improved coverage, and ongoing optimization over the past three years.
Fast rollout: City CHI has rolled out across more than 250 cities in China, with approximately 140 million subscribers currently. Key drivers include affordable annual premiums typically around 200 yuan (renminbi), and strong support from the local government
Better coverage: Many city CHI plans offer more comprehensive coverage with better payout ratios, including more innovative therapies not considered for NRDL

For example, CAR-T cell therapies are considered too expensive for NRDL, with costs around RMB 1.2m. In contrast, over 20 city CHIs currently cover Yescarta and relma-cel, with the coverage rate ranging from 25 percent to 40 percent. Shanghai, for instance, included both CAR-Ts in its 2022 CHI formulary, with its coverage rate at the upper end of the range for local residents, with no exclusions for preexisting conditions
Lecheng CHI from Hainan, on the other hand, features the largest formulary with 100 innovative drugs, of which 40 drugs are yet to be formally approved in China, including 17 rare disease drugs available globally
More CHI plans like Beijing, Shanxi, and Lanzhou are cross-referencing the Lecheng CHI formulary for broader coverage, with residents in these cities potentially offered access to designated medical institutions in Lecheng for consultations, prescriptions, and reimbursements

Ongoing optimization: Many CHI plans are exploring value-added services like home healthcare and health management solutions

Beijing Puhui CHI, for example, increased the number of its health management programs from 25 in 2021 to 42 in 2022
In the future, holistic disease management and health management programs are likely to be incorporated into more CHI schemes to enhance care for the insured population and improve cost-effectiveness for payers in the long run
Capturing China CHI opportunities
This is an important moment for CHI in China, as the scheme provides an opportunity for innovative manufacturers to accelerate access and improve affordability outside of the NRDL and maximize their potential to gain market share.  
Based on our extensive experience in China CHI, we outlined three steps for how to leverage opportunities in this space:
Develop strategic framework: Pharmaceutical companies would benefit from a strategic framework that can prioritize high-potential city CHIs for their portfolios and identify key stakeholders for effective engagements
Improve internal readiness: In line with the strategic priorities, companies would need to improve their CHI readiness by building up core competencies, including expanding their teams, internal processes, and SOP for CHI planning and engagement, as well as data tracking, etc.
Spearhead innovations: As the dynamic China CHI landscape continues to evolve, companies should proactively explore and spearhead innovative models through collaborations with potential partners, thereby benefiting all stakeholders including patients and the government
---
Thanks to Selene Peng and Shiying He for contributing to this article.
For more information, reach out to the authors!