As a record-number of people shop online, even the automotive market finds itself in need to adapt. Although a futuristic product offering entices consumers, no business can function well without a plan. In part 4 of this series, we reveal which electric vehicle marketing and sales strategies Chinese automakers employ to keep them best in class.  
Automakers around the world are dealing with a drastically changing consumer base, with a radically different set of expectations. As such, one in five consumers are currently unhappy with their latest car buying experience. 
Younger generations, specifically, have developed a new norm in purchasing habits. Products bought from Amazon, for instance, are delivered within hours, and prices are transparent with no hidden fees. Add the way fintechs have transformed means of payment, as well as the surging popularity of subscription models – especially in the wake of COVID-19 – and the traditional way of buying and financing a car becomes outdated.
In part 4 of this series, we explain how Chinese automakers use innovative marketing and sales strategies to rival top dogs, like Tesla, in the domestic market. In this way, we can help western automakers understand what can be learned from Chinese original equipment manufacturers (OEMs).
Multichannel Sales and Distribution
Chinese electric vehicle (EV) makers have understood that consumers would like more control over the purchasing process. A recent study found that 23 percent of young people in China would prefer not to negotiate prices before purchasing. In reality, consumers are used to transparent pricing, and now expect it from every industry – including automotive. 
Yet, this isn't just a trend in China. Car buyers all over the world are bypassing dealerships in favor of online comparison sites to find the best deal. In fact, the average number of times consumers visited a dealership before making a purchase declined from 4.8 to 1.6 in five years.
To tackle this, Chinese EV startups have set up fully-owned and directly-managed stores that consumers can also access online. Improving direct communication between the automaker and the client, and covering all necessary touchpoints on the consumer journey.
Establishing a Consumer Community Enables Word of Mouth Marketing
Chinese EV manufacturers strive to provide their customers with a one-stop service. Many Chinese startups believe that OEMs will need to transition from simply selling products, to providing a holistic user experience. Born with Internet DNA, these automakers aim to cover all touchpoints on the consumer journey, creating a brand community. 
Traditional car manufacturers customarily use a sales funnel model. This is when there is no more direct contact between a car owner and a manufacturer once purchase is complete. Subsequent services, such as maintenance, are then carried out by the dealer. 
However, leading Chinese startups like NIO and Xpeng focus on serving their existing users: connecting car owners, brand followers, and even employees to each other. This creates a ripple effect, where consumers spread the word about the brand to their family and friends. In turn, creating engagement and excitement beyond the carmaker's current reach. In April 2021, NIO announced that 69 percent of its sales during the pandemic came from recommendations from old owners.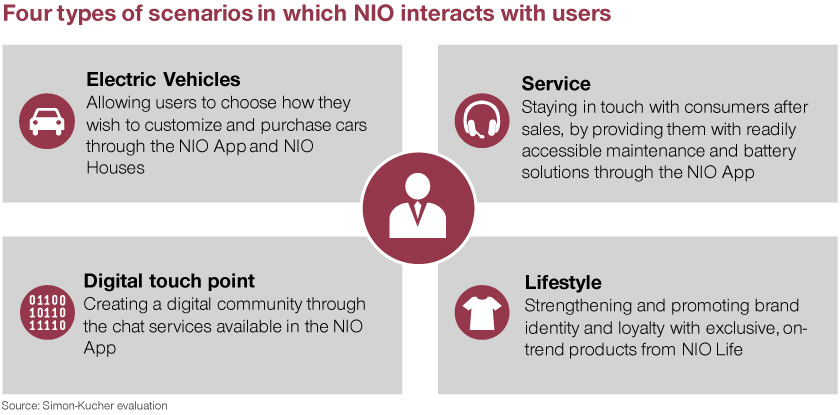 Key Takeaways
Chinese OEMs have established ground-breaking ways to reach and sell to their customer base. Chinese EV startups, especially, have taken marketing and sales to a whole new level, by cutting out the middleman and communicating directly to consumers through all channels. 
Innovative electric vehicle marketing and sales solutions are crucial for western incumbents to adopt if they are to stay competitive. This not only applies to the Chinese EV market, but globally, as consumer behavior shifts. Moreover, some of China's most impressive automakers have already landed on western shores, bringing their strategies with them.
In the final installment of this series, we will reveal the successful pricing strategies Chinese EV makers employ to drive sales.
---
Read more from this series:
Part 1: A Panorama of Electric Vehicle Companies in China
Part 2: Chinese EV Startups: Leaders in Future Car Technology
Part 3: Pricing Strategies: What the West can Learn from Chinese Car Manufacturers