Our recent Global Sustainability Study found that consumers are aware, willing to act, and pay for sustainable financial services. Industry experts Morten Kaae Sorensen and Caroline Kastbjerg explain what the sustainability movement means for banks.
Green consumers are gaining ground in the financial sector. Our Global Sustainability Study, covering more than 10,000 consumers across 17 countries, shows that sustainability is becoming increasingly important for the global consumer.
Overall, eight in 10 consumers aspire to live more sustainable lives. In addition, we find that consumers are willing to act on their aspirations. The majority of consumers have already made modest to significant changes to their consumption behaviors over time in an effort to live more sustainably.
As part of the study, we investigated the degree to which sustainability affects consumers in their purchasing decisions, and the level to which they are willing to pay more. We also researched how much more they would be willing to pay for financial services.
Sustainability is of utmost importance for financial service consumers
Sustainability is becoming an increasingly important value driver for consumers when making a purchase of a product or service. Our study reveals that 44 percent of consumers in financial services see sustainability as an important criterion when making a purchase. This means that there is an opportunity for financial service companies to differentiate themselves and capture this significant share of the market if they succeed with integrating sustainability into their offerings. 
Our study also shows that increased consumer awareness can become problematic for companies unwilling to adapt. As part of the study, we asked how likely consumers are to review their financial service provider for environmental reasons over the next year. Here, 39 percent said they are somewhat likely, or extremely likely to do so.
Of the consumers likely to review, eight out of 10 would be willing to switch providers if they did not think their products or services was environmentally sustainable. This implies that sustainability is of the utmost importance to win and maintain a large share of future consumers, both in financial services, and across other industries.
Financial services rank top on consumers' willingness to pay for sustainability
Financial services have the second largest share of consumers willing to pay a premium for sustainable offerings across industries (35 percent) – only topped by consumer goods (38 percent). Across age groups, we see that a significantly larger share of younger consumers – those within the 18-29 and 30-39 age brackets – are more willing to pay a sustainable premium compared to older age groups.
In addition, the premium for financial services is the highest across all industries included in the study. On average, consumers that are willing to pay more are willing to pay a premium of 27 percent for sustainable offerings.
Furthermore, we again see that it is younger consumers that are willing to pay the highest premium for financial services and products (above 30 percent). In comparison, consumers aged 60 years or older are only willing to pay a premium half that size (13 percent).
Looking into the sub-industry of Personal Financial Investments we asked whether consumers would go as far as foregoing some of their annual returns. We found that 28 percent are willing to forego a share of their annual return and the majority (72 percent) of these consumers are willing to forego up to 10 percent.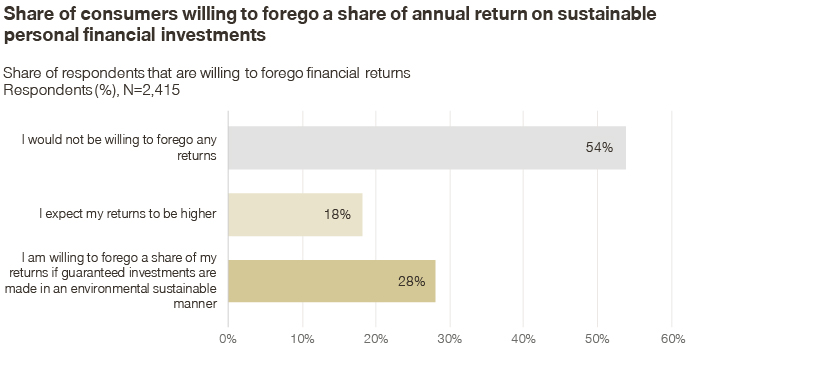 Companies need to seize this opportunity
The implications of the survey are clear. A significant proportion of consumers in financial services care about sustainability and they are willing to act on it. This share will only increase as generations shift and as sustainable disruptors start emerging.
Therefore, companies must invest, innovate, and transform their business models and offering now to protect their long-term profitability and viability. This goes beyond current hot topics like ESG investments or green car loans.
A more fundamental review of the offering and internal processes is needed to ensure, for example, that sustainability is considered in loan applications in parallel with credit rating. Sustainability will be a ticket to play in the future, but for the early adopters it is also an opportunity to grow and thrive via positive differentiation, and premium margins.