From the impact of immigration on consumer behavior to the rise of e-commerce, there are plenty of developments in the Canadian consumer market worth exploring for retail businesses looking to stay ahead of the curve. As inflation rates continue to cause concern for many Canadians, retailers are turning to loyalty programs and new tactics to attract price-sensitive customers. Meanwhile, ethical and local sourcing and production are becoming increasingly important to shoppers, and health and wellness products are also seeing a surge in popularity. In this article, we'll dive into the top trends in the Canadian consumer market and explore what they mean for Canadian retailers.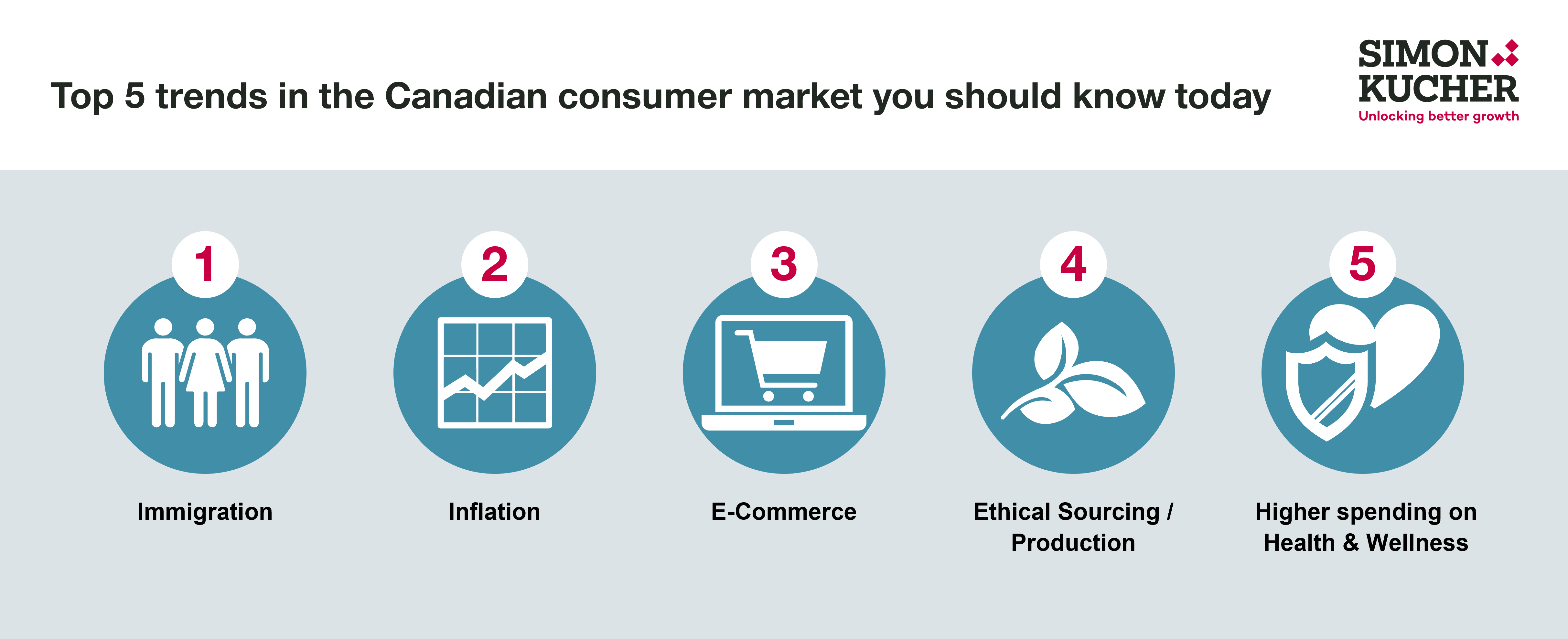 1) Immigration and its effects on the Canadian market
Canada's newcomers have been shaping the Canadian retail market for years and will continue to do so. As of 2021, Canada had a total of 8.1 million people that were or had ever been a landed immigrant or permanent resident, comprising approximately 23% of the country's population. This demographic is projected to reach 29 to 34% of the Canadian population by 2041, according to Statistics Canada. The increasing immigrant population is changing the consumer landscape, particularly in large cities where most immigrants settle, and retailers are taking note. Some interesting information that will shape retailers' strategy to cater to this growing segment of the market:
Most immigrants arrive in large cities, such as Toronto, Vancouver, and Montreal, which are also the most diverse cities in Canada
According to 2021 data, the top three countries of origin for Canadian immigrants were India, China and the Philippines
In 2022, Ontario was the province that welcomed the most immigrants, followed by British Columbia and Quebec
Canada's immigrant population tends to have a higher household income and is more likely to attain higher levels of education, leading to an increased demand for higher-end and niche products
How retailers can act:
Retailers are adapting their marketing and product offerings to cater to this growing demographic. Some specific steps retailers can consider taking:
Diversify product offerings: Retailers can offer products that appeal to the diverse tastes and preferences of immigrant customers. This could include ethnic foods, cosmetics, and clothing.
Create marketing campaigns that cater to new demographics: Retailers can tailor their marketing efforts to appeal to different immigrant groups. This could include using culturally relevant imagery and messaging or advertising in ethnic media outlets.
Offer imported goods: Immigrants often have a strong connection to their home countries and may be interested in purchasing products from those regions. Retailers can stock imported goods that cater to these customers.
Offer multilingual customer service: Retailers can offer customer service in multiple languages to make it easier for immigrant customers to communicate with them. This could include having multilingual staff or providing translation services.
2) Inflation is here, so let's beat it
Inflation has become a topic of great concern in many parts of the world and has had a disproportionate impact on the Canadian market. According to Statista, perceived inflation rates are highest among Gen Z (ages 18-24) and lower income households (less than $40,000 CAD). Furthermore, this high inflation perception is expected to persist for the next two years, indicating that businesses should cater their messaging towards value saving. According to Statista, concern around inflation is 52% in Canada compared to 40% globally, indicating that the Canadian consumers are more price sensitive. As a result, consumers are changing their spending habits to cope with rising prices, with sought sales and promotions (50%), purchasing cheaper alternatives and brands (47%), and delaying purchases (45%) being the top three coping mechanisms. Retailers need to offset these inflationary pressures on top-line by counteracting the price and volume effects.
How retailers can act:
Exercise strategic price increases where it makes sense: According to the book Beating Inflation authored by Simon-Kucher founder Herbert Simon and Partner Adam Echter, for products in retailer's portfolio where value (or customer willingness-to-pay) exceeds price, price increases make sense as a large revenue lever.
Deploy loyalty programs to increase repeat purchases: 77% of Canadian consumers say they are more likely to shop at a retailer that offers a loyalty program.
Building dynamic pricing capabilities: Retailers can combat inflationary pressures by adjusting their prices in real-time to match consumer demand, existing cost structures and competitor prices.
3) E-commerce is here to stay
The Covid-19 pandemic had a significant impact on the Canadian economy, leading to a rise in online shopping. The top three reasons for online purchases include cost/savings, shopping costs (e.g., transportation costs and time spent), and the access to a greater assortment of items. However, there are several issues associated with online shopping, including the rising price of goods, the unavailability of products due to being out of stock, and longer delivery times, according to Statista.
How retailers can act:
Investing in mobile app technologies: Investing in technology can improve the shopping experience and cater to the new post-pandemic consumer behavior.
Managing online and brick-and-mortar inventory: Inventory management is crucial for retailers to provide a seamless shopping experience. Retailers can capture customers' willingness to pay and provide a wider assortment of products through proper inventory management. Accurate inventory information can optimize supply chains and reduce costs for retailers.
Building omni-channels: Retailers should invest in making the customer journey seamless throughout a customer's shopping experience. For example, shoppers should be able to make a purchasing decision at multiple points including apps, online site, Instagram stores, amazon shops, etc.
4) Focus on ethical and local sourcing and production:
The preference for locally and ethically sourced products is a significant trend in the Canadian consumer market. According to BDC, 97% of Canadians would prefer buying local to support the economy, while 87% believe it is better for the environment. Additionally, 45% of Canadians have made an active effort to purchase Canadian-made products in the past year. Paybright reported that 65% of Canadians consider supporting local and Canadian-owned businesses a significant factor in their purchasing decisions.
How retailers can act:
Strengthen local partnerships: Deepen relations and ties to the Canadian economy with local sourcing of products and services. For example, retailers could partner with local delivery, packaging, or raw materials companies.
Increasing transparency on community contributions: 75% of Canadians are willing to pay more for products or services from socially responsible companies. Retailers should provide both internal and external transparency about their environmental and social impacts of their products.
5) Increase in spending on health and wellness products:
The trend towards health and wellness is rapidly growing in Canada, with consumers indicating a willingness to spend more on products and services that support physical and mental health. The Canadian health and fitness market is expected to grow by 7.2% annually between 2022-2027, according to a report by Statista. This growth is driven by an aging population and increasing health awareness. In addition, a study by BDC found that 33% of Canadians are willing to pay a premium for health-enhancing products.
How retailers can act:
Increasing health product share-of-shelf: Expand offering of products focused on health (i.e., exercise trackers, heart monitors, smartwatches) where appropriate.
Expanding product portfolio: Incorporate the health-conscious consumer as a persona and/or segment (e.g., a grocery chain expanding portfolio to offer more organic, low-sodium, low-fat, low-sugar, low-calorie, etc. options).
Canadian Tire Success Story –
Canadian Tire has been effectively leveraging digital capabilities and channels to enhance its value proposition to Canadians and drive sales. One way it has done this is through its digital loyalty program, Triangle Rewards, which has over 11 million members and offers personalized promotions and rewards to customers. The company has also expanded its online product offerings, including a "click and collect" option that allows customers to order online and pick up in-store, and a partnership with DoorDash to offer same-day delivery. Additionally, Canadian Tire has implemented augmented reality and virtual reality technologies in select stores to enhance the shopping experience for customers. These efforts have contributed to the company's strong performance in recent years, including a 30% increase in e-commerce sales in Q3 2021. This helped them achieve an overall top-line growth in their retail business of 9%.
Lululemon Success Story –
Lululemon has been focused on ethical and locally made products, with a commitment to using sustainable and responsible manufacturing practices. The company's "Here to Be" program, launched in 2017, partners with local organizations to provide access to yoga and meditation classes for underprivileged communities. Lululemon has also tapped into the Canadian consumer's need for health and wellness products, with an expanded product line that includes a variety of athletic wear, wellness accessories, and a self-care line. This strategy has proven successful, with Lululemon reporting a 30% net revenue increase for FY2022.
Loblaw Success Story –
Loblaw has been successful in leveraging its loyalty program to help sales and increase customer engagement. The PC Optimum program allows customers to earn points and redeem them for discounts on future purchases. In 2020, Loblaw reported that the PC Optimum program had over 20 million members and helped drive sales growth across its businesses. Loblaw has also focused on ethical and locally produced products, with initiatives such as its "Naturally Imperfect" line of produce that reduces food waste and supports local farmers. The company has also expanded its selection of organic and sustainable products under its "President's Choice" brand. In response to the Canadian consumer's need for health and wellness products, Loblaw has increased its offerings of natural and organic products and partnered with companies such as Joe Fresh to launch a line of activewear. This has enabled Loblaw to continue growing despite the pandemic, as they reported a 6.3% increase in their top-line revenues for FY2022.
Overall, the Canadian consumer market is undergoing significant changes driven by factors such as immigration, inflation, e-commerce, health, and ethical sourcing. Retailers need to adapt their strategies to cater to these changing consumer preferences and behaviors to stay ahead of the curve. They can do this by diversifying their product offerings, creating marketing campaigns that cater to immigrant customers, offering imported goods, exercising strategic price increases where it makes sense, deploying loyalty programs to increase repeat purchases, investing in mobile app technologies, building omni-channels, expanding their health-conscious product portfolio, and focusing on ethical and local sourcing and production. By doing so, retailers can improve their bottom line while also providing customers with the products and services they want and need. If you would like to learn more about how to take advantage of these trends and go-to-market strategies, reach out to our experts, Shikha Jain, Christina Babayan or Yahya Baig.
Contributing Author:
Yahya Baig, Senior Consultant