Podcast Monetization: How Consumer Preferences Differ Internationally
August 28, 2020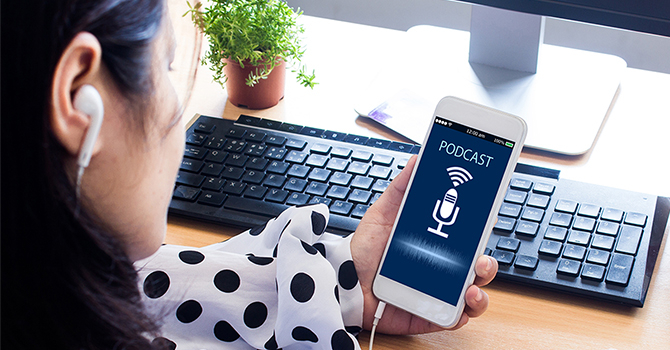 Podcasts are no longer a niche trend. Even though the podcast business is growing quickly, solid monetization strategies are still missing. In our podcast study, we examined international differences in consumer preferences and their effect on podcast monetization.
Podcasts are increasingly becoming a part of people's everyday life: while commuting to work, cleaning the house or working out at the gym – listening to podcasts is popular, and consumers can choose from a large variety of content such as news and politics, financial advice, crime stories or comedy. Spotify for example has invested over half a billion US dollars on podcasts in less than two years. While in February 2019 there were 185,000 podcasts available, there are now over 700,000 – that is a 400 percent increase.
In our recent study International differences in consumption of podcasts, we compared consumption habits, ad preferences and willingness to pay across different countries (Brazil, Spain, France, Germany, US, UK and Singapore) to derive implications for podcast monetization.
Podcasts are going mainstream – with international differences
The popularity of podcasts differs internationally. At almost 80 percent, Brazil by far has the highest share of listeners with the majority listening very frequently. In Spain and the US, respondents also listen to several podcasts more than three times a week. Germany finds itself in the middle with more than 50 percent of listeners and almost half of them listening regularly.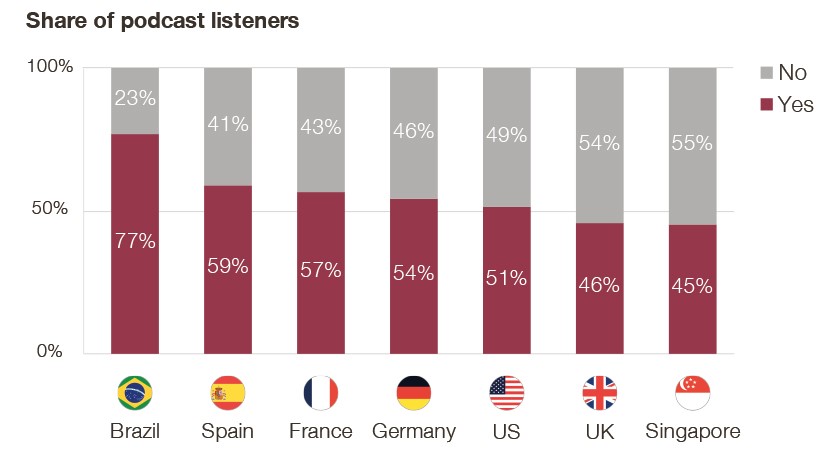 Our study found that the main motive for choosing a podcast is entertainment. Across all countries, topics and content were the most important decision criteria. General popularity or ad-free episodes, by contrast, were not crucial factors. A surprising finding: listeners from the US are less concerned with ads than all other countries. Instead, their main decision factor is the speaker's personality, similarly to the UK and Germany.
No matter where they are from, consumers prefer to listen to podcasts on their smartphone. However, the dominant players vary across countries: in the US and UK, Apple Podcast is the number one choice. Germany and France prefer to use Spotify, whereas YouTube is the strongest player in Spain, Brazil and Singapore. Providers need to either make sure that their content is available on the most popular platforms to gain the widest reach possible, or enter an exclusive partnership with one successful platform. For example, the latter approach was taken by 'Fest & Flauschig', a popular German podcast on Spotify ran by a comedian and a TV presenter.
Podcast monetization – native ads are well-accepted
As podcasts are increasingly becoming a mainstream entertainment medium and competition in the market is increasing, one question seems more relevant than ever: how to monetize a podcast effectively. Podcast providers and platforms need to turn their attention to finding the right revenue model in order to make use of the enormous monetization potential.
Simply put, there are two options – advertising or payment models. Across all countries, listeners prefer ads over direct payments. The most popular financing option from a consumer perspective is native ads (ad read by host) or sponsored ads (title sponsor for series or individual episodes). While the US stands out as least concerned with ads, France is most averse to any kind of ad. However, listeners from all countries agree that they do not enjoy their podcast being interrupted. Audio spots pausing the actual podcast are the least liked ad format. Anyway, ads are generally not a reason for someone to quit a podcast, but most will skip them.
As an alternative to advertising external products, we have noticed a trend in using ad breaks to cross-market the podcast's own products. For example, publishers utilize the reach of their podcasts to also promote their other (paid) services. This smart approach helps strengthen their brand across media channels and is also a way to build brand awareness among target groups that might be less attracted by the original product (e.g. young listeners of a podcast who are not subscribing to its newspaper).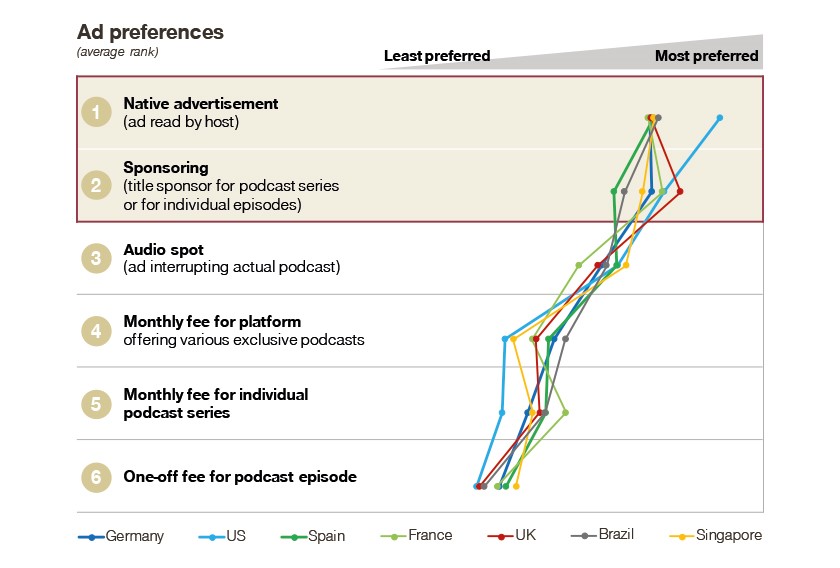 What is considered a fair price varies greatly
A closer look at the different payment models shows that monthly fees are better accepted than one-off fees for single episodes. Still, listeners from many countries are skeptical about paying for podcasts. Nearly half of German respondents refuse to pay for a podcast series, which is the lowest figure for all countries. By contrast, a large majority of Brazilian podcast listeners would accept a fee for their favorite podcast series or a monthly subscription. However, this high general payment acceptance does not automatically mean they would also pay the highest price. Countries with lower payment acceptance such as Germany, UK and France show a significantly higher willingness to pay.
The fact that consumers prefer ads over payment models does not mean that they cannot be successful. What is most important is that providers take a value-based pricing approach, so that offers reflect users' interests and preferences. In the eyes of consumers, fair prices for podcast series lie somewhere between three and six euros. For monthly platform fees, perceived fair prices are generally higher, around five to eight euros, although they are lower for Brazil and the US.
The podcast business is still in its infancy. The more attention the medium gets, the more people will give it a try. As the number of podcast listeners is growing, it will be interesting to see which monetization strategies will prevail.