Banks have invested a lot of time and money in smart analytics, digital tools, and design to ride the digitalization wave. Unfortunately, the Simon-Kucher Global Sales Study has shown that most of these digital investments have failed to bring adequate returns. Now is the time to realize the commercial value of digital with smart strategy, full adoption, and smart monetization - which is exactly what BE Digital offers.
In recent decades, the financial services industry has heavily invested into its own digitization in a variety of ways, developing new IT hardware and processes, smart data, digital customer journeys, and much more. So why is it that many are now finding that these tools have underperformed commercially?
According to one of our studies, 66 percent of executives found inadequate returns from these initiatives, and 56 percent were dissatisfied with the digital sales tools they had implemented.
Why is this the case, and what is the solution?
Digital investments are the new norm – but commercial success is not
A closer look reveals that some typical pitfalls are preventing banks from unlocking the value from digital transformation:
The lack of a holistic strategic vision leads to incoherence in the medium- to long-term and prevents full transformation
The belief that addressing technology or digital issues will solve underlying business problems, failing to realize that it takes more than just technology to improve sales or adoption rates
The assumption that customers and/or sales teams will automatically accept new digital offerings, negatively impacts adoption rates and revenue
Adopting a silo-based organizational approach to digital transformation prevents consistent and necessary organizational change
Failing to put monetization on the digital agenda, or placing it at the very back of the agenda, leads to no clear steering toward commercial success
At the same time, 80 percent of banks will depend on selling to existing customers for future growth. To optimize existing digital infrastructure for growth requires an effective and holistic approach.
BE Digital: Four components for success
BE Digital by Simon-Kucher helps clients optimize existing digital infrastructure for growth. Our unique integration of behavioral economics expertise, smart data analytics, and nudge-powered digital tools/user experiences unlocks deeper, more compelling customer connections, driving higher conversions, engagement, and retention for our clients.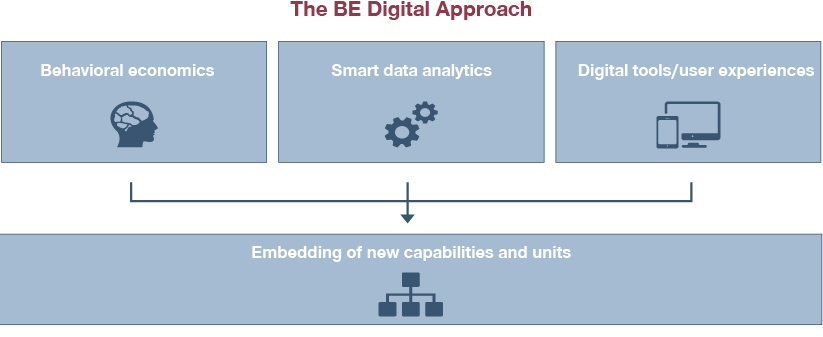 BE Digital in a nutshell
BE Digital consists of four core components:
1. Uncover the hidden system of decision-making through behavioral economics (BE)
Understanding how people think, make decisions, and act, especially on digital channels, is key to successful digital transformation. Whether it's managing the customer journey, complex sales interactions, facilitating cross-selling, or preventing churn, an understanding of customer psychology and behavior must be at the core of the approach.
This requires drawing on behavioral science to uncover the hidden cognitive mechanisms and biases impacting customer decisions. These insights, derived from rigorous scientific research, are the secret codes behind satisfying experiences, optimized choice-architectures, and high-performing sales interactions.
To this end, BE Digital draws from a global nudge database of over 1,000 use-cases in financial services, and experience implementing more than 300 nudge-optimized digital performance tools to drive revenue growth. We deliver clear, tangible benefits, and unlock better outcomes from underperforming digital transformations.
2. Leverage smart data analytics
Smart data analysis is the basis for being able to react with agility and speed to a changing environment. Sophisticated algorithms accurately identify future needs, predict outcomes, and optimize product mix for growth. It also identifies critical junctures in the customer decision journey where behavioral elements and nudges can aid customers in their choices, judgement, and evaluation process.
Successfully implemented examples of this intelligence include 1:1 marketing, agile segmentation, churn prediction, and growth hacking.
3. Integrate powerful nudge-optimized tools/user experiences
Digital tools/user experiences informed by science, human-centered design, and data analytics are critical performance drivers. Successful tools and applications are not random in their development. From Day 1, rather than though trial-and-error, purely technology-focused, or design-centric approach, a scientific hypothesis-based approach to development is necessary.
Only rigorously tested, constantly evolving applications/users experiences can succeed in effectively overcoming hurdles such as inertia, resistance, performance gaps, and psychological barriers. Examples of such applications are digital sales platforms or sales cockpits as they have been implemented hundreds of times.
4. Embedding and evolving across the organization
To ensure the long-term commercial success of digital initiatives, it is fundamentally important that the new, optimized approach takes root and flourishes throughout the organization. This includes the creation of new capabilities and units within the organizational structure, the targeted adaptation of organizational processes, and consistent training to disseminate knowledge at all levels.
This is the only way to achieve long-term improvements in sales processes so that sales can consistently approach customers at the right time, in the right way, and with the right topics.
BE Digital: Everything works together
By combining these four components our clients have been able to obtain the full value of digital, as smart analytics, behavioral science, impulse-optimized tools/user experiences, and a BE Digital-optimized organization all feed off each other.

BE Digital: Powerful combination of 4 components
BE Digital in practice
BE Digital makes it possible to increase sales efficiency along the entire sales process while developing impulse-oriented organizations. For example, the BE Digital approach has been used to break barriers in sales and increase conversion rates by 60 percent.
This was possible through optimizing the customer journey, and effectively empowering sales with sophisticated cross-selling management. Consequently, this increased profit per consultant by 20 percent, and significantly improved customer retention and product penetration (+1.3 products per customer) through smart customer loyalty programs.
As a first step, however, a BE Digital audit can help assess the economic efficiency of digital initiatives or of the organization as a whole. This helps to identify quick wins and prioritize different options.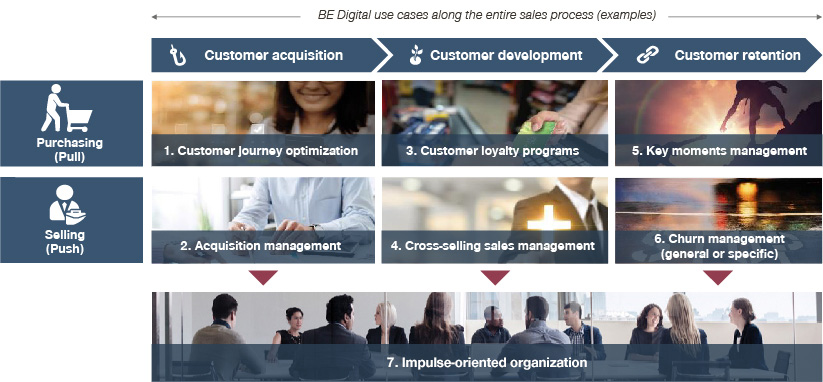 Application examples of BE Digital along the entire sales process.
Conclusion: Enable better digital results now!
The second wave of digitalization has begun. Having so far mainly laid the foundations in IT infrastructure, analytics, and digital customer experiences, the task now is to help these achieve commercial success.
This can only be possible through a holistic approach. BE Digital combines highly intelligent analyses with a thorough understanding of behavioral processes. This can then provide customers and sales teams with the right impulses for decision-making at the right moment using impulse-optimized tools. If these approaches are then sustainably integrated into the organization, commercial success is also ensured in the long term.
With a talented team of experts, BE Digital is uniquely placed to help banks become truly digital.