Revenue management solutions optimize data processes, customer and stakeholder relations, and pricing strategies for HealthTech companies. However, despite its benefits, many managers are still against implementation. Experts Omar Ahmad, Aleksandr Jarosz, Giorgio Martini, and Volodymyr Varskyy explain why RMS are essential for better growth.
Like many other B2B industries, HealthTech has been late to adopt automated commercial operations and processes such as quoting, pricing, and contracting.
However, the industry is progressing. As HealthTech players have evolved recently from mere product manufacturers to suppliers of solutions, so have their pricing structures, discount models, and quoting processes. But their capabilities have not kept up, often resulting in suboptimal implementation of new business models and a significant reliance on manual processes in the back end.
What do we mean by revenue management solutions?
A revenue management solution (RMS) is an integrated, end-to-end process that provides technological support for all components in a price waterfall. A RMS does not necessarily have to be a single software, as it can be delivered through a variety of technology strategies. This may include an all-in-one solution or a best-of-breed strategy that combines and integrates different systems, each covering a different area (price management, rebate/discount management, etc.).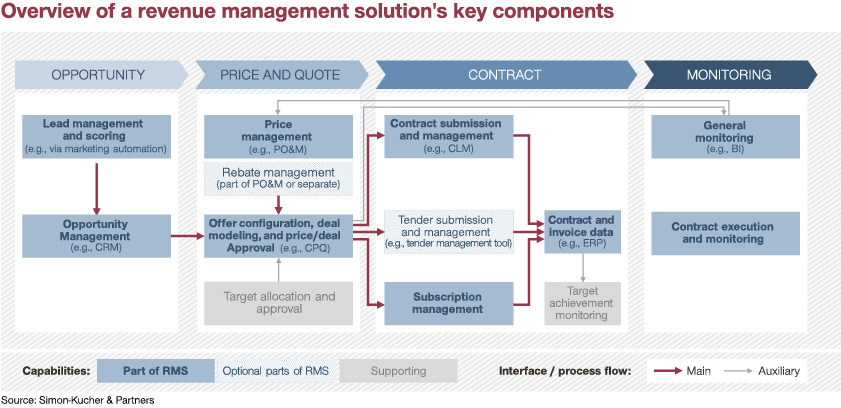 Why is a revenue management solution beneficial?
According to Statista, there were >25,000 SaaS companies globally in 2021, with >7,000 focused on marketing alone, creating a crowded market which is difficult to navigate. Based on years of project experience with clients of all sizes in different industries and countries, we've found five key reasons to invest in an end-to-end revenue management solution:
Process optimization and margin leakage prevention: A RMS can eliminate the collection of Excel-based tools, legacy software with no end-to-end integration, highly manual processes, reliance on individual SMEs, and poor system controls and analytics that often plague analog companies.
A RMS tailored to an individual business integrates some of the existing commercial processes and tools while upgrading/replacing others. It has the potential to result in significant cost savings while preventing margin leakages due to data entry errors and poor monitoring.
End-to-end commercial relationship management: RMS are especially valuable for HealthTech industries with complex value chains. The enhanced transparency provided by the RMS allows for better channel management (e.g., by automating performance-based pricing for dealers and distributors) while improving contract creation and making maintenance quicker, easier, and less prone to error.
Data stewardship: Compared to an Excel-based pricing and quoting setup, the combination of configure-price-quote (CPQ) and price optimization and management (PO&M) software generates high-quality commercial data. It allows users not just to access historical commercial decisions but also analyze the factors behind those decisions.
Customer experience: A well-configured RMS allows sales teams to focus on core sales tasks instead of wasting time on back-office activities. It also significantly reduces causes of customer complaints (wrong prices, incorrect P.O. numbers, errors in discounts, etc.). Improved customer experience increases the net promoter score while unlocking further opportunities for up- and cross-selling.
Pricing excellence: Finally, effectively implementing a RMS can deliver impressive return on investment (ROI). The enhanced price setting, execution, and governance capabilities of a RMS contribute to overall pricing excellence, putting early adopters at the cutting edge of profitability and margin management.  A RMS drives continual commercial improvement and keeps companies on the path to sustainable growth.
Why are revenue management solutions still not a priority in the HealthTech industry?
Although the benefits of RMS are clear, many of these solutions are not yet the norm in HealthTech. Based on discussions with leaders in the industry, we compiled a list of the main arguments that managers have against implementing a RMS:
Low volume of deals
Many companies in the HealthTech industry, especially those producing large and expensive equipment, rely on a relatively small number of deals for their business. As such, they are generally able to manage processes mostly manually using Excel-based quoting tools, manual price management processes, and ad hoc discount/rebate calculations.
While manageable, it is far from optimal. Primarily, leaving room for human error in a business with fewer but bigger deals is just as, if not more, dangerous than in a business with a larger number of smaller transactions. In mature markets, such as those for most medical devices, a leakage of just a few percentage points of sales means the difference between stagnation and growth.
Additionally, not investing in an integrated solution means more human resources are used in many back-office activities (e.g., pricing, accounting/finance, contracting, etc.) which significantly impacts a company's overhead. Another risk related to relying on manual processes and human resources is natural employee churn, resulting in significant loss of valuable expertise that is hard to replace.
High investment costs
High investment costs and long implementation timelines are key arguments put forward against RMS. While RMS requires substantial investments, there are several important points to consider:
Price models differ across systems and scale with your business. While pricing software has typically been sold at a fixed price across multiple tiers in the past, the price of a RMS is now often differentiated between tiers based on real user monitoring. CPQs, for example, are often priced based on the number of licenses, making it attractive for all business sizes
A fully integrated RMS should be the ultimate goal – not the first step. The journey and investment can (and in most cases, should) be spread out over multiple years. Companies should prioritize the elements with the highest improvement potential when designing their implementation roadmaps
Implementation is often a major cost driver that is difficult to predict, mainly due to long timelines. As such, short-term profit-oriented companies might shy away from these investments
Uncertain return on investment
With such high investments, many managers keep asking whether there is any chance of generating a positive ROI. The issue with quantifying the ROI from a RMS is that many returns are either indirect or difficult to quantify. Based on our experience, however, the benefits of proper revenue management solutions can be substantial and can be grouped into three main categories:
Back-office efficiency gains: 20–30 percent efficiency gains in back-office functions related to quoting, contracting, controlling, etc.
Sales productivity gains: 2–3 percent revenue increase due to less time spent on deal configuration, an increase in cross-selling/upselling due to better configuration guidance and more face time with customers
Pricing execution: 1–2 percent return on sales due to better pricing guidance, steering, and execution, enabling better overall price strategy implementation
Need for change management
Another reason why companies justify not investing in a new RMS is the need for change management when implementing the solution. For example, if a company implements a new quoting solution, the sales and back-office staff need to be trained on the new functionalities and downstream processes.
Undoubtedly, the change management aspect shouldn't be overlooked and requires a great deal of resources. However, such efforts are short-lived compared to the benefits. Furthermore, integrated solutions are generally easy to scale and eliminate the need for radical changes in the future.
Lack of expertise
Finally, another concern slowing down the adoption of RMS in the HealthTech industry is the lack of internal expertise in the functions needed to drive the implementation.
This expertise has slowly been growing across the board as a new generation of more tech-savvy managers rise through the ranks. However, such lack of internal expertise shouldn't be a showstopper, as most software companies now have specialized implementation teams or have partnerships with third party consultancies that can roll out the solution and also transfer the required knowledge to employees.
In conclusion, investing in an integrated RMS is not an easy task and should be carefully evaluated. However, many of the arguments used to avoid investing are either shortsighted or based on false assumptions.
What are the first steps to implementing a revenue management solution?
The road to a world-class RMS is long and full of obstacles, however initial benefits can often be seen after the first few steps, then built upon, improved, and expanded later.
For many companies, the first step needs to be a change in mindset. Many stakeholders in the pricing or sales process are reluctant to move away from the status quo. Showing how these methods can be improved and – even more importantly – how they can benefit the organization is the first step to changing this mindset and achieving success.
Understand where you are: Mapping the current process, data, and tools is a crucial starting point of any effort to implement RMS. One can only measure success if the improvements can be pinpointed.
In most cases, there are no guidelines, playbooks, or other formal documents outlining the pricing process. While the IT department usually knows which enterprise tools are used (e.g., CRM, ERP, etc.), many spreadsheets that are highly relevant to pricing are neither accounted for nor duly supported. Mapping all these and their capabilities is crucial to understanding how pricing is done.
Identify where you want to be: A common company vision needs to be established. Where do you want to get to? How advanced do you need your pricing process automation to be? With the current process mapped, it can be compared to a blueprint or industry best practice example, and gaps can be identified. Based on these gaps, the desired end state can be defined.
Define the path and take small steps: Once the end state has been identified, existing gaps need to be prioritized and build into an implementation roadmap. Working on all of them at the same time will lead to frustration, overspending, and poor user satisfaction.
That is a good start – but what concrete areas of improvement can we work on?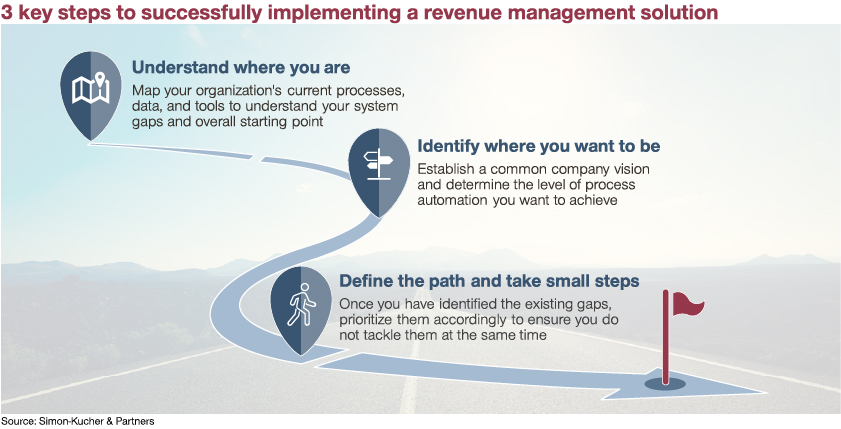 What are some simple goals a revenue management solution can help achieve?
Based on our experience, there are a few specific initiatives that can be started and worked on with minimal preparation. These are as follows:
Pricing transparency: Establishing better pricing transparency is usually the most tangible improvement that RMS can do. Reports are generated ad hoc and are based on obsolete or incomplete data.
It's well known that companies invest heavily in software solutions but are often unable to answer basic questions due to poor data quality. Investing in simple dashboards and defining basic KPIs can often bring improvements and is the first step to managing the pricing process better.
Pricing guidance: The next option is implementing simple price guidance tools without lengthy implementation. The key is simplicity, and these tools normally don't provide anything more than some guidance or guardrails for sales, such as floor/target prices. While the benefits obviously increase as more systems are integrated, even simple price guidance typically improves margins and salespeople's satisfaction.
Price management: Price management is the next step to pursue. Even though full PO&M suites are the ultimate tool to manage prices, price lists, value drivers, and discounts, even simpler tools that allow for centralized management of price lists are a good first step.
Once the systems listed above have been implemented, you will be much better placed than when you started. But the ultimate goal needs to be a fully automated and integrated end-to-end RMS, in which all prices, discounts, quotes, contracts, and subscriptions can be easily managed, simulated, implemented, analyzed, and optimized.
Automating these tedious tasks allows and empowers workforces to make more educated business decisions and spending more time with customers, among other things.
What support can Simon-Kucher & Partners offer?
Simon-Kucher Elevate, the firm's digital consulting arm, has a dedicated technology strategy team with great expertise in RMS. We regularly guide our customers through the technology jungle that is top line, analyze existing technology stacks, develop optimized and made-to-measure technology strategies, and select RMS vendors.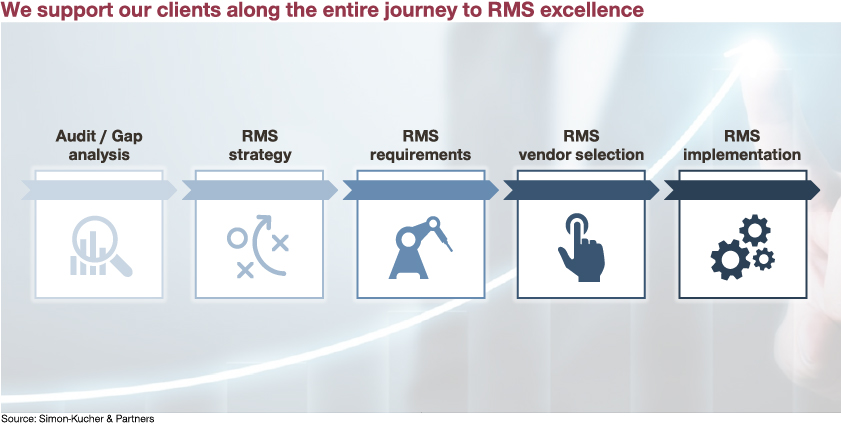 If you would like further information on how to successfully implement RMS, feel free to get in touch with our authors.