Simonkucher : The Rating Economy - Consumer Survey
Product Ratings
For many people – and almost every kind of purchase – they are an important decision-making tool. As they are increasingly growing in importance, ratings start to impact shopping behavior and brand loyalty. What that means? There's a power shift away from companies towards consumers. Read the results of our latest global study to uncover how the rating trend affects consumers and their purchasing behavior.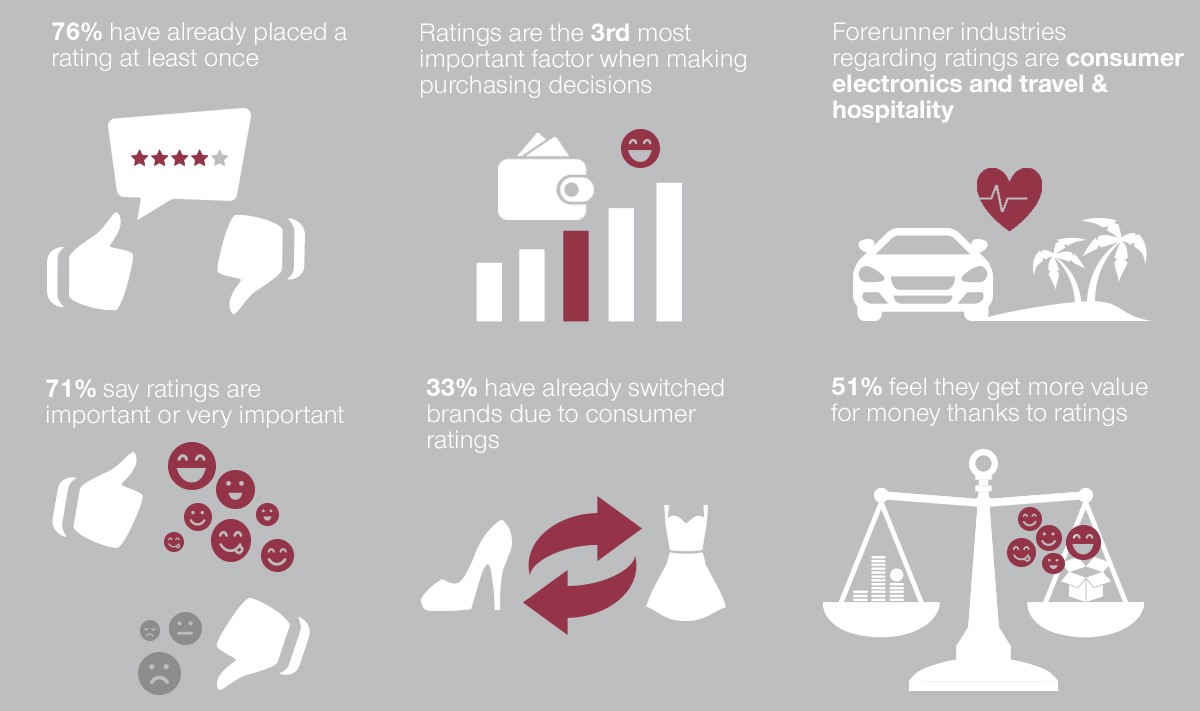 Key findings
Ratings are becoming increasingly important: 71% of the respondents think that ratings are (very) important. And they show it when purchasing something: 47% regularly check ratings before making a purchase. Leaving a review is also very common: 33% regularly rate after a purchase and 76% of the participants said that they have placed a rating before at least once. But rating products is more popular in some industries than in others: People rate more often and find them more important in consumer electronics and travel & hospitality than in insurance and construction.
Why do people rate? Mostly when consumers had a very positive or a very negative experience, but also when they expect the rating process to be very convenient. This means companies can increase the number of ratings submitted by making it as easy as possible for customers to rate their purchases – without requiring complicated log-in processes or asking too many detailed questions.
Customers start to place ratings above brand and marketing messages: 33% of consumers have already switched brands after reading ratings, especially in consumer electronics and travel & hospitality. In most regions, consumers rank ratings as the third most important factor when making a purchase: Product or service features and the actual price are still clearly more important, but brand affiliation starts to be overtaken by consumer ratings. If a product is rated highly, 20% of consumers report they would buy more, 15 % would select more expensive products, and 19% are even prepared to pay more for it.
Consumers perceive companies changing their behavior, too: 29% feel that with the rise of ratings, they get better quality products from companies, 37% see companies react to ratings, and 21% say companies don't get away with bad products anymore.
Consumers are happier as they benefit from the "rating economy": Thanks to ratings, 51% feel that they get more value for their money. This differs greatly by industry, with travel & hospitality as well as consumer electronics again on the upper end of the scale. Ratings also give them more transparency on the value of the products they are about to buy: 41% of the participants feel better informed and 26% think they make fewer bad purchases. So all in all, many consumers feel they are benefitting from the "rating economy".
About the study
The Trend Radar is a global study conducted by Simon-Kucher & Partners for the first time in 2019. Focusing on the topic of the "rating economy," approximately 6,400 consumers in 23 countries worldwide were asked about their rating behavior in an online survey in February 2019.