Of all the innovations to disrupt the financial sector in recent years, embedded payments is both one of the most promising and one of the trickiest to take advantage of. In the first article in this series, we take a closer look at embedded finance and the rewards waiting for firms that implement it. 
Over the past decade, the payments industry has grown at a rate in double digits, fueled by technological innovations and better user experience. This has been accelerated by the emergence of a new generation of payment processors, payment methods, value added services, and infrastructure providers. All these innovations are in response to the increased customer demand for easier payment processes, especially online.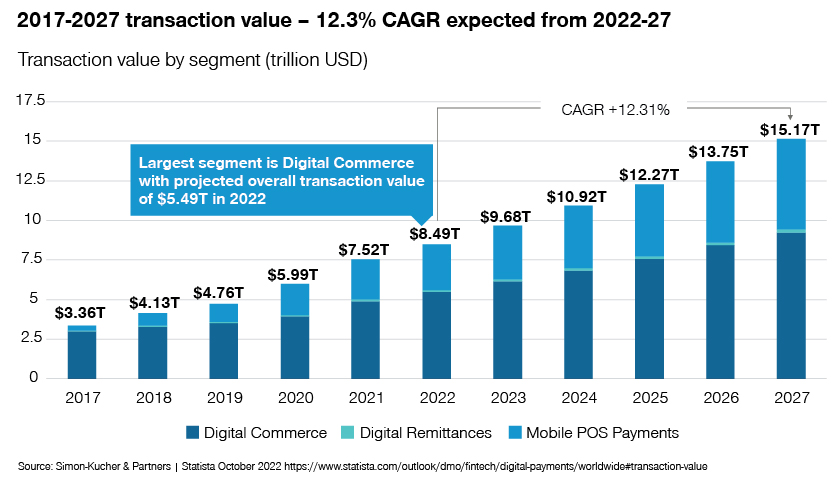 Illustration 1: 2017–2027 transaction value – Growth has been strong as new players enter the market, moving away from cash to digital transactions and creating more transactions. The growth trend is expected to continue at a CAGR or 12.3 percent from 2022–2027. 
What do we mean by embedded payments and finance? 
In very simple terms, embedded finance is when a non-financial business provides financial service to its customers by integrating financial services into its non-financial products or services.
Vertical consolidation in the industry as a result of regulatory developments and the rise of e-commerce has increased competition. Customers are now able to purchase goods and services both more easily and from a larger number of providers. Therefore, in an effort to attract and retain individual and business customers, companies are increasingly focusing on the experience of their customers in order to develop a seamless customer journey while providing high levels of service. 
Producers are innovating their customer journeys and value propositions, leading them to realize that payments play a pivotal role in these contexts. Leading entrepreneurs have therefore begun to embed payments into their offering – hence the term "embedded payments." This has also expanded to include a broader set of financial services – "embedded finance."  
Example: UberEats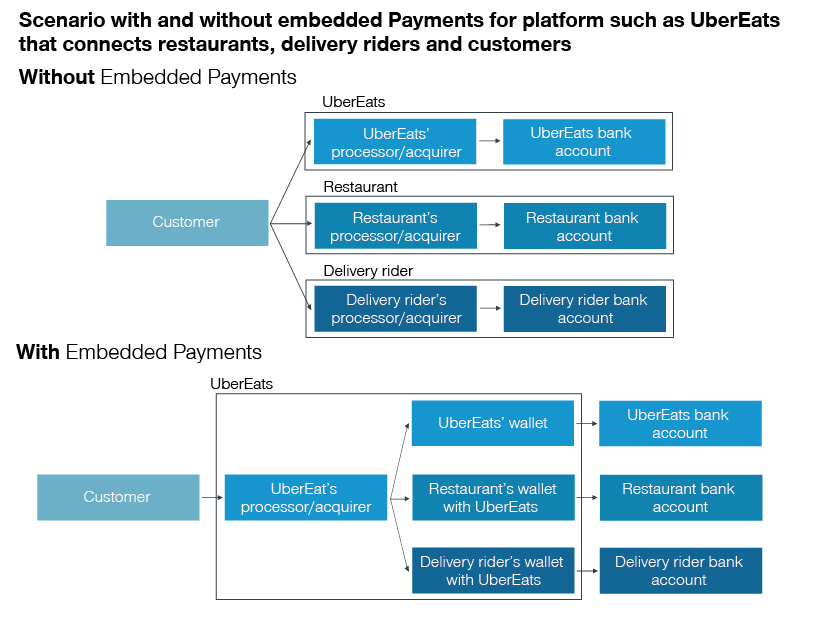 Illustration 2: Complexity increases when more parties are involved in a sale, increasing the overall benefit of embedded payments. The illustration above shows a food delivery service such as UberEats with and without embedded payments. 
With UberEats, the payment process covers delivery personnel and restaurants. The result is you don't even have to think about making a payment – all are made directly by Uber to the respective parties. 
The benefits of embedded payments: 
Higher conversion – Especially in retail and direct-to-consumer industries where competition is intense 
Increase in customer satisfaction –Smooth and low-friction purchases keep customers happy, making them willing to pay more for the goods/services 
More repeat business –Faster transactions make customers more likely to come back 
Lower churn – Critical with high customer acquisition costs and/or competition 
More data – Insights that can be used to provide more relevant offers and services to the customer, further enhancing the above advantages 
Additional revenue streams – Revenue from these embedded finance solutions products can even surpass the revenues from non-payment finance products (payment revenues contribute as much as 75 percent of total revenues and 55 percent of operating profits)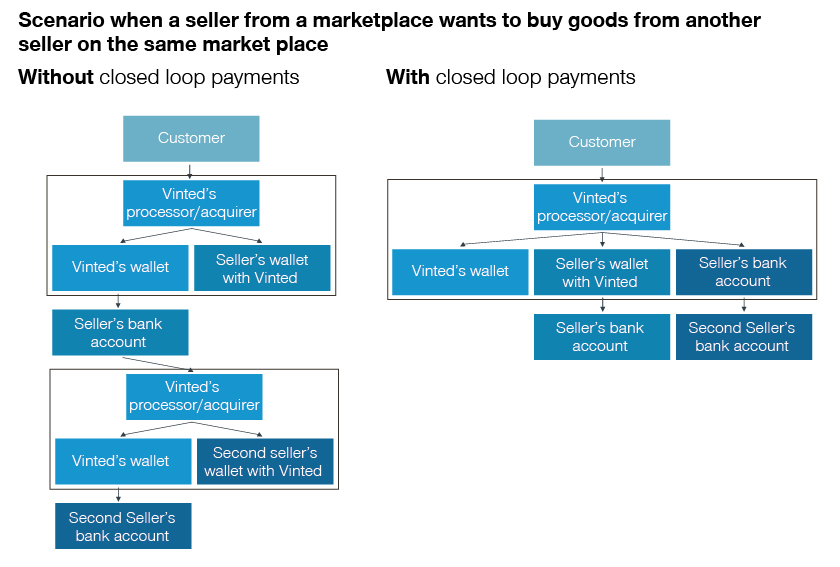 Illustration 3: A marketplace or platform such as Amazon or Vinted can simultaneously reduce the cost and time per transaction with closed-loop payment functionalities for purchases made among users. 
Even businesses that haven't embedded all payments have seen improvements from partial embedding. Those that have deployed solutions such as PayPal Express, Apple Pay, or Amazon Pay have seen a 15-percent improvement in conversion because the payment and shipping information is already available, making checking out smoother and faster.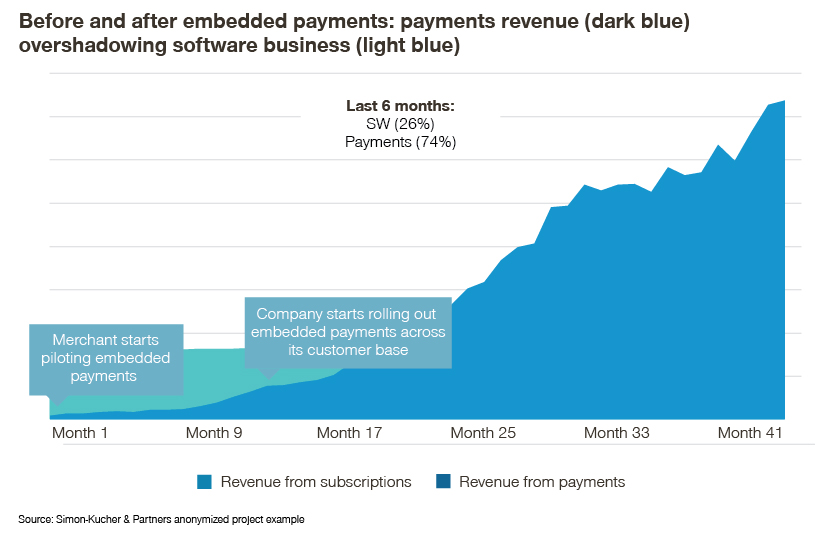 Illustration 4: Before and after embedded payments – Payment revenue (red) overshadows software business (blue) 
What's more, the benefits aren't limited to companies and producers. End customers also benefit from an enhanced interaction, purchasing experience, and financial inclusion, as well as more competitive offers. Equally, because companies can negotiate better pricing due to scale, customers get lower prices than they would if they interacted with each party separately. For example, an owner-operated cab might pay a markup of around one percent to its payment processor while Uber pays its processor less than 0.05 percent. 
A compelling example of customers benefiting from embedded payments is turnover-based financing for merchants. With a clearer overview of the merchant's daily turnover, a payment processor can make better-informed decisions on lending and recover funds more easily by retaining a share of the processed funds. This is a blessing for small merchants that may not have access to working capital from formal lending institutions and/or must pay much higher interest rates. 
Unlocking better growth 
With over three decades of experience working across financial services, Simon-Kucher supports payment providers across the sector. Fintech disruptors, disintermediators, B2B service and technology providers, established banks, and financial institutions all rely on Simon-Kucher to innovate and adapt across the entire commercial value chain. 
Our digital consulting team is focused on commercial growth and helps clients optimize the entire customer journey by combining technology, data, and creativity with commercial consulting expertise. 
Simon-Kucher Elevate creates digital growth by bringing together the right strategy, creativity, and digital competence – delivered by our global team of digital transformers and creators. We support clients with their technology strategy, vendor selection, and implementation. 
Our experts are always happy to discuss whatever issue you are dealing with. Reach out, and we'll connect you with a member of our team. 
Read more:
Six best practices for introducing embedded payments
How NOT to develop an embedded payments offer
Embedded payments: monetization framework
Before establishing an embedded payments framework, it is crucial to thoroughly consider the following topics in your go-to-market strategy.