When it comes to pricing, today's B2B companies are influenced by several macroeconomic trends and financial uncertainties. Pricing fatigue is rampant — both for providers and customers alike — and this makes having an effective pricing team more imperative than ever. 
There are several uncertainties influencing pricing at the moment. Inflation is rampant, purchasing power is decreasing, and this has put pressure on many companies to be reactive in their pricing decisions. As such, with multiple changes happening in short periods of time, both businesses and customers are plagued with pricing fatigue. 
For B2B companies that want to succeed in this landscape, a pricing team is a must-have. This not only ensures that there is dedicated ownership of this function, it also positions companies to have sustainable and profitable growth. In fact, according to our Global Pricing Study, companies that have a team dedicated to pricing see 14–30% EBITDA improvement, with those in the higher range benefiting from active C-level involvement. 
So, what does it take to create an effective pricing team? In this article, we're sharing strategic considerations and a proven method business leaders can adopt to build an effective pricing team. 
How to build an effective pricing team 
When it comes to building an effective pricing team, there are three critical elements to keep top of mind. Purpose, place, and people. Below, we take a closer look at each of these elements and how business leaders can use them to make decisions around what the team looks like and how it operates.
Purpose 
The first critical element for a pricing team to become effective is to have a clear purpose. This purpose depends on the size of the organization, the complexity of the product and pricing portfolio, the role each department plays in the business, and more. 
With all that in mind, there are four archetypes for the role a pricing team can play in a business. These exist on a matrix of two scales that measure the level of centralization for the pricing function as well as the types or responsibilities.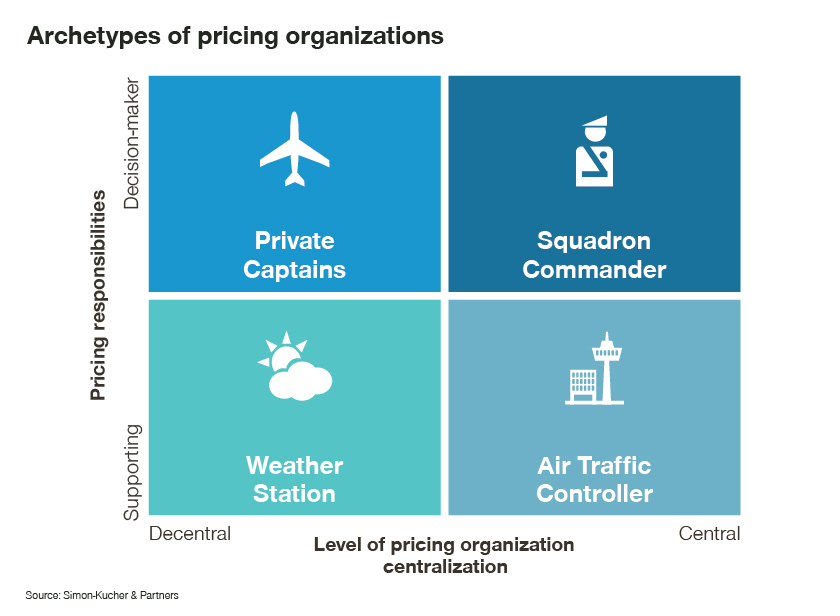 Squadron Commander
This is when the pricing team is centralized (i.e. a separate entity that meets the needs of the entire organization) and enabled as a decision-maker. In this setup, the pricing team makes all pricing decisions, taking a top-down approach. 
Private Captains
Here, the pricing team is decentralized (i.e. the pricing function exists across different departments and regions) and is equipped with decision-making capabilities. Decentralized pricing teams make all pricing decisions within their department or region, supported by in-depth knowledge of local market dynamics. 
Air Traffic Controllers
The pricing team is centralized and plays a supporting role across the organization. The team acts as a center of competence and provides expertise to those that need it. It also provides direction to functional teams, leaving pricing decisions to other functions in the organization. 
Weather Station
In this case, the pricing team is a decentralized entity that plays a similar supporting role to the Air Traffic Controllers. Here, however, the supporting function exists across different teams, serving as an entity that reports on what is happening from a local pricing perspective. 
Some B2B companies will often stumble into building a Weather Station approach, allocating pricing responsibilities to existing employees and having them focus on it as part of their role. However, in those instances, there's usually a lack of clarity around the direction and decision-making needs. The alternative is to think about the direction more clearly and articulate the value that comes from having a strategic pricing team in place. 
Finding the right approach requires a structural assessment of the business dynamics at play. For example, a volatile, transactional business with a relatively homogenous portfolio will benefit from a team that has decision-making capabilities and can move quickly. Meanwhile, diverse deal environments with high portfolio diversity and relatively stable markets often benefit from a more supporting function as there's a need for a more considered decision-making process with adjacent functions, such as sales.
When you are an international company with risk of cross border trade, with high revenue concentration in one market or product group and relatively uniform market dynamics, a central price unit will be most effective. If your revenue is spread across unique markets that operate independently, it makes sense to consider a decentral set up. These are all things to observe and consider as you establish the purpose of your pricing team.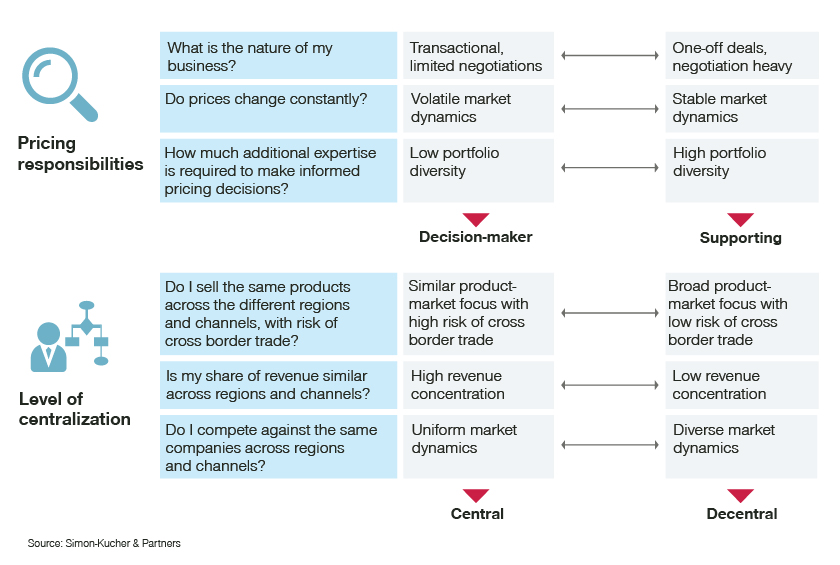 Place
The second important consideration when setting up an effective pricing team is where it lives. Does the pricing team report into finance, or sales, or a product team? According to our Global Pricing Study, there's a pretty even distribution of reporting structures across organizations.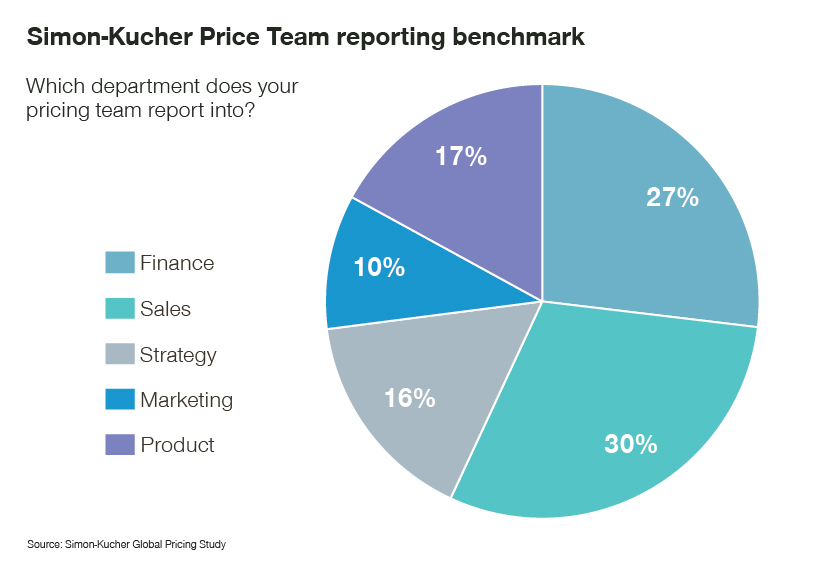 There is no one-size-fits-all approach to defining the right place for a pricing team. The central question therefore is not, 'who does it report to?', but 'how does it interact with other functional teams?'. 
The one thing that is certain is that regardless of where the pricing team lives, it still must interact with and support all these different functions. Therefore, it's so important to give it its own identity, responsibilities, and ownership. 
"The key to make pricing teams successful is by creating a sufficient, healthy challenging of the optimal price level across products, customers and regions through a cross-functional perspective"
At the same time, the pricing team needs to be able to challenge these functions on their pricing models, processes, and assumptions. It's the pricing team's responsibility to create healthy tension that enables consistency and effectiveness across the rest of the business. 
The four archetypes we discussed above can also help in deciding where the pricing team sits in terms of organizational hierarchy. Basically, the more decision-making capabilities a pricing team has, the higher up they report into.
Squadron Commander: Reports into strategy leader or executive management (e.g. CSO, CFO, CPO, CRO)
Private Captain: Reports to local or business unit management (e.g. managing director)
Air Traffic Controller: Reports to product or marketing leads (e.g. lead product manager, head of marketing)
Weather Station: Reports to sales or finance leads (e.g. sales director, finance director)
Where the pricing team sits in the organization will inform the level of influence they have in creating the healthy tension referenced above. Whether the team needs to keep things consistent and reliable at the organizational level, challenging teams in various departments, or within a more local sphere of influence is an important element that should help to determine where the team lives.  
People
The last critical element is people. When it comes to the people and roles within the pricing team, there are a couple of key questions to answer: what kind of people do you need and how many of them?
The first question is answered once again by the archetypes, alongside your strategy. Knowing the purpose of the organization and the targets will determine the type of expertise needed in the team. Then, and only then, the size of the team can be determined, which is often influenced by the overall size of the business. 
One rule of thumb business leaders can use when designing their pricing organization, is that the more responsibility is allocated to the pricing team, the bigger it needs to be. However, we've also found that in many cases there are nuances in the business that impact the best approach to take here. 
What success looks like
There are six key success factors that are important to consider when building your pricing organization. These include: 
Having a strategy in place outlining what the business wants to accomplish from a pricing perspective. This sets a clear purpose for every team. 
Setting a clear ambition that aligns with the organizations' purpose and helps the organization to understand what the aim is when it comes to improving pricing. 
Establishing a leadership mandate that clearly communicates profitable growth is a strategic priority for the business, with executive buy-in. This should reflect organizations' purpose and inform where the team lives within the organization.
Investing in talent that has depth and breadth of pricing expertise in the right sector, and choosing the right people for the roles that make up the team.
There are also foundational steps business leaders should take to support the Purpose, Place, and People pillars:
Measuring pricing performance to make data-driven decisions around what to change or improve. 
Enabling the use of technologies that leverage high-quality data and empower the pricing team to make better decisions faster. 
This last point is particularly important. Today's pricing teams need to be equipped with the right technologies so that they can be effective conduits between the data and the business outcomes. Otherwise, what value do the tooling and the dashboards have if you don't have the right people to leverage them and make informed business decisions.
For B2B companies that want to succeed in the current challenging landscape and acquire anywhere between a 14–30% EBITDA improvement, having an effective pricing team in place is crucial. To get there, business leaders need to keep the three critical pillars — Purpose, Place, and People — top of mind. Getting started will look different depending on where you are in your pricing journey, but the result will be an effective pricing team that delivers a healthy tension across your organization.
Need help getting started? We're here to help. Get in touch to learn more about what approach makes the most sense for your organization.
B2B Growth Seminar
To help business leaders from B2B companies navigate growth in current volatile times, we organize a B2B Growth Seminar near Den Bosch (NL). During this seminar, Simon-Kucher experts will discuss new insights on how to act efficiently on today's economic volatility. Our keynote speakers will share their vision and learnings on topics such as Margin management in uncertain times, Organizing the commercial team to boost sales, Transition to recurring revenue and Monetizing sustainability.
Please be aware the seats are limited and therefore it is recommended to quickly register via this form.