Throughout this series we have highlighted the many reasons why western automakers should pay attention to Chinese competitors. Now, in our final installment, we explain how new pricing strategies have helped these brands dominate domestically, and what western automakers can learn from them.
If there's anything that can be taken from this series, it's that the automotive industry is changing drastically, and digitalization is a key cause. From battery and AI innovations, which are changing the way cars are designed, to an increase in eCommerce, transforming the way buyers shop cars.
In the final part of this series, we reveal how Chinese car manufacturers are quickly adapting to this new world, understanding that personalization and precision marketing tools are key to dominating the market.
Chinese EV manufacturers carefully target specific consumer segments
Chinese electric vehicle (EV) consumers can be divided into four distinct categories: Plug-in-Hybrid (PHEV) Drivers, Pure EV Drivers, Rational EV Drivers, and High-End EV Drivers. Successful Chinese EV makers ensure that every part of the process, from car design and battery longevity, to pricing, marketing, and extra features, are specifically targeted to one of these consumer segments.  
The first two categories tend to be young drivers living in small cities. They are more concerned about the price of the car then about battery charging time or high-end value-added services. Saying that, they want their car to deliver an expected performance based on its price (price-performance ratio), as well as include essential services, such as 24-hour emergency assistance.  
Rational EV drivers are young professionals living in big cities. Seeking a higher quality of life they are willing to pay for advanced features, but not at an extortionate cost. They tend to choose models that have the shortest charging time and longest range at an affordable price.  
Finally, with high incomes and a social status to uphold, High-End EV Drivers look for luxury items. As such, they are time sensitive – requiring an EV to charge quickly for the longest range – and pay a premium for value-added services, like connectivity. These preferences allow for a more complicated pricing model employed by companies like NIO.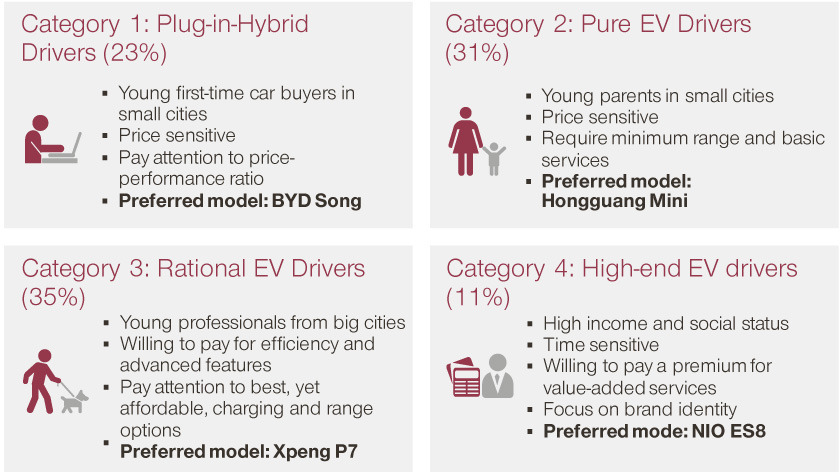 Chinese EV manufacturers either focus on premium prices, or price to win
Chinese EV makers can contribute much of their success to how well they base their pricing strategies on a particular consumer segment. They focus either on low-end segments, or open up new demand with high-end cars with advanced value-added features.
Premium Pricing Case study: NIO
Targets High-End EV Drivers: its ES8 model is priced at around 70,000 US dollars (448,000 Chinese Yuan)
Offers unique and innovative features and services, making it a must-buy luxury brand. Its self-developed driving assistance system – NIO Pilot – has 24 functions, including automatic parking, and navigation. While the services it provides include: smart power solutions, the NIO app, and additional perks from being a NIO community member
In 2020, NIO delivered 43,728 vehicles in total, increasing its sales by 112.6 percent year-over-year
Price to Win Case Study: Wuling Hongguang Mini
Targets younger generations, especially young first-time mothers, by offering rock-bottom prices: charging around 5,000 to 6,000 dollars (28,800-38,000 Yuan)
Provides basic value-adds – such as stereos equipped with a USB-port
Focuses on personalization: consumers are encouraged to add custom designs to suit their preferences
Although, it isn't well-known outside of China, it is now China's most popular electric car. In fact, the EV manufacturer made history in 2020 by outselling Tesla in just six months!
Chinese EV manufacturers develop new revenue streams
In part 3 of this series we discussed how Chinese EV makers offer more than just a car, by providing highly sought after post-sales services. These include advanced automotive connectivity solutions, and battery solutions – NIO's Battery-as-a-Service (BaaS) being a prime example.
Yet, not only are these services attractive to customers, but they are also essential revenue streams. The three most successful EV startups in China are all trying to extend the profit model with high value-added Internet services. Revenue streams mainly consist of vehicle sales or leasing, software and after-sales services.

Key Takeaways
Through their innovative and personalized pricing strategies, Chinese EV manufacturers are dominating the domestic market – at times even surpassing Tesla in sales. As digital advancements and online shopping increases, it is paramount for western automakers to learn from these success stories, in order to adapt and become future-proof.
In this series, we examined the topline strategies of rising Chinese EV manufacturers, addressing some key aspects, from unique value propositions, through product offerings, to sales, and pricing strategy. The highlights:
More than a car. Chinese original equipment manufacturers (OEMs) put consumers at the center of the value proposition, treating the car as a platform to serve a certain lifestyle
Direct to customers (D2C). Chinese OEMs are eager to stay close to their customers, maximizing the control over of the customer journey and responding to customer needs faster than ever
Price to win. They tailor pricing strategies, as well as the entire offering, to the specific needs of target customers.
---
Read more from this series:
Part 1: Why Western Car Manufacturers Should Pay Attention to Chinese Competitors
Part 2: A Panorama of Electric Vehicle Companies in China
Part 3: Chinese EV Startups: Leaders in Future Car Technology
Part 4: Chinese OEMs: A New Level of Electric Vehicle Marketing and Sales Strategies